I'm happy to report that Tales of the City: A New Musical, the long anticipated musical adaptation of Armistead Maupin's serio-comic, albeit occasionally bittersweet, love letter to San Francisco was worth the wait. It's a triumph in virtually all facets of its production, marred only by a glaring narrative misstep in the second act and a less than satisfying dénouement.
Based upon the first two installments of the popular eight novel series, the inter-woven stories of its many characters remain, for the most part, faithful to the source material. And while librettist Jeff Whitty does dilute or even excise certain elements in an attempt to simplify the intricate plotting, with over twenty songs and six connected story lines it would benefit from some more trimming.
Set in 1976, the scenario involves 25 year old Mary Ann Singleton (Betsy Wolfe), who after a brief visit falls in love with the City and decides to leave her life in Cleveland behind. She winds up in a Russian Hill apartment located on the fictitious Barbary Lane with occupants of assorted genders and sexual proclivities, all of whom with a past they're desperately trying to escape. Anna Madrigal (Judy Kaye) is the enigmatic, cannabis-loving landlady who oversees her surrogate family with an earth mother's wisdom and devotion.
Ms. Wolfe is perfectly cast as the wide-eyed, straight Midwesterner whose impaired judgment about men is almost tragic – and strains credulity. Her ability to deliver a line with the just the right note of comical naïveté is utterly charming, and she can belt-out a tune with a clarion voice that nearly brings the house down with her dramatic rendition of the poignant "Paper Faces."
Her superb performance is short-changed, however, by a script that goes astray in the final act by hastily pairing her with a superfluous suitor, Norman Neal Williams (Manoel Felciano), and a story line that leaves Mary Ann's fate with too many lose ends. She's left literally standing around in the final sequence with little to do! A potential relationship with her womanizing neighbor, Brian Hawkins (Matthew Saldivar), is suggested – and would make sense – but is never explored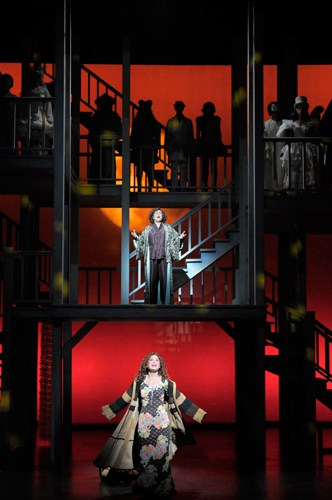 This flaw may be due to Mr. Whitty's apparent reluctance to deviate far enough from the original story to allow for an ending that doesn't anticipate a continuing saga. Otherwise, with a little ingenuity the devilishly wicked Beauchamp Day (Andrew Somonsky), with whom Mary Ann has an affair early on, could readily subsume the role of the gratuitously evil Norman.
Notwithstanding those limited concerns, the entire company of players is uniformly excellent. And the tunes, while not always memorable, are often quite fun and successfully capture the period and the mood of their respective scenes.
The performing highlights are simply too numerous to mention, but one must recognize the contribution of the inimitable Judy Kaye, who exudes a vulnerability and pathos of someone who's born a heavy secret for most of her life. Her heartfelt vocal interpretation of "The Next Time you see me" provides a genuine show-stopping ending to the first act. And Wesley Taylor, as Michael "Moose" Tolliver, scores as a sweet young man who comes out to his parents in a heartbreaking and inspirational missive written to his mother ("Dear Mama").
And all are well served by an ingenious multi-leveled set (Douglas W. Schmidt) that magically transforms before our very eyes. The overall effect is beautifully enhanced by exquisite lighting (Robert Wirzel) and top-notch sound (John Shivers) design.
Together, the entire design team creates a setting that evokes the ambiance and energy of San Francisco and gay culture in the '70s, providing a fitting backdrop to the many whimsical and impeccably produced song and dance numbers by choreographer Larry Keigwin and musical director Cian McCarthy. And the splendid, colorful costume design by Beaver Bauer completes the stylized artistic tableau.
This is a wonderfully edgy, quintessential San Francisco experience, embracing its eccentricity with a singular charm and an irrepressible, incandescent spirit. The American Conservatory Theater and director Jason Moore must be congratulated for bringing to the stage a highly entertaining show that does justice to the city in which it is set. Bravo!
Armistead Maupin's Tales of the City

American Conservatory Theater (A.C.T.), San Francisco

4 out of 5 stars

The team behind the brand-new musical Armistead Maupin's Tales of the City: (from left) choreographer Larry Keigwin, librettist Jeff Whitty, director Jason Moore, and composers John Garden and Jake Shears.

Book by Jeff Whitty
Directed by Jason Moore
Based on Armistead Maupin's Tales of the City and More Tales of the City
Music and Lyrics by Jake Shears and John Garden
Libretto by Jeff Whitty
Choreography by Larry Keigwin
May 18 – July 24, 2011
Photo credit: Kevin Berne.