Guest post by Pat Reardon.
Who knew that the Muppets had a sex life? In Avenue Q, our favorite felt friends are nothing like the respectable role models that we have come to know and love. Robert Lopez and Jeff Marx's hilarious Tony Award winning musical about the seedier side of Sesame Street's citizens is a laugh out loud knee-slapping evening at the theater.
The story centers on a group of capable but rarely employed residents of Avenue Q. This diverse group of young characters, both real and puppet, struggle through life's varied challenges including, loneliness, sexual identity, mating rituals, racism, relationships and lowered expectations.
Central to the story is Princeton (David Colston Corris) the street's newest resident who quickly learns that his B.A. in English earns him little in life's competitive real world. He and the rest of the furry friends in Avenue Q bear more than a passing resemblance to our favorite Muppets, including Rod and Nicky (Colston Corris, Robert Brewer), Q's gay version of Bert and Ernie and Trekkie Monster (Brewer) who consumes internet porn like an overeater with a sweet tooth devours chocolate chip cookies. The entire motley crew is egged on by two loveable but devious puppets, the Bad Idea Bears, who sweetly whisper the world's WORST suggestions directly into the ears of the poor susceptible characters.
The Avenue Q actors double as performing puppeteers. Not only do they bring their fuzzy characters to life, but they simultaneously contribute to the performance as players. This unique spin allows the audience to view both the puppet and the puppeteer individually while still suspending disbelief in the characters and production.
David Corris is the most accomplished puppeteer of the group. His background in the art is all to evident in his skillful manipulation of Princeton and Rod. Stage veterans Robert Brewer and Martin Rojas-Dietrich pack a punch with their presence. Rojas-Dietrich brings his usual loveable energetic delivery to Brian, the stand up comedian wannabe.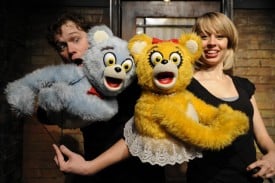 In spite of Avenue Q's teaser reputation as a Muppet satire packed with vulgarity, profanity and full puppet nudity, the dialogue and situations are quite tame by today's HBO standards. The music is catchy and loaded with cheeky odes to young angst and finding your way in life. The Stage's Avenue Q is a very fun sweet production that brings out the grown up kid in all of us.
Avenue Q

4 out of 5 stars
San Jose Stage
Directed by Rick Singleton
Music and Lyrics by Robert Lopez and Jeff Marx
Book by Jeff Whitty
Starring David Colston Corris, Halsey Varady, Rinabeth Apostol, Robert Brewer, Martin Rojas-Deitrich, Monique Hafen, Cheryl B. Scales, Leah Marie Cohen
Photo credit: Dave Lepori.