Anna Deavere Smith's (The West Wing) eagerly awaited return to the Bay Area stage last night in Berkeley flat out rocked. Let Me Down Easy, a one-woman show based on 320 interviews conducted across three continents, stuns with its riveting exploration of human strength, life and death, and body politic.
According to Berkeley Rep, advance ticket sales for this show are second only to the blockbuster premiere of Green Day's American Idiot. After the two-hour performance, as we made our way through the Roda lobby, and with the raucous standing-O still ringing, I turned to doe-eyed Loni and whispered, "wow!" – chalk me up, I'm a believer…
From bed-ridden film critic Joel Siegel (who delivers some of the best lines while quoting some of his favorite jokes about aging: "I'm so old I'm hoping for premature ejaculation!") and testosterone-charged, fidgety Lance Armstrong to a Buddhist monk and even Smith's own aunt, she embodies over twenty characters in a series of reenactments based on actual ("verbatim") interviews. Many of these people are well known, but the manner in which they are revealed here on stage — channeled so convincingly through Anna Deavere Smith — makes this a uniquely remarkable theatrical experience.
Oh – file it in the lesson learned archive: Tina Turner lives in her vagina.
There is no script in Let Me Down Easy. Rather the interviews are strung together in a series of vignettes. Human strength is a common theme. How do we feel about death? What is it to persevere? And what are the best practices and systems for health-care reform? The many perspectives eventually reveal a mental mosaic of sorts. Not that there is a clear takeaway, or conclusion.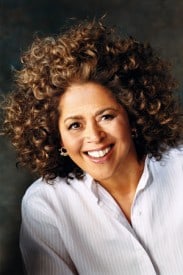 The star, of course, is Anna Deavere Smith. Her impressions are spectacularly thorough. Nuances — Lance Armstrong itching his thigh, or Lauren Hutton's glamorous, laissez-faire body language — are a strong point, as are the many accents. These are not caricatures. Instead we're seeing these people — some living, some dead — fully realized before our very eyes. By the time we visit with former Texas Governor Ann Richards ("Poor George. He can't help it. He was born with a silver foot in his mouth.") I was subsumed: we we're experiencing a once-in-a-lifetime journey into some of the most fascinating lives on the planet.
The circular set is classic Architectural Digest. Clean, modern lines, and five large floor-to-ceiling mirrors frame a living space containing a couch, a dining room table and some chairs. True to Berkeley Rep form, it could be something out of a Phillippe Starck collection. That is, until the end when the remnants including clothes, boxing gloves, and food lay strewn across the stage reminding us of lives lived, journeys taken.
Lighting (Dan Ozminkowski based on design by Peggy Eisenhower and Jules Fisher) is, once again per the Rep's standards, an epic achievement, although it was so gorgeously subtle that I suspect many might not have even noticed the color changes or the sliding intensity.
On this evening, Anna Deavere Smith did anything but leave us in the dark. It was as if a giant bolt of lightning illuminated the Berkeley sky: "THIS is why LIVE theater MATTERS!" What PlayStation Network?
Let Me Down Easy

Conceived, written and performed by Anna Deavere Smith
Directed by Leonard Foglia
4.5 out of 5 stars
Berkeley Repertory Theatre, Roda Theatre
Through July 10, 2011
Noteworthy

Runaway sales: In Berkeley Rep's 43-year history, the advance sale for Let Me Down Easy is second only to Green Day's American Idiot.

Again, the mirrors… Anna Deavere Smith last performed in the Bay Area 15 years go with her solo show Fires in the Mirror.

"Together we can discover some new mystery about how we are as humans, in that hour and a half we spend together, trying to peel away the layers of the onion." — Anna Deavere Smith in a feature (p. 22) in The Berkeley Rep Magazine.

Thanks to a miraculously accident-free 880N, we were able to sneak in another pre-show Berkeley favorite: California Sushi.

Foursquare promo at Berk Rep… if you check-in using Foursquare, be sure to look for the special promo… there is no shortage of beverages, snacks at the Rep's friendly cafe.
Photo credit: Joan Marcus and Mary Ellen Mark, respectively.