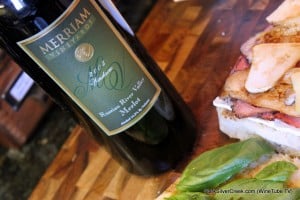 Located on the edge of the Russian River Valley, you'd expect some nice reds from Merriam Vineyards. And this ′05 "Windacre" Merlot definitely fits the bill. Normally a Cab guy, through-and-through with an odd bent recently for drinking Chardonnay (even though the weather is cold and damp here in the Bay Area) I found this Merlot to be full of flavor. Those looking for something mellow, subdued would do well to look elsewhere. This single vineyard Merlot brings plenty of character to the table.
So now comes the pairing. Loni is going gangbusters these days in the kitchen with recipes and all sorts of messy foodie stuff. The upside: It makes for some snazzy photos, and it allows me to enjoy some creative food and wine pairings. On the downside: having to wait a few hours to eat—thank you cheese and crackers! We decided this Merriam would pair up with Loni's 'Delectably Distracting' King trumpet mushroom, basil and brie pastrami panini. This was going to be an over-the-top-lunch. The kind where I'd find myself later slumped over on the couch, contently satiated, dreaming of the San Jose Sharks and Ottawa Senators playing in the Stanley Cup final.
In short, this pairing is outrageous.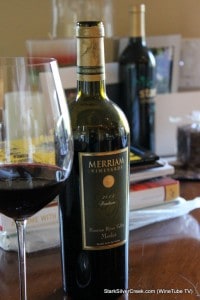 The only time I can recall having this kind of food and wine pairing nirvana might have been when we paired '97 Bollinger Champagne with Loni's home-made sushi (and, yes, I felt like James Bond for at least ten minutes). I'm not including our rapid-fire foodie tours at events such as Pebble Beach Food & Wine and the recent Star Chefs and Vintners at Fort Mason simply because I'm too rushed chasing Loni with the T2i to enjoy any of the good stuff. And what torture it is to watch.
This Windacre Merlot has enough tannins to take on the brie and pastrami in the panini, without zonking my mouth completely. The earthiness is just leather-perfect: velvety, yet enough dirt there to feel somewhat rumbustious.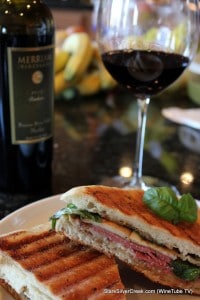 Peter and Diana Merriam are gracious hosts. One of the most memorable trade events was held at Merriam for a comprehensive tasting of '07 Pinots – a morning I won't soon forget. The wines (especially the single vineyard) were consistently good. There were even some spectacular ones in the bunch. You can get the lowdown on that cool, overcast fall day here.
The Wine: Merriam Vineyards 2005 Windacre Merlot (Russian River Valley), 14.2%, $26, 90 points.
The Recipe: 'Delectably Distracting' King trumpet mushroom, basil and brie pastrami panini
The Buzz: As good as it gets. You absolutely must try this pairing. Be ready for a luxurious nap. Happy-as-clams, goofy grin optional.