The 2007 Pinot Noirs from Northern California are showing all the hallmarks of an outstanding year: elegant intensity, nice color and downright delicious.
Recently, on a typically cool and overcast coastal morning, I had the opportunity to taste two flights of Russian River Valley Pinots.
The results surprised me. I was expecting a lot of variety, especially in quality. What I discovered though, was consistent excellence. And, admittedly, I'm a Napa Cab kind of guy; big tannins, robust dark fruits and plenty of "mouth hop" does it for me. But these Pinots have me re-jiggering my varietal mix in our cellar at home… maybe it's time to slip more into the rotation.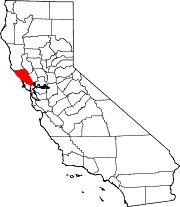 More on the tasting in a moment. But first the Russian River Valley (RRV). Sonoma's famous appellation, almost 200 square miles, is named after the river which flows generally south from up in Mendocino County, through Ukiah, east of Healdsburg, twisting westward, before dumping in the Pacific Ocean near Goat Rock Beach, 50 miles north of San Francisco. Wine yes, vodka no. The river was named after Russian trappers who explored it in the early 19th century.
The cooling fog and proximity of the RRV to the Pacific Ocean results in a temperate climate ideal for Chardonnay and Pinot Noir grapes. Home to about 100 wineries, winemakers have been perfecting their craft especially when it comes to Pinot.
The panel for this tasting, hosted by Merriam Vineyards in Healdsburg (just off Highway 101 outside of Windsor), demonstrated the breadth of world-class knowledge and expertise Sonoma can proudly call its own: John Holdredge (Holdredge Wines), Pete Opatz (Picket Fence Vineyards), Dan Kosta (Kosta Browne Winery), Tom Dehlinger (Dehlinger Winery) and host Peter Merriam.
Master Sommelier Geoff Kruth (GuildSomm) moderated the panel effectively with plenty of probing questions, and dashes of RRV history.
What did the panel think about 2007?
John Holdredge called it, "tiny", saying he "couldn't ask for anything more." Other panelists chimed in. Intense. Beautiful color. Mother nature gave us her best. The panel all agreed that it was something special.
Why is 2007 so special?
A few reasons surfaced from the discussions. The most obvious is weather. The growing season was temperate which helps the vines achieve optimal ripeness without the need for artificial techniques. Panelists referenced the increasing expertise working with Pinot as a factor, and that the terroir is constantly evolving thanks to, simply, time. New trellising systems and canopy management were mentioned several times.
On to the tasting, which consisted of three flights separated with brief intermissions, to switch rooms. (Or in hockey terms: it was three periods with a break for Coach's Corner and the Hot Stove).
The 9 wines from flight 1 were single vineyard, and at the end of the day I scored the highest. There is something about the purity of the Pinot grape—unadulterated flavors captured directly without any winemaker jujitsu (not that there's anything wrong with that).
Flight 1 — Single Vineyard

Baletto Vineyards — Brunside Vineyard
Coteri Cellars — Saralee Vineyard
C Donatiello Winery — Maddie's Vineyard
Dutton Golfield Winery — Freestone Hill Vineyard
Forchini Vineyard & Winery — River Terrace Vineyard
Freeman Vineyard & Winery — Keefer Ranch
Russial Hill Estate Winery — Tara Vineyard
Sequana Vineyards — Dutton Ranch
Suacci Carciere Wines — Suacci Vineyard
Reviewing my general tasting notes on the first flight I was struck by how similar all of them tasted. Panelists would later debate the characteristics of RRV, is there a unique quality? Indeed there must be something that at least showcases a consistent quality. My notes: "concentrated, but not over the top", "mostly red fruits", "wow, surprising amounts of complexity and interest", "peppers baby!"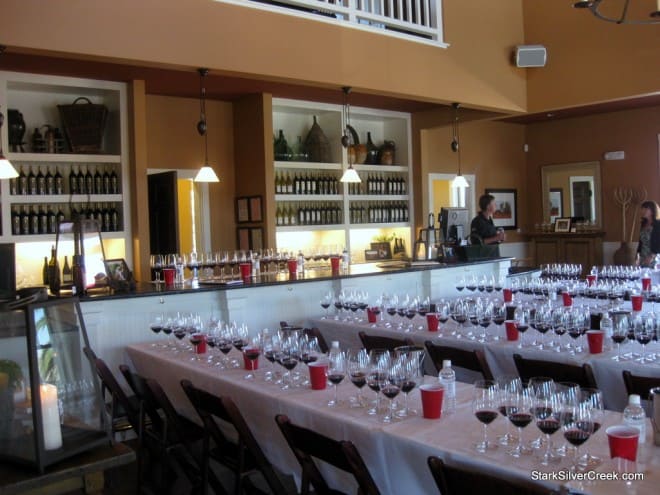 I don't remember ever tasting a flight of wines where I considered all of them to be very good to excellent. I don't think you could go wrong with any of these. Evaluation at this point, in my estimation, is centered on nuances. Do you prefer hints of red cherry, or earthiness, and tobacco?
Favorites: C Donatiello ($62, 175 cases), Dutton Goldfield ($58, 537 cases), Suacci Carciere Wines ($48, 175 cases). All the wines were small batch. Price points are actually a relative bargain compared to the healthy priced Cabs from their neighbors to the East.
Flight 2 was a mixed bag of Bordeaux varietals from 2005-2007, with some standouts and at least one surprise.
Flight 2 — Bordeaux Varietals

Chasseur Wines
Hook & Ladder Winery
Hop Kiln Winery – Generations
J. Lynn Wines
Joseph Swan Vineyards – Cuvée de Trois
Kenwood Vineyards
Moshin Vineyards
Olson Ogden Wines
River Road Vineyards
Terlato Vineyards
Williams Selyem – Westside Road Neighbors
Here, the winemaker can leave their mark, for better or worse. Again, I think these are high quality wines. On this day, I preferred the single vineyard Pinots, but that doesn't mean you can't find some great stuff here too.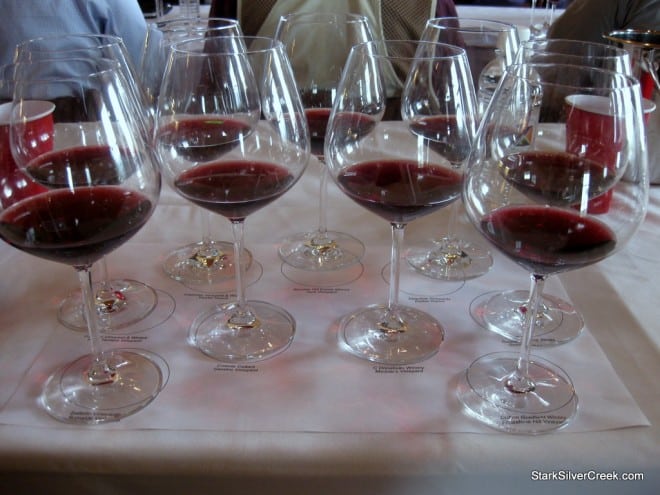 My favorites: Chasseur Wines ($40, 800 cases) with lots of earth, structure with tannins (a little young) and complexity. Nice! Williams Selyem ($67, 1,103 cases) superb Burgundy-like dark color, rich and chewy. Excellent.
The surprise was the Kenwood ($18, 36,700 case). I've always enjoyed their artist series. This one is like a friendly neighbor. Just hang out and shoot the breeze, all casual. Red fruit, smooth (drink now), but nice pepper on the nose and clean finish. For the price, easy to recommend.
The final flight for the day was a fun grab bag of varietals.
Flight 3

Acorn Winery — Alegria Vineyards Cabernet Franc
Dehlinger Winery — Cabernet Sauvignon
Ledson Winery & Vineyards — Merlot
Longboard Vineyards — Dakine Merlot
Merriam Vineyards — Miktos Red Wine
Selby Winery — Azevedo Ranch Cabernet Sauvignon
Suncé Winery — Hedin Vineyard Merlot
Windsor Oaks Vineyards — Chalk Hill Malbec
I always relish the chance to taste several varietals at one seating, so this was a nice way to finish the tasting. My favorites: 2006 Dehlinger Winery ($50, 385 cases), dark, chewy cedar and currant with juicy, long finish, dry. 2005 Ledson Winery & Vineyards ($44, 545 cases), medium bodied. 2006 Suncé Winery ($30, 100 cases), love it/hate it super smoky coffee nose, rich, full bodied finish.
The 2007 Pinots from RRV are special.
This tasting opened my eyes. The Russian River Valley is a bonafide star. The '07 vintage is uniformly strong, with an abundance of outstanding wines. I will be looking to add some to our Cab-heavy cellar.