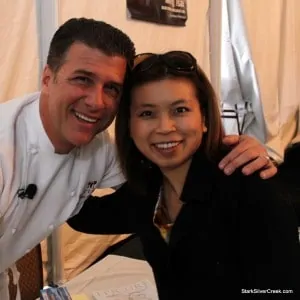 Michael Chiarello is an Emmy-award winning Food Network television host. But also, as I know all too well, he runs the NapaStyle retail shops here in the Bay Area. This I know because I must tour them—along with Williams-Sonoma and various other distinctly non-Clint destinations—when enjoying a weekend stroll in Los Gatos with Loni, before I can get to the Apple store and the local Lamborghini and Aston Martin showrooms. Oh, yes, woe is me.
I think Chef knew this when he reluctantly included my name in tiny print when signing his book as seen here in this On Location video at Pebble Beach Food & Wine from this morning.
We made the 60 minute drive up to the cooking demo not quite knowing what to expect. When I learned one of Chef's assistants was nicknamed "brown Jesus" I suspected this Saturday morning might be more interesting than I bargained for.
While I learned less about cooking (you won't hear me complain), I certainly learned more than my fair share about marketing, branding and subtle non-stop in-show product placement. And story telling. Oh, the stories!
I must admit, Chef Chiarello is a master story teller—or, as we call it in Silicon Valley: Marketer.
It was a very entertaining 90 minutes. More to come from Pebble Beach… stay tuned… and, please, remember it's "Clint" as in Clint Eastwood.
Noteworthy:

I like the way Michael Chiarello gives a slight Japanese bow when receiving Loni's business card…
Throughout the cooking presentation this morning there were references to: Children's coffins, Brown Jesus, Stella Artois and Girlfriends (did I mention I enjoyed it?)
Why, oh why, praytel, did they pair the food with… water? Terroir and water? Where's all the wine? Yes, I know, it's 10am, but after driving under the cloudy skies from San Jose to Pebble Beach I was more than ready for a glass.
Chiarello's book: $40. His look when he initially thinks Loni might be a slightly crazy fan: priceless.
Canon T2i first test in the field: A+
I'll never forget watching Tiger Woods T-off here in 2000 at the US Open.