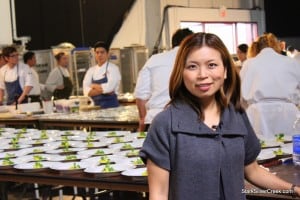 According to organizers the Star Chefs and Vintners Gala at the Fort Mason center was a resounding success, raising over $1.2M for home bound seniors across San Francisco. The original goal of $1.1M was smashed thanks to a generous outpouring of support. But, what exactly took place that evening along the Bay? Find out in this special episode of WineTube TV. It's not just about fine wine as you'll see, but gourmet food, and lots of it. 70 star chefs worth in fact. Let the culinary adventure begin.
Perhaps the most striking thing about the event takes place behind the scenes in the hangar-sized kitchen, where the chefs and assistants prepare food for about one thousand guests. As Loni says, "This is Iron Chef times a thousand!"
Loni catches up with executive director Ashley C. McCumber who says the event is an unparalleled food & wine event with massive support. Later, Nancy Oakes, the gala Chair and chef/owner of Boulevard restaurant said, "This is a tremendous organization, there is a lot of energy and people who make this all happen."
But, the big question: What happens when Loni once again meets face-to-face with star chef, and now also restaurateur (Bottega in Napa) Michael Chiarello?
Last seen at Pebble Beach Food & Wine, where Michael entertained soccer moms with a cooking demo (and butt shakes), would his dish pass the Loni taste test? And, the bonus question: What family member is the wine he pours named in honor of? Oh, the foodie drama!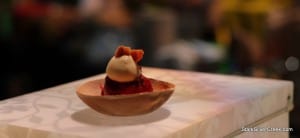 The live auction held after the sumptuous four-course dinner was by all accounts a grand old time, with spirited bidding taking place well into the night. Later, guests mingled in what Loni called a "dessert paradise." Don't take my word for it, check out some of the video for all of the indulgent evidence. Ah, the things she'll do for a good cause!
Also making appearances in this episode: Joseph Manzare (Globe / Zuppa), Prospect, Josiah Stone (Sent Sovi), Ken Tominaga (Hana Japanese Restaurant), "King of Cabernet" Nils Venge (Saddleback Cellars), Hiro Sone and Lissa Doumani (Ame Restaurant), Schafer Vineyards, Jan Birnbaum (EPIC Roadhouse), E&O Trading Company, and Matthew Accarrino (SPQR).
Then the music started, and got the place hopping. Loni tries out some new moves, and we may even be seeing double. It was that kind of night. Not to miss. Meals on Wheel of San Francisco is a wonderful organization, and we were so pleased to be a (small) part of the festivities.