If you want to create content, Vlog or upload videos to your YouTube channel chances are you don't need to spend thousands on camera gear.
In fact, our recommendation today for content creators comes in under $400 USD (sale price). And that also includes a lens. This camera deal will give you just about everything you need to shoot videos and share them across social media and YouTube in high resolution with gorgeous imagery sure to attract viewers. Of course, the quality of the actual content is entirely up to you!
Today's recommendation is the:
Canon EOS Rebel T7 DSLR Camera with 18-55mm lens
There's a few reasons why we like this particular Canon model and kit:
At $399 including lens it's inexpensive
Autofocus is outstanding (Canon is typically best-in-class)
The included lens is wide enough at 18mm for Vlogging, but has range for zooming in to subjects when needed
Uses low cost SD cards
Features a 24MP sensor which makes it also suitable for photography
For the price there's a lot to like here. The sensor, memory card type (SD), superb autofocus and flexible lens really make this a kit worth considering.
Canon EOS Rebel T7:
Key Specs

Sensor: 24.1MP APS-C CMOS
Built-in LCD: 3″ 920k-Dot LCD Monitor
Image Processor: DIGIC 4+
Autofocus: 9-Point AF System
Wireless: Wi-Fi, NFC
Lens Mount: EF
Continuous Shooting: 3fps
MSRP: $479 with 18-55mm lens
In addition, you'll get Canon's legendary build quality. Expect a rugged body that can withstand harsh travel environments and tricky terrains. These Rebel cameras can definitely take a knock or two and keep on going.
Does the Canon EOS Rebel T7 have any Limitations?
Only 1080p HD video

Limited to 3fps continous shooting
At this price point don't be surprised if there's a few concessions. Here's a couple to keep in mind.
For one, the T7 only shoots up to 1080p HD video. There's no option for 4K. However, we believe HD video is absolutely fine for most content creators. You'll absolutely get across the point you need to make, and your audience will be most interested in your message, and not the fact that you're shooting in 4K or even 8K video — that's mostly irrelevant. As a bonus, shooting in HD means you'll generate smaller files, providing more room on your SD card to shoot possibly all day. Editing and uploading content will be faster as well. My recommendation is not to assume 4K is the be all end all when it comes to content creation.
Another limitation is continuous shooting is limited to 3fps. If you're into high speed action photography the T7 (or most other Rebels) is likely not the right choice. But for YouTubers and Vloggers this probably won't matter at all because you'll be primarily focused (literally) on shooting video. So not a big deal at all. Besides, why pay for additional technical features you simply won't use?
Why the Canon EOS Rebel T7 is a Top Pick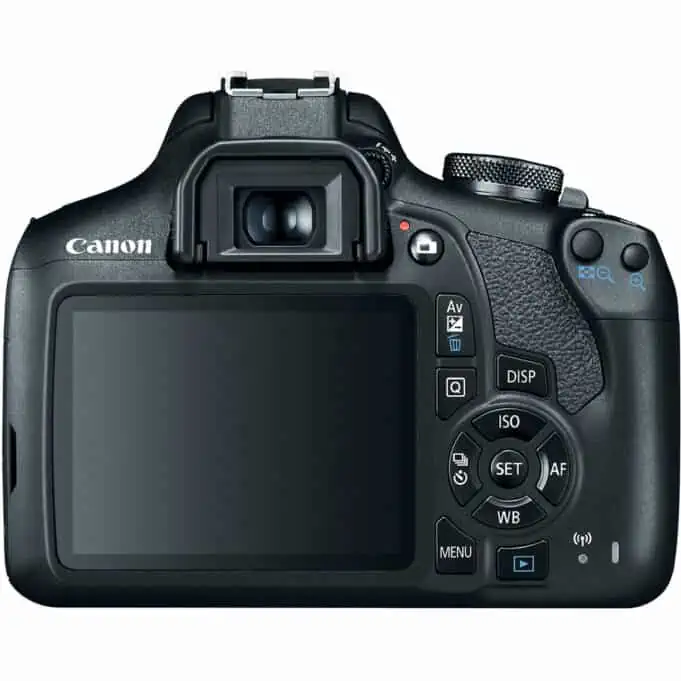 Now that we've briefly covered a few of the limitations let's look at what makes the T7 such a bargain offering from Canon and we think one of the best deals going in the entry level mirrorless/DSLR market.
Image Quality
Canon just does something right when it comes to color. Time and time again in my tests — whether it be something like the 90D, or flagship EOS R5, or a Rebel — Canon's so-called "color science" is top notch. Especially true when it comes to skin tones. If you're shooting interviews, weddings, short films or events you'll really appreciate that people look beautiful and natural. Minimal to no post processing will be required which will save you headaches and time.
Bokeh
Closely related to the image is bokeh, or the depth of field effect you get with a Canon EOS Rebel T7. Out of focus areas look creamy and, for lack of a better word, filmic. Yes, you can emulate this look on an Apple iPhone. But for my money, there's nothing like the real deal, using optics to capture that glorious high end bokeh look that only a true spherical lens (like the one included in this kit) can provide. Stunning stuff.
What reviewers are saying about the Canon EOS Rebel T7

DPreview has good things to say about the T7 including the image quality.

From the best-of roundup review:

"Overall, the T7 should provide a decent amount of control that's likely to be sufficient for a range of beginning to intermediate photographers."

The Rebel T7 was also included in the DPreview best camera under $500 list. Others included: Canon EOS M200, Nikon D3500, Olympus PEN E-PL10, Sony Alpha a5100 and a6000.
EF Lens Mount
Let's not forget about the lens mount. Because the Rebel and other Canon DSLR models use the EF mount, there's a staggering number of lens choices. Telephotos, primes, macros, and more. At just about every budget level. The flexibility with the Canon EF mount is icing on the cake.
Battery Life
One of the challenges of mirrorless cameras is battery life. Typically it's short. Not so with DSLRs. There's many reasons, one of which is that the viewfinder is optical and doesn't require any battery to power. Technical explanations aside, it just means a camera like the T7 can shoot for a long time. I mean a long time. I've been shooting Canon, RED, Panasonic and other cameras for over 18 years, and Canon is simply outstanding in this respect.
Image Stabilization
Finally, we absolutely love the IS (image stabilization) on the T7 and in general on Canon cameras. Chances are you'll be doing a lot of handheld work when Vlogging so having a shake-free image is important. With this body and lens combo you'll get smooth handheld shots. Canon, again, is really a class leader when it comes to IS.
Canon EOS Rebel T7 — A Top Choice for YouTubers and Vloggers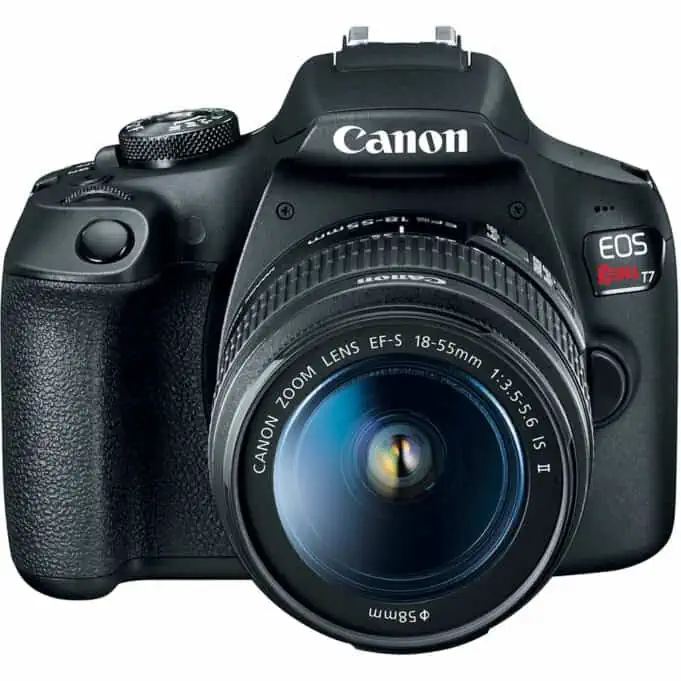 Beautiful image quality

Easy-to-use ergonomics and rugged body

HD video means you can shoot all-day on a low-cost SD memory card

Battery goes forever

Outstanding IS (Image Stabilization) for smooth handheld shots
For $399 it's hard to argue with the value proposition of the EOS Rebel T7; even more so when you realize the package includes a lens and you're ready to go out-of-the-box without the need for other expensive accessories. Being able to pick this camera up and get to work is pretty sweet.
Camera News, Reviews, Trends
on Stark Insider
Sure, you could spend thousands on the latest, cool mirrorless camera with 4K video. But why? This isn't about bragging rights it's about attracting an audience with compelling content. Forget about the headline tech specs and the incessant need to "upgrade" as marketers will tell you and just stick to quality and consistency of content. The rest will follow. A camera is just a tool, and will help you get the job done.
The T7 scores high in several of our most important tests:
Image Quality
Handling and Ergonomics
Ease-of-Use
Video (1080p HD)
Battery Life
That's why the Canon EOS Rebel T7 receives our highest recommendation (Platinum Award) as one of the best choices you can make for a camera well suited for content creators, Vlogging and YouTube.