Even though the Canon EOS R6 was just released at the end of last year, there's already a deal to be had. And potential camera buyers may want to take a look.
Featuring a new 20-megapixel sensor, the full-frame model is now discounted upwards of 64% — price cuts we've rarely seen for a such a new model. That brings the price for a new, full-frame, mirrorless EOS R6 camera to just $1,599 USD. Pretty impressive given the pedigree and specs.
Like all new Canon mirrorless models, the R6 features a modern RF mount. That means you can utilize all the new Canon RF-mount lenses including ones like the inexpensive and highly recommended 50mm, aka the 'Nifty Fifty'.
Canon EOS R6: Key Features
Dual Pixel Autofocus (DPAF) is industry best

4K video

20MP full-frame sensor
Other key features in addition to the new sensor on the EOS R6 include:
4K video
Dual UHS-II SD Memory Card Slots
Up to 12fps (mechanical) and 20fps (electronic) continuous shooting
Dual pixel CMOS AF covering approx. 100% area with 1,053 AF areas
Subject tracking Auto-Focus
5-axis IBIS (in-body image stabilization) with up to 8 stops shake correction
Wi-Fi and Bluetooth
DIGIC X image processor
Available: Amazon (on sale)
While you don't get 8K video or a mega 40 MP sensor as found in the flagship EOS R5 you're also paying significantly less money. Yet, you still get key features that will appeal to most videographers and photographers including advanced DPAF (Canon's auto-focus is best-in-class), the relatively new Canon RF lens mount, outstanding color and image quality, and advanced subject tracking (animals, humans, etc.).
What are the Professional Reviewers Saying about the Canon EOS R6?
Critics love the Auto-Focus performance, image quality and ergonomics

Some concerns about overheating
If you're considering buying the EOS R6 chances are you're going to Google around a bit to see what the critics are saying. All told, the verdict seems to be positive. Here's some highlights from reviews of the R6 around the internet from some of the more respected camera sources.
DPreview (90%) — stingy camera site DPreview awarded the Canon EOS R6 a Gold Award with a 90% score which is impressive for a site not known for handing out such praise often. In particular the review cites the footage as "best-in-class."

Tom's Guide (4.5 out of 5 stars) — over on Tom's Guide the EOS R6 also receives accolades. "The combination of incredible autofocus — seriously, it works like magic — with class-leading image stabilization and super-clean high ISO settings mean it's a supremely capable performer in almost every situation."

TechRadar (4.5 out of 5 stars) — In the TechRadar R6 review, the author likes the best-in-class autofocus, excellent full-frame IBIS and HEIF file support, but says to watch out for some 4K recording limitations.
Who Should Buy the Canon EOS R6?
Consider if you shoot landscape, music videos, wedding films, corporate videos

Also suitable for Vloggers and YouTubers thanks to outstanding IBIS
The R6 should appeal to those looking to upgrade from an older APS-C DSLR style body and considering a move into the modern mirrorless form factor. Also, those shooting in darker situations will benefit from the full-frame sensor which lets in more light relative to APS-C. For run-and-gun shooters this can be a life saver.
In terms of memory cards, the R6 works with reliable and inexpensive SD cards. So you won't necessarily need to buy new ones and chances are you have some already lying around that are compatible. Dual slots provides plenty of options in terms of how you manage storage including sequential recording (from one card to the next) or in parallel for in-camera backup (simultaneous to both cards).
Verdict: Canon EOS R6
A compelling mid-range mirrorless camera

Far less expensive than the flagship R5 — but no 8K video and smaller image sensor

Trickle down Canon tech means a lot of value for the money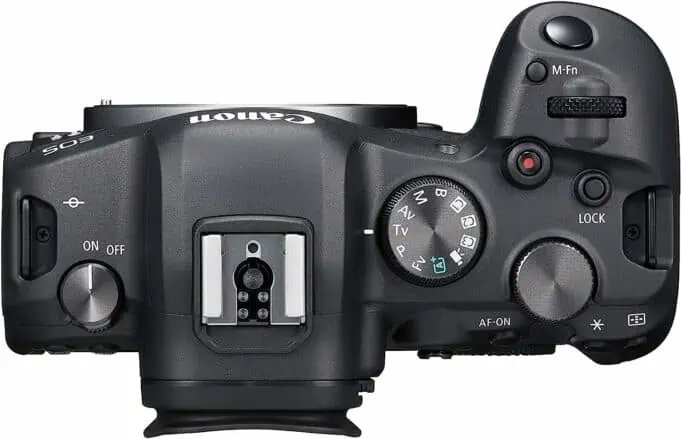 With the R6 Canon offers a desirable mid-range, full-frame mirrorless camera. As an R5 owner I like that this model gets most of the trickle-down tech (DPAF, IBIS, RF-mount, etc.). found on the company's more expensive models. Yet, the price is right. Especially thanks to the new discounts.
Many will still be satisfied shooting videos with their iPhones and Androids. However, for the enthusiast and videographer and wedding shooter who needs flexible focal lengths, dedicated storage cards, and the ergonomics that only a dedicated camera can provide, clearly something like the R6 will be appealing.
Cameras & Filmmaking

News, Reviews, Trends, Recommendations
Professionals who need the absolute highest level of resolution will likely step-up to the flagship full-frame EOS R5. However, that also comes with a step-up price to match and costs about $3,899 USD. If you don't need the 45MP sensor than I suggest you're better off with the R6. Take the savings and put it towards the extras you'll need to complete your kit: lenses, lighting, sound, SD cards, tripods and gimbals. It all depends, of course, on your budget, projects and feature prioritization.
Overall, the Canon EOS R6 should be on your short list if you're in the market for a mid-range mirrorless camera with a full-frame sensor. There's a lot to like. If autofocus, image and build quality are at the top of your list it's really hard to beat the R6.