Did you know Seattle Coffee Gear has a showroom… in the San Francisco Bay Area?
Located at the Stanford Shopping Center in Palo Alto, the store is a candy store of curiosities for fans of espresso machines and coffee. That's at least what I discovered this weekend on a visit. And again my thanks to Loni Stark for discovering that this location even existed! Skip ahead below if you want to get straight to the photo tour.
So if you find yourself in the Bay Area you might want to drop by. The store is about a 30 minute drive from San Francisco or San Jose, and 1 hour from Berkeley or Oakland. As a side benefit you'll likely enjoy strolling the outdoor mall, with its airy corridors, lush greenery and, of course, lots of interesting retail shops and cafes and restaurants.
In fact, I can't ever recall being in an espresso machine store. Sure, I've seen coffee machines at various retailers or department stores, but typically it's a just a few consumer type products relegated to a back corner with reps oblivious to their functionality.
Things sure have changed.
Thanks to the pandemic the home espresso and coffee market has boomed. Without caffeine available at the office and in breakrooms we all had to scramble to come up with at-home solutions. For some that meant buying a bean-to-cup do-it-all machine such as a Jura espresso machine which can make all sorts of espresso drinks including milk-based ones such as Lattes and Cappuccinos. For others, however, it meant taking a deep (in some cases really deep) dive down the espresso rabbit hole, and opted for the completely manual process: dosing, grinding, tamping, brewing and steaming. And topping it all off with beautiful latte art — the accomplished home barista has arrived.
Thanks to the pandemic the home espresso and coffee market has boomed.
In any case I discovered the Seattle Coffee Gear store at Stanford catered to all of these would-be buyer and enthusiast profiles. Be it a consumer-oriented super-automatic like a Jura or Philips, or the traditional, steam punk aesthetic offered by espresso machines made by the likes of Rocket Espresso and LeLit and Diletta there was a nice selection of things to see.
Something to point out: this Seattle Coffee Gear doesn't necessarily stock everything you see on display. For instance, I was hoping to buy a Eureka Specialita grinder as the one I recently bought online had a failing touchscreen (and my Rocky Rancilio is nearing death's door). But they didn't have one in stock. No matter, really, as I simply ordered it on the SCG web site.
In any case, here's some photos and commentary on what turned out to be a quasi-cloudy, quasi-sunny and overcast day in Palo Alto, California.
IN PHOTOS
The Seattle Coffee Gear experience at the Stanford Shopping Center
Heading to Seattle Coffee Gear! It was nice to see the shops, restaurants and cafes at Stanford Shopping Center full of people, energy, and life. So nice to see after the last few years. Parking was even tricky!

You wouldn't mistake this store for a Target or Walmart. But you might mistake it for an Apple Store. Long and narrow, the design team has done a really good job maximizing the use of space. Also, it's airy and well lit. A pleasant place to spend some time geeking out.

Make Coffee You Love. How many grinders can you count in this photo?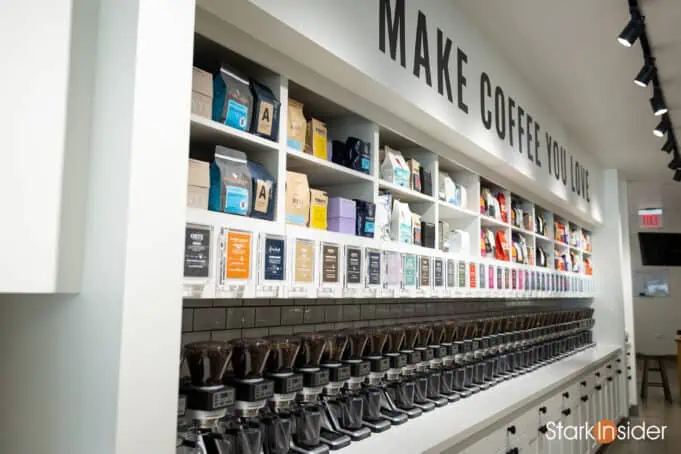 Various workstations are organized by machine type and brand making it easy to compare various models. Here are some ubiquitous Breville espresso machines. These continue to popular choices for aspiring home baristas as they're well priced, minimize counter space thanks to an integrated bean hopper and grinder (no need for separates) and perform well.

Another display, this time featuring semi-automatic machines from Rocket Espresso and LeLit.

And some super-automatic machines by Philips.

The store doesn't look busy, but there actually was at least a dozen or so people at any given time. I just was sneaky and tried taking photos without anything other than pure coffee subject matter.

If you're shopping for coffee or espresso accessories for yourself or as a gift you'll find a decent selection of stuff at the back (just like the Apple Store!). I spotted everything from knock boxes to tampers to cleaning supplies and milk pitchers.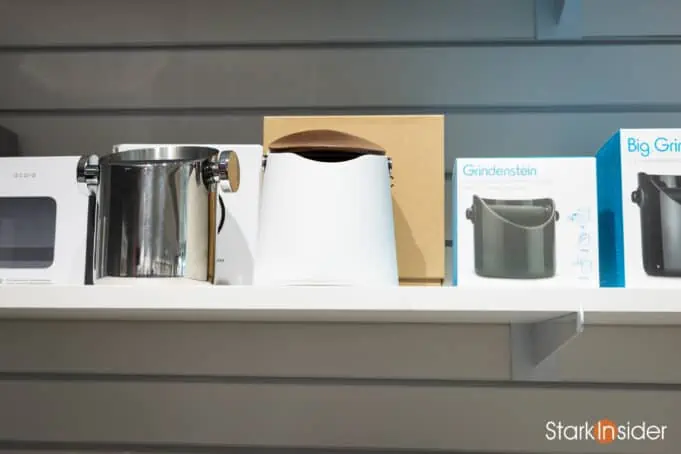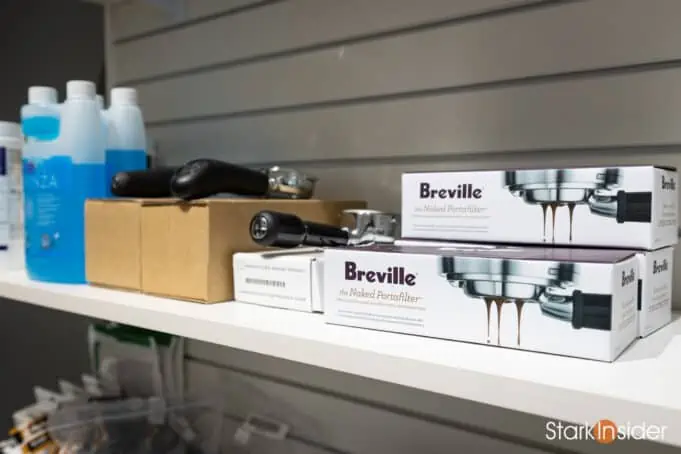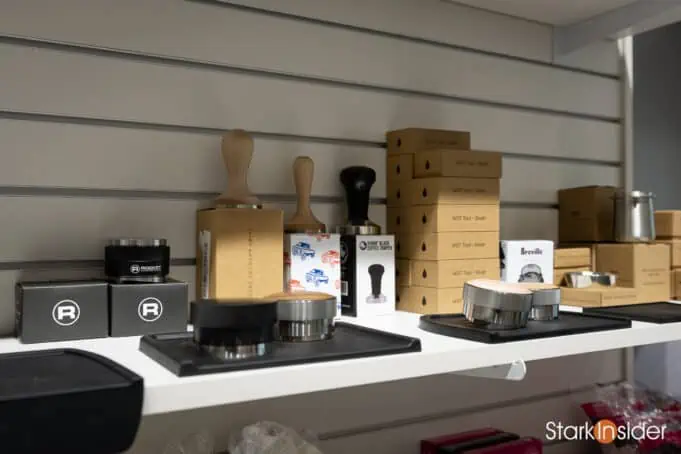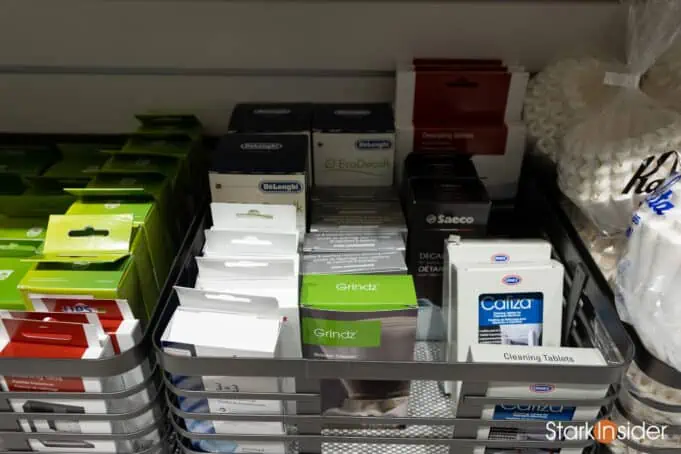 And, of course plenty of fresh coffee and espresso beans on hand…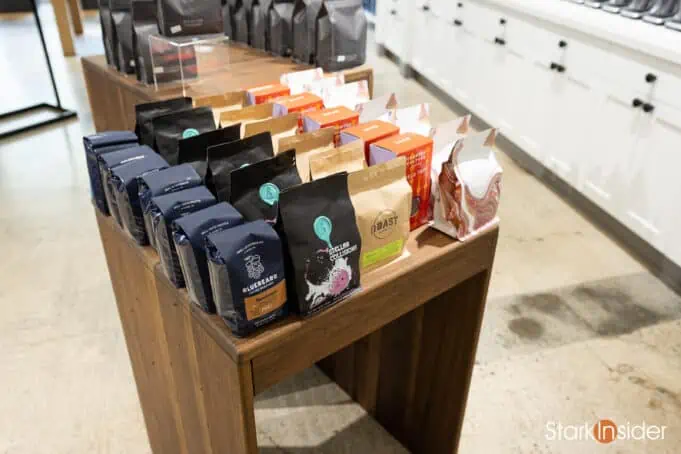 Okay, now let's take a closer look at some of the machines. We'll start with one of my favorites, if not my absolute favorite, heat exchanger: the Rocket Appartamento — absolutely gorgeous to behold, with generously sized steam want and controls. With the E61 brew head many parts and accessories can easily be found outline.
I like that you can customize the color of the Appartamento's circles on the side panels to add some personal flair.
Yes, I know, there's no PID or flow control or LED lights or a tablet anywhere in sight. How on earth will you survive? And how will you ever be able to make a decent espresso shot???! Somehow, you'll figure it out. Any coffee shop barista could.
This machine is a winner in my books — it's just a no-frills, single boiler HX that looks great and is made in Italy.
At the same station was the LeLit Bianca expresso machine, which was sitting next to a svelte, compact Mara X. I'm not too familiar with this dual boiler other than what I've read on the Seattle Coffee Gear and Whole Latte Love web sites, and seen, of course, on YouTube videos.
This is a pretty thing! White and woods are not my things, however, this particular Bianca might change my mind fast. At $3,400 this LeLit is pricey, but then again it's a dual boiler, and unlike the Appartamento above it does not skimp in any way on the features today's espresso nerds are looking for such as PID and flow control.
One nit regarding the Bianca and the Mara X: the panels are thin and tinny. Does that matter in terms of performance? Probably not. But it disappoints slightly when examining the build quality up close.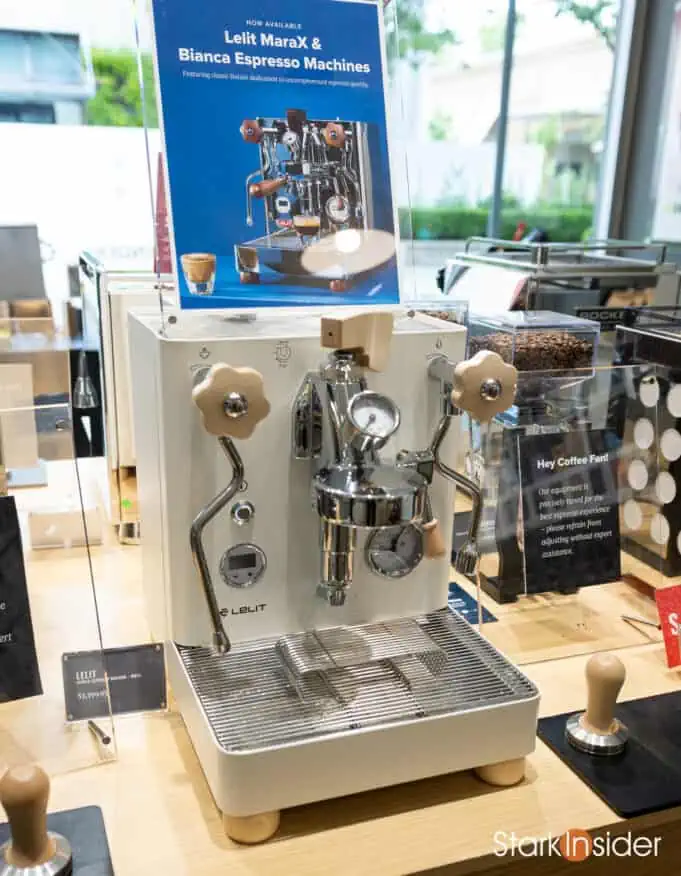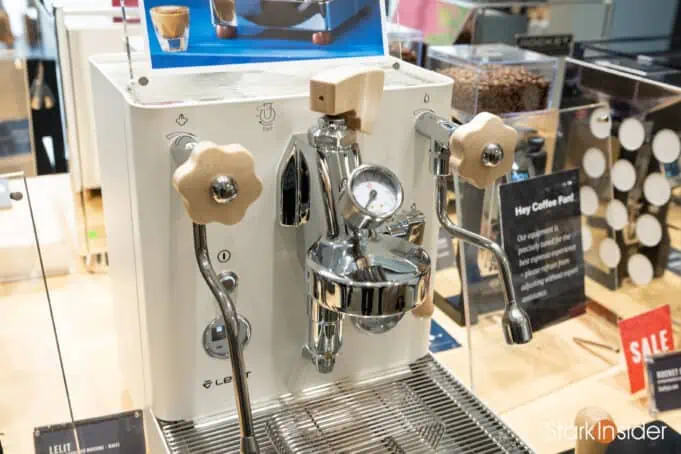 No espresso store would be complete without machines by Rancilio. I remember back in the 2000s when the Rancilio Silvia and Gaggia Classic Pro were battling it out in the burgeoning prosumer market. And they are still to this day!
Both are awesome sub $1,000 USD picks for an entry level single boiler machine, and a good choice for those who want to step up from a basic consumer appliance.
Speaking of Gaggia, there's no Gaggia Classic Pro in this showroom as SCG doesn't carry that brand.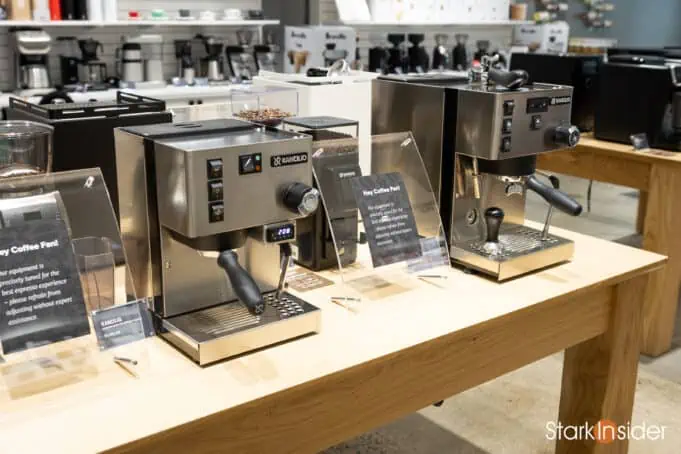 Briefly switching gears, here's some super-automatics. On the left the nifty Philips LatteGo 4300 and on the right the Saeco Xelsis. Philips now owns Saeco and Gaggia. These are reasonably priced machines for those who want that bean-to-cup simplicity. Style wise you can see they can't quite live up to the looks found on traditional Italian gods.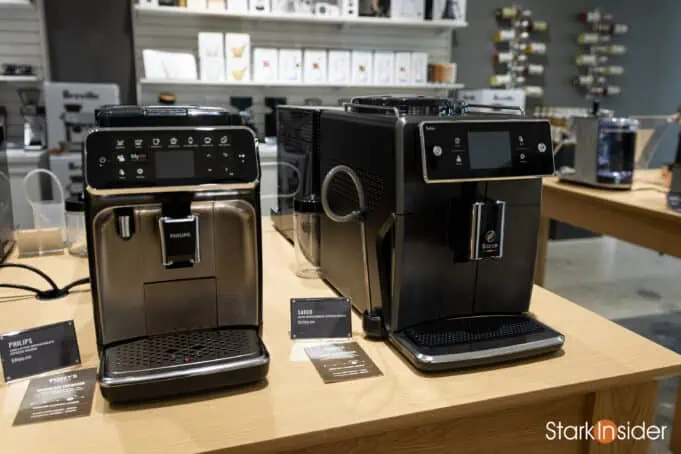 And more super-autos. This time by German giant Miele. A Miele CM 5310 and 6160. I have no hands on experience, but I do know they seem to be well reviewed. Note: unlike the above Philips LatteGo you need to use an external milk container with the Miele machines.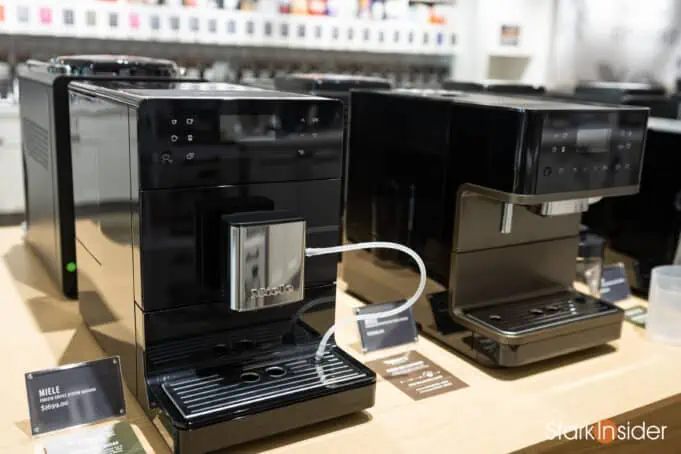 And finally we finish up this  portion of the photo tour with the Swiss take on the super-automatic. Jura is a juggernaut. You may have seen these clean, modern machines in small offices, car dealerships, or maybe, if you're lucky at your doctor or dentist or lawyer's office.
The machine on the left is a Jura Z10. We recently posted our first impressions of the flagship Z10 here on Stark Insider. A nifty trick: it can also make cold brew espresso drinks.
For my money, Jura makes outstanding espresso shots, and would be my pick for home if I was not such a semi-auto nerd and prefer doing everything my own, old school way.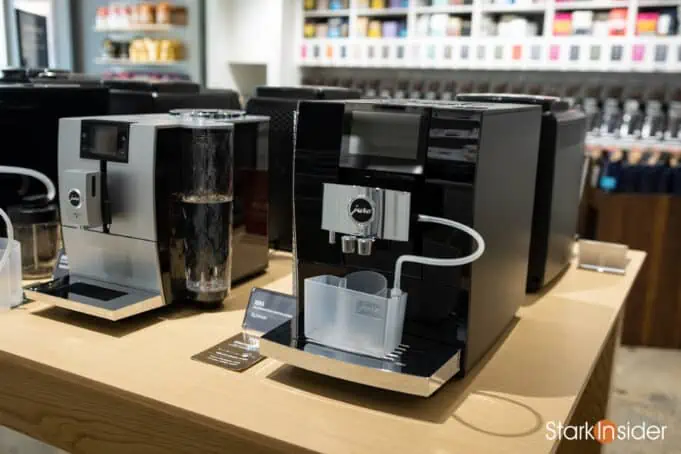 What's this up ahead?!
These are where the Ferraris and Lamborghinis and Porsches are awaiting.
Left to right: La Marzocco GS3, Rocket Espresso R Nine One, and La Marzocco Linea Mini.
Do not approach until your drain a few piggy banks.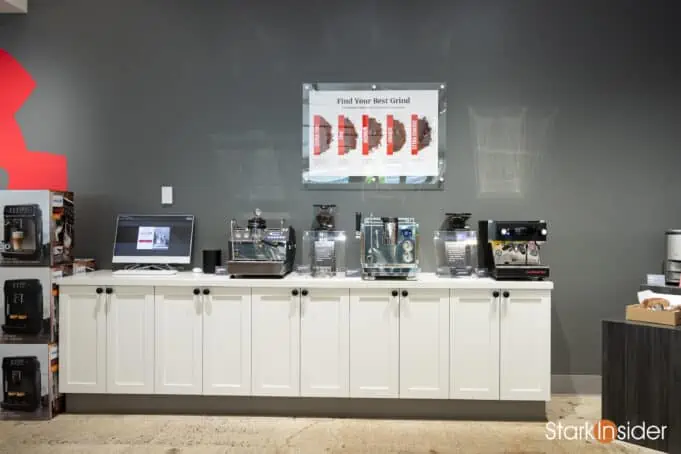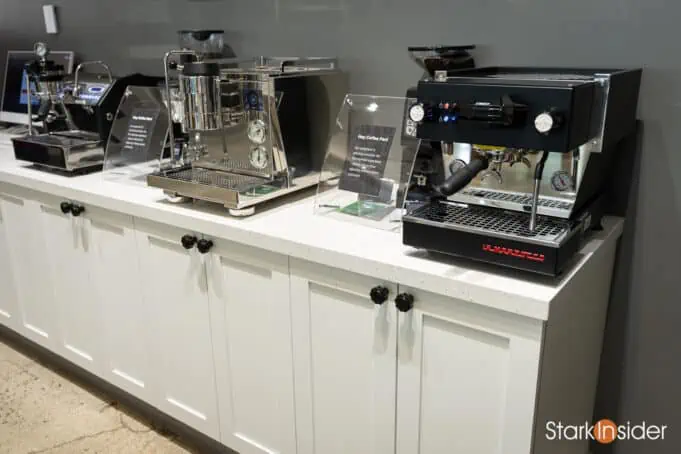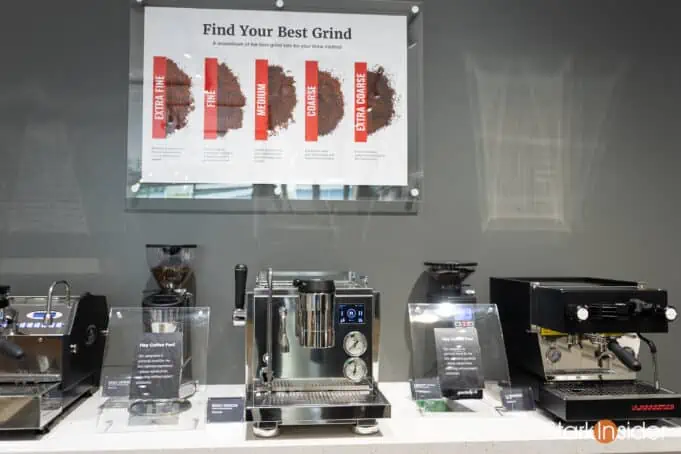 The Rocket Espresso R Nine One is wild looking!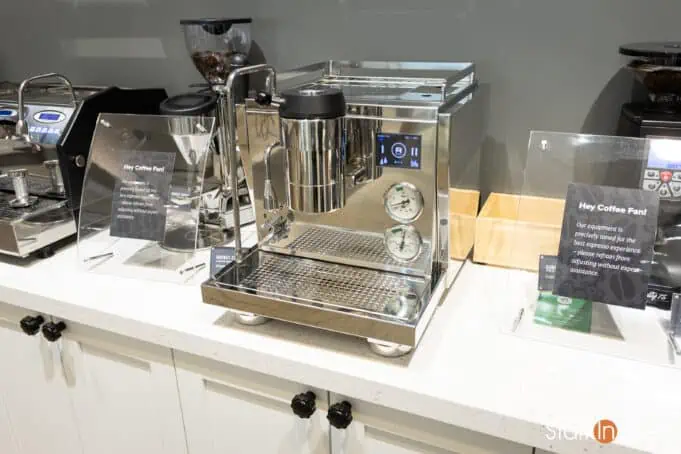 But the machine that really tugs my heartstrings is the stunning La Marzocco Linea Mini, the legend: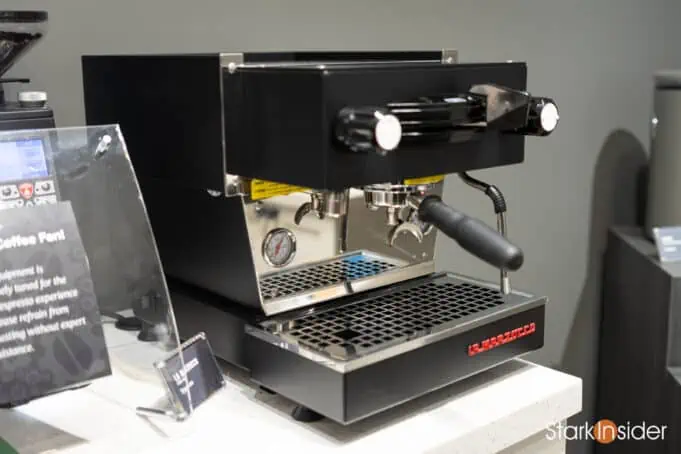 To me it's the pinnacle of the luxury at-home Italian espresso experience. Look a this thing. You may have even seen the "La Marzocco" branding on the backside of a machine while in coffee shop or café or restaurant somewhere during your travels. I like that they take that pedigree — the commercial technology — and apply it to this, albeit expensive, home version of the storied Mini brand.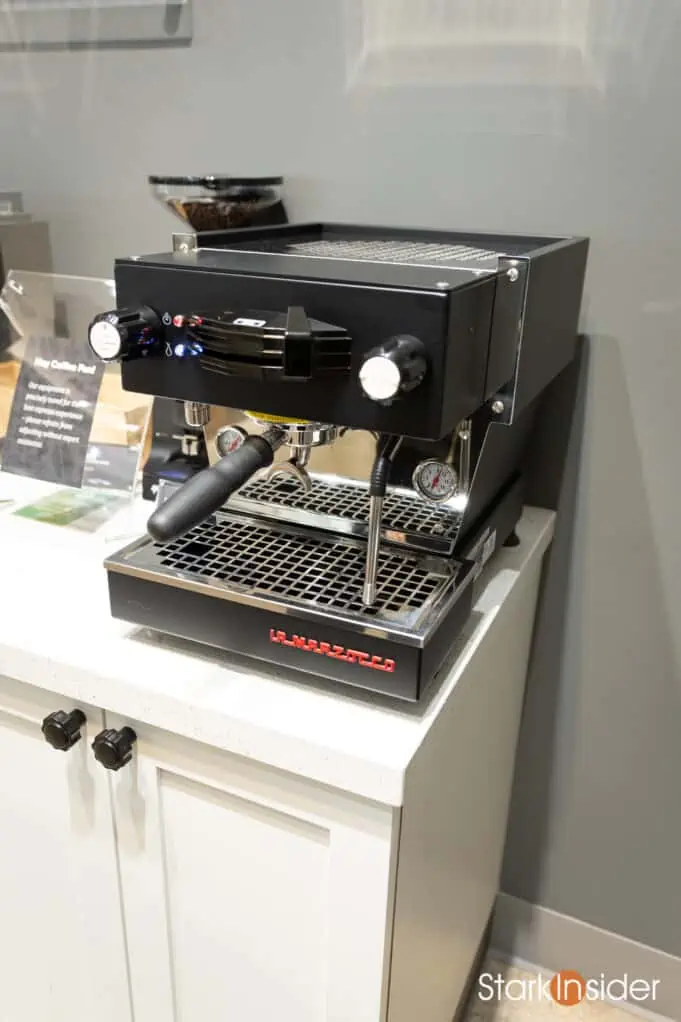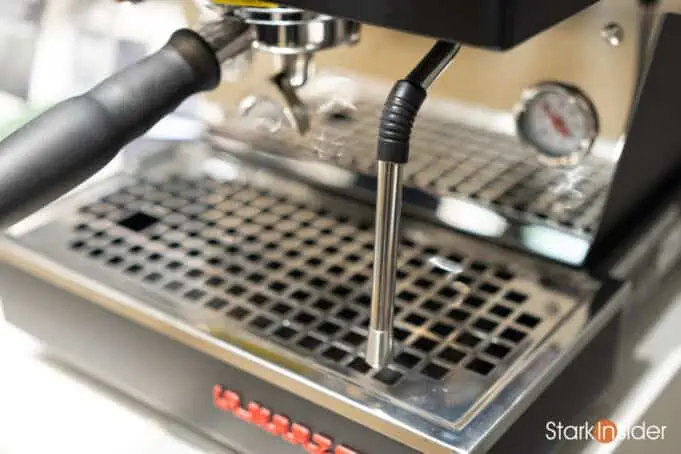 One thing that disappointed about the La Marzocco Linea Mini was the plastic bits at the front top (brew paddle and cover) that ship as factory standard. For the money ($5,900 USD plus options) I really think these should be anodized as standard or some sort of wood. This display machine deserves better. Fortunately you can spec it out with better materials, but like Ferrari, be ready to pay.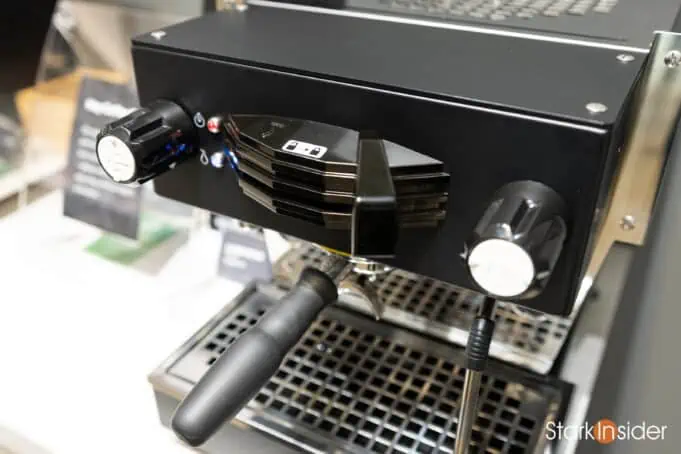 A parting shot of the LMLM from the left. The company has also recently released a smaller version of the Mini called the Micra. It's less expensive, features a far more compact footprint, but doesn't skimp on features (and even includes a no burn steam wand that the Mini doesn't).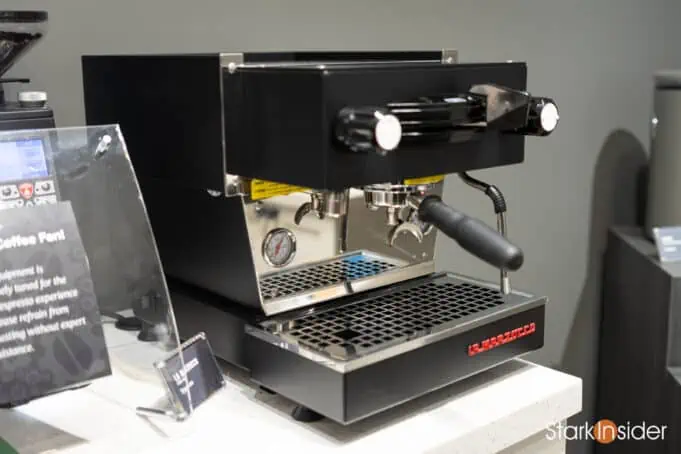 And let's not forget, no espresso shot is worth its crema if its not made from fine, non-clumpy grinds. Don't skimp on the grinder. Here's grinder row at the Seattle Coffee Gear store: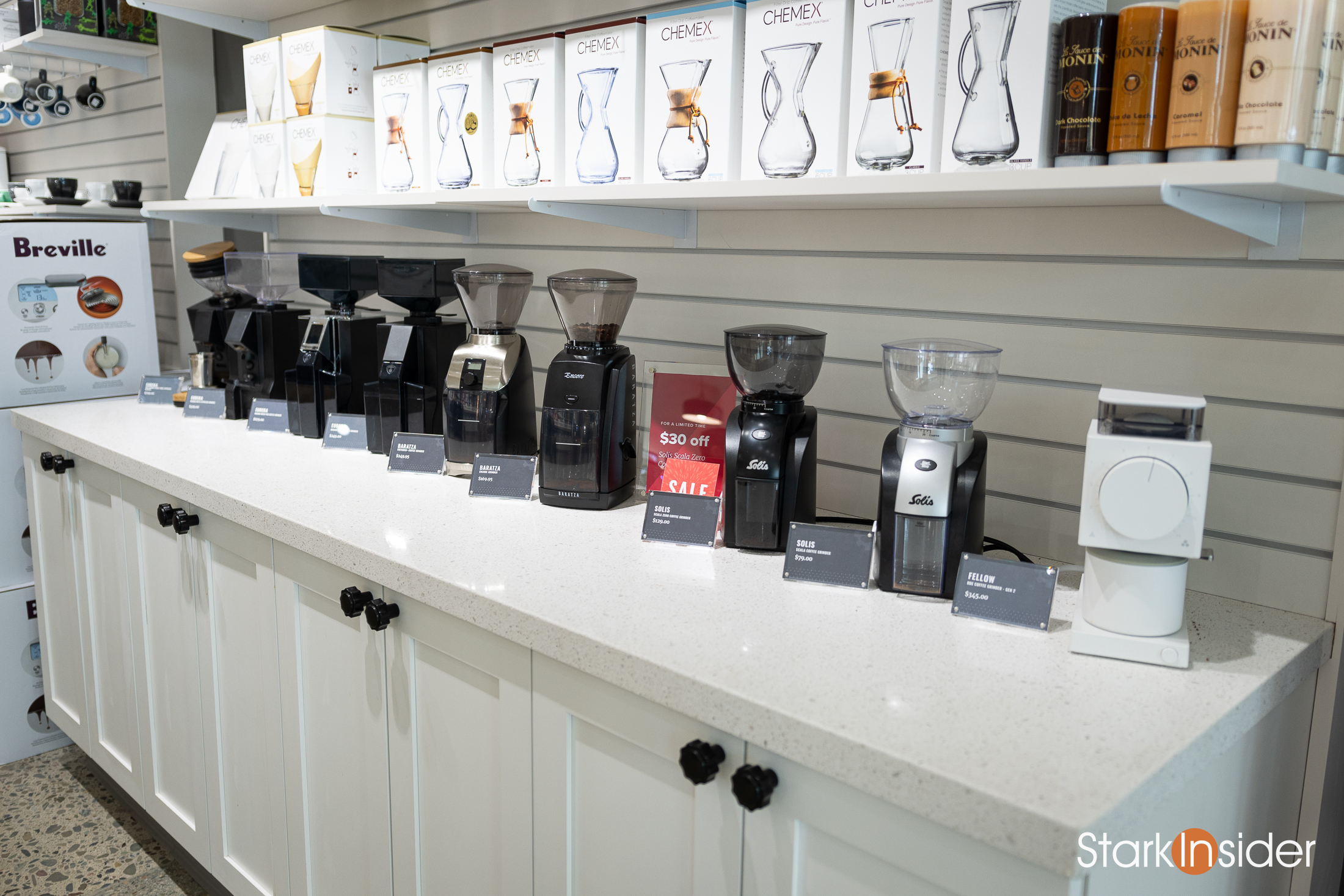 Finally, behind a corner at the back of the store are some espresso workstations for students to take various classes including Espresso 101. I think that sounds like fun.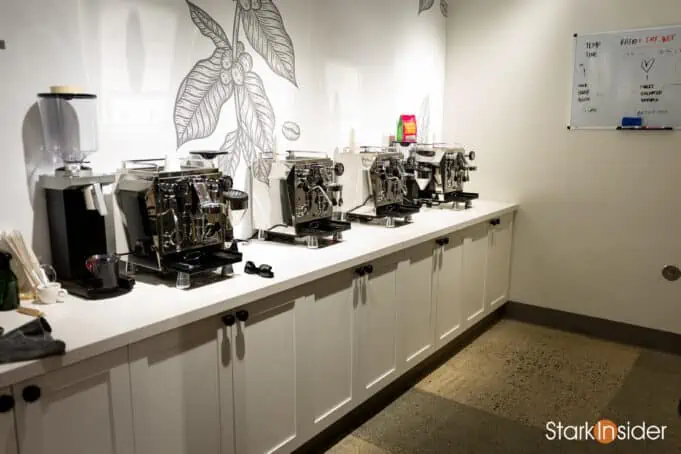 Some Final Thoughts
That espresso continues to make fast inroads here in the U.S. is nice to see. No doubt Covid and shelter-in-place helped accelerate that trend even further. Social media too helps especially coffee forums and Reddit and YouTube where users opt to share their expertise and try to help others perfect their espresso craft.
I don't think a retail store like Seattle Coffee Gear could exist 15-20 years ago. The machines were just not as good as they are now, and the expertise and awareness were far lower than today. In a way the progress reminds me of the wine market. That's another example of a food category that was well entrenched in Europe far in advance of North America, but has changed significantly in recent decades.
A final point regarding the Seattle Coffee Gear store experience, and that relates to the staff. They were helpful, knowledgeable and never what I would call "salesy". Thankfully they skipped the Glengarry Glen Ross ABC class (Always Be Closing!). We weren't accosted with questions about when we were thinking of buying, or would we be paying cash or financing, etc. Rather reps were floating around in the background ready to answer questions and provide advice without being pushy. Thankfully this is the new model we've seen since the first Apple Store, and, more recently, with Tesla showrooms. Consumers are well educated and informed thanks to the internet. The old car dealership model is slowly dying, in favor of a process that's more practical and modern, and centered around sharing knowledge and building trust.
One Machine to Rule Them All
Now for some fun. Here, I select my ultimate machine in each category: single boiler, single boiler heat exchanger (HX), dual boiler, and super-automatic. Just one in each market segment. My picks:
Best Single Boiler Espresso Machine
Under $1,000 USD

This is the single boiler de-facto classic. Updated in 2019 to the "Pro" model with a long list of upgrades and improvements, this is the machine to get not only if you're just starting out (at $449 it's relatively inexpensive), but also if you like to tinker. The mods available are incredible (PID, LED lighting) as is the community of enthusiasts that love this machine to death. Just do it. Gaggia Classic Pro all the way.

Best Single Boiler Heat Exchanger Espresso Machine
$1,500 – $2,500 USD

I'll get heck for this. No PID! No flow control! Sure, if you want those things you'll need to look elsewhere (I highly recommend Profitec 500/600 machines in this case), but for a purist the Rocket Appartamento to me is just the essence of a traditional Italian machine. It looks great, performs great — and at $1,850 the price is not too bad given the category.

Best Dual Boiler
$2,500 +

I admit I've likely fallen under the spell that is La Marzocco. True, this could very well be an aspirational thing. But let's have some fun and dream a little. The Linea Mini is a legend. And if you're going to spend this kind of money anyways for a dual boiler (say, around $3,000) and are very serious about espresso and love the at-home barista experience in my books it doesn't get any better than La Marzocco. And with the new Micra the dream machine is now within reach of more espresso buyers.

Best Super-Automatic Espresso Machine

Jura makes incredible espresso shots. Unequivocally. Our tests proved it time and time again (double blind vs. semi-automatic espresso machines). This is critical as espresso shots are the fundamental building blocks for any drink, such as a Cortado, Flat White, Latte and Cappuccino. Where I find other super-autos to have weaker shots and disappointing crema that is not the case when it comes to the machines engineered by this Swiss giant. I didn't pick a specific Jura model because they make a wide range of machines from the budget-friendly Jura Ena 4 to the flagship Jura Z10 which we recently profiled here on Stark Insider. I recommend checking your local Costco for Jura deals. You can also find some Jura models on Amazon.