People want their caffeine fix. And that looks to continue into the near future.
A new report reveals that the coffee machine market continues to grow at a decent pace. At 5.1% CAGR (Compound Annual Growth Rate), despite being relatively mature, it would seem there is still plenty of room for companies in the space to grow revenues and profits.
In addition, research firm Fact.MR forecasts the market to grow by $11 billion (USD) over the next 10 years. That means going from about $17 billion here in 2023, to about $28 billion in 2033: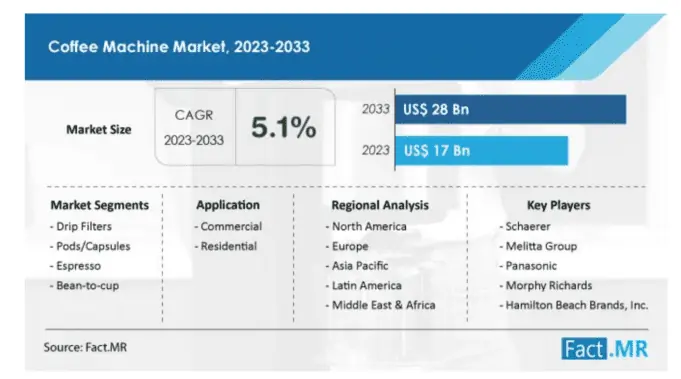 The market includes four major segments and buyer types:
Drip Filters (the traditional coffee brewing segment is the largest)
Pods/Capsules (such as Keurig, Nespresso, Illy, L'OR, Bruvi, among others)
Espresso (these are the traditional espresso machines that are typically manually operated by a barista or an at-home barista)
Bean-to-cup (aka super-automatics, these relatively newer and automated machines promise to do it all at the touch of the button, including grindings, brewing and milk frothing and steaming)
Replacing a Nespresso Machine with Something More Environmentally Friendly?
I came across this report as I was researching an espresso machine to replace my Nespresso machine. Monthly pod expenditure are adding up and I never felt quite right about the used capsules left over (to be fair, Nespresso does offer recycling bags that can be sent back to them).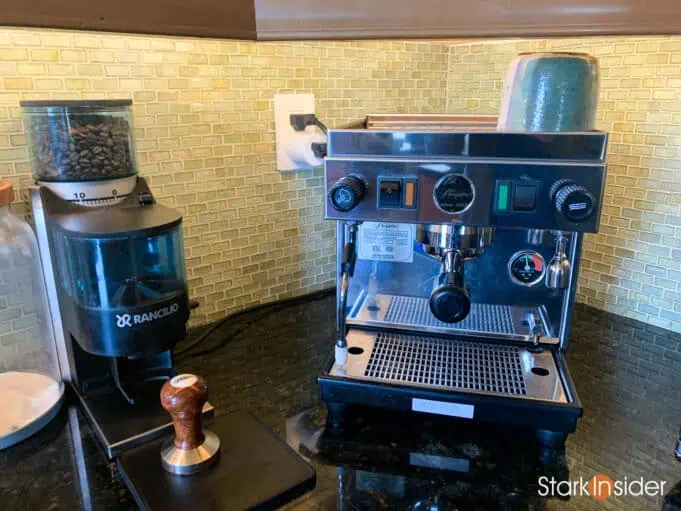 Though I own an old school Pasquini Livia 90 espresso machine (made by Bezzera in Italy) that has been in the family for 18 years — and working without fault, just regular servicing — I was drawn into the world that is super-automatics. Blasphemy among espresso purests no doubt. But there are some mornings and occasions where my schedule is too hectic to grind my beans and setup a manual shot on the Pasquini and then froth milk. A magical push of the button is a tempting proposition.
And this led me to researching not just brands and models to continue buying to replace my Nespresso, but to also exploring the global market and segments.
Pod-based Systems Such as Keurig and Nespresso Still Sell Briskly
Some other possibly interesting tidbits for those that like numbers and researching market dynamics:
The global coffee machine market is roughly split 50/50 with residential representing just over half of all sales (grandviewresearch.com)
Keurig is the dominant leader in the pod market — which might explain why Costco predominantly carries K-Cups rather than other brands, and also why the volume potentially means very competitive per unit pricing
In any case my research for a Nespresso replacement continues.
Super-Automatics are Compelling, but Lose Some Italian Charm and Can Have Relatively High Maintenance Costs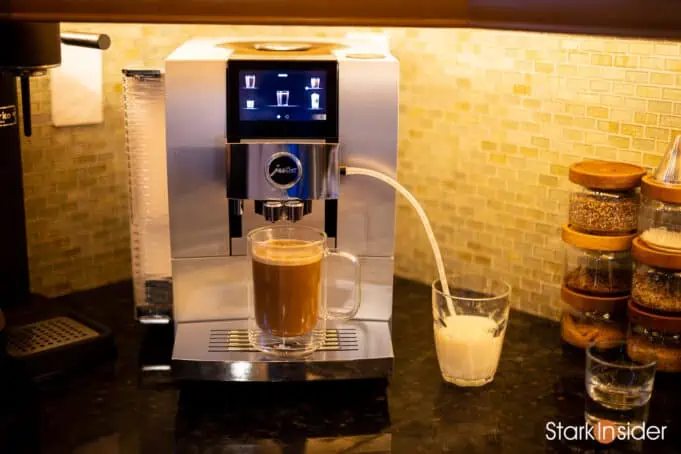 And I'm learning there's no such thing as a free lunch. Super-automatics are expensive, typically require plenty of daily maintenance (especially if you enjoy milk-based drinks like lattes, cortados and cappuccinos) and tend to use a high quantity of water.
Still, I continue to research super-automatic "bean-to-cup" models from brands such as Saeco/Philips/Gaggia, Jura, and Breville. Of course, given their automated convenience they're made mostly of plastic. Granted, typically robust ABS materials, but certainly losing the espresso romanticism afforded by traditional stainless steel Italian beauties. There's just something alluring about the simplicity and endearing timelessness of a single boiler machine like the eternally amazing Gaggia Classic Pro (the best value in home espress, period). Maybe taking time out during a busy day to enjoy the process is a good thing?
Decisions. I am determined to replace my Nespresso Vertuo machine (which I confess, makes quite lovely coffee!) and I am Googling as all of us to do, and discovering old forums of yesteryear such as home-barista.com, but also newer platforms where enthusiasts share their "setup" photos and yearn for the "endgame" on subs on Reddit like espresso and gaggiaclassic and superautomatic.
Yes, caffeine is addictive, but so is the sport of the home barista.