Mark your calendars for July 24. That's when Tesla (NASDQ: TSLA) will report its Q2 numbers. Given the surprise Q1 results featuring record production and delivery numbers, all eyes will once again be on Elon Musk.
Model 3 continues to dominate headlines. The "entry" level Tesla is selling briskly, and even invading some neighborhoods across the country. So far 67,650 Model 3s have been sold in the US in 2019. Which is, in my view, quite astounding. Remember this is an American car company founded just 16 years ago, and, yet, it's beating established quality players like BMW, Audi and Mercedes. I think most of us didn't see this coming — at least certainly not to this degree.
It's worth noting that another American car company is also doing quite well this year. Chevrolet has sold 8,281 Bolt EV through June (again, in the US). Although that trails the Model 3 by a wide, wide margin, it's enough to beat out the Model S as the 3rd best selling EV so far in 2019.
"Model 3 is the new Prius."
I like this quote from the Forbes article talking about Model 3s popping up in driveways in neighborhoods in Los Angeles. If you thing back to about 2003-2005 the Prius was the green car of choice. A sweetheart choice among not only everyday people looking for an economical car, but also tech billionaires and celebrities looking to perhaps make a statement on their view on the environment and where the automotive industry may be headed. Even though it's pricier maybe the Model 3 is the new Prius and the defacto EV buy.
Then, of course, there are the Tesla price changes from yesterday.
Model S and X move upmarket even further (An S base is about $80,000 USD).
Model 3 gets some nice price breaks (nice if you're a buyer, maybe not so nice for investors).
Note: a quick read on this pricing strategy was suggest S and X will be about margin while the 3 will be about volume.
Most notably the Performance trim gets a substantial $5,000 price cut. To me, a Prius commuter for the last 8 years, this looks like a very attractive model. 0-60 in a mind-blowing 3.2 seconds. A quiet cabin to help alleviate the hellish Bay Area drive known as 101. And all that glorious tech. Yes it might be time to expand our small solar system and start thinking about plugging in at night. To never again have to visit another Bay Area SMOG station…
Hard to believe, but it was 10 years ago when I first set foot in a Tesla dealership in Silicon Valley and wrote about here on Stark Insider. Then it was a risky venture. Still is obviously. The auto business is know cakewalk, especially when you're trying to uproot a century of fossil fuel thinking. To see so many S, X and 3 Teslas across the streets of San Jose and San Francisco and Berkeley and everywhere in between is still astonishing to me — in the best way possible.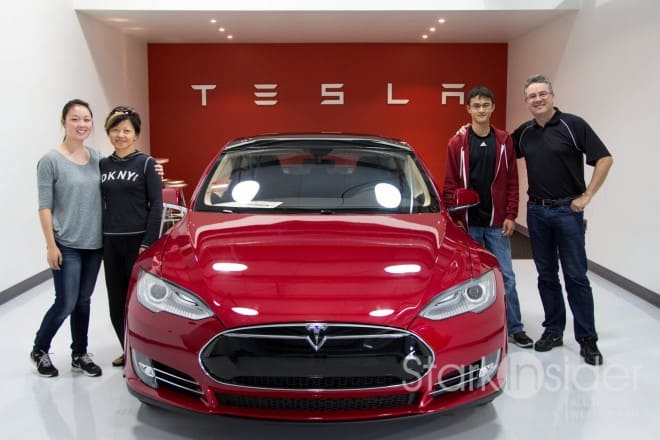 6 years ago my early-adopter Uncle fortunately invited me to join his family and pickup a beautiful red S in Fremont. After the visit I was able to see a demo of Tesla's trick air suspension.
Of course now YouTube is home to Tesla fanatics everywhere. They journal cross-country trip in exhausting detail, share the joy of their new vehicles (with a few gripes too along the way), and, in essence, are the best team of sales reps Tesla could ever want.
Tesla is on quite the ride. Q2. July 24. What's in store next for this (already) storied brand…?