Tesla cars show well — and maybe "Tesla Girls" too — in photos. I popped into the local Menlo Park Tesla dealership (or Store as they call it) today to get the latest scoop and snap some colorful shots.
You probably already know that Tesla builds what many consider to be not only next generation sports cars, but next generation cars, period. Electrically powered, they can be re-charged in only 3.5 hours using a standard 200v outlet, and offer a range of 244 miles. Not bad.
Price, however, is another matter. Figure about $109K for the Roadster. That is, if you can get your hands on one. Like every new trendy gadget and sports car here in the valley, there is a wait list. In this case, 6-7 months. Cars sitting in the showroom in the photos below are already sold to anxious customers.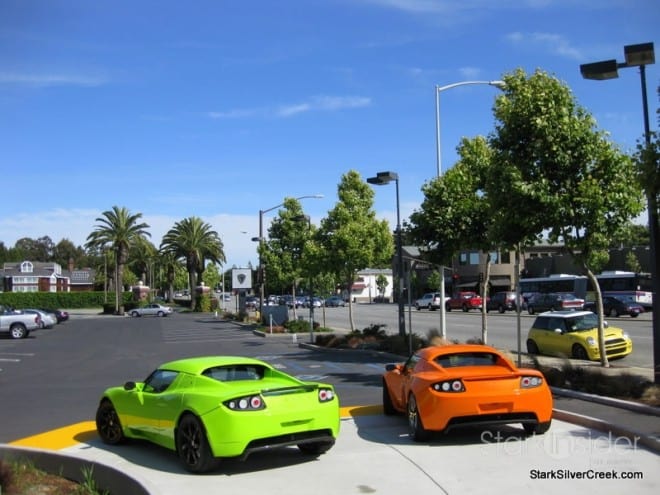 Currently, the Roadster, which the company started to develop in 2004, is the only model currently for sale. In a few years though, Tesla will launch a new 4-door sedan with a base price of $49,900 placing it into BMW 5-series, Audi A6, Mercedes E-class territory.
To my eyes, the design is spot on. Slightly futuristic, without going overboard, and plenty sporting. The mash-up analogy: equal parts BMW 5-series (headlights and overall proportions), Aston Martin (the grill and ethos) and Jaguar XF (rear quarters and tail lamps). But try this in your non-electric: "QuickCharge" in only 45 minutes, and off you go, passing as many gas stations as you please. Performance, by the way, is not sacrificed. The sedan will do 0-60 in 5.6 seconds; the Roadster, in a Ferrari-eating 3.9 seconds.
The design of the roadster is compact, clean, and athletic — much like a Lotus roadster. The interior is minimalist, again with the focus clearly on spirited driving.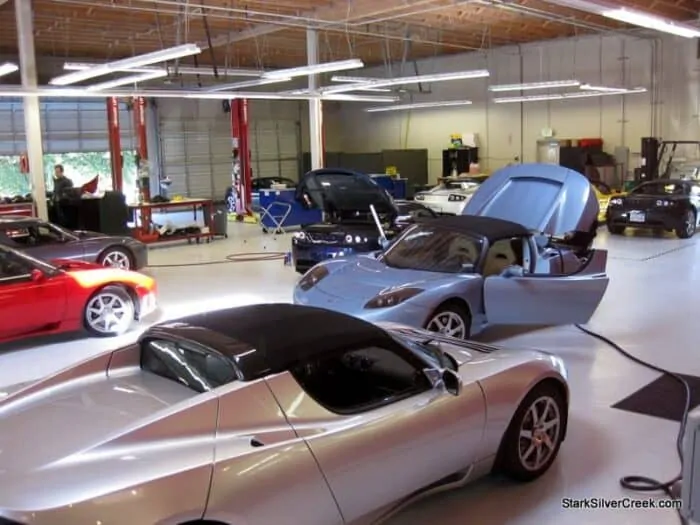 The dealership is of equally interesting design with lots of space, informative engineering-oriented displays, vaulted ceilings, and expansive seating areas outfitted with modern furniture. One of my favorites was the stripped down chassis on display. Check out the photos and you can see what gadgetry lurks beneath the Tesla Roadster skin.
With all the news in Detroit these days about the restructuring of the auto industry, it will be interesting to watch Tesla. Is this the dawn of a tech-focused, green, niche-based auto industry? Or will Tesla, like a lot of would-be tech companies, flame out in the face of large scale competitors, especially those overseas?
Regardless of the answers, buyers appear to be jumping in. Denise, our sales representative was helpful, informative and friendly (try that at our local Lambo stores — Ferrari and Aston Martin ones are better). She told us that the Tesla is attracting buyers that fall into one of three categories: fans of roadsters, fans of green and collectors. There also appears to be a healthy does of speculation, another all-too-common San Francisco Bay Area past-time targeting white-hot new models. Can't flip real estate these days? Try cars.
Tesla currently has two dealers, the one I visited in Menlo Park, California and a second in Los Angeles. Later this year Chicago is on deck, followed, in no particular order, by New York, Miami, Seattle, and Washington, DC.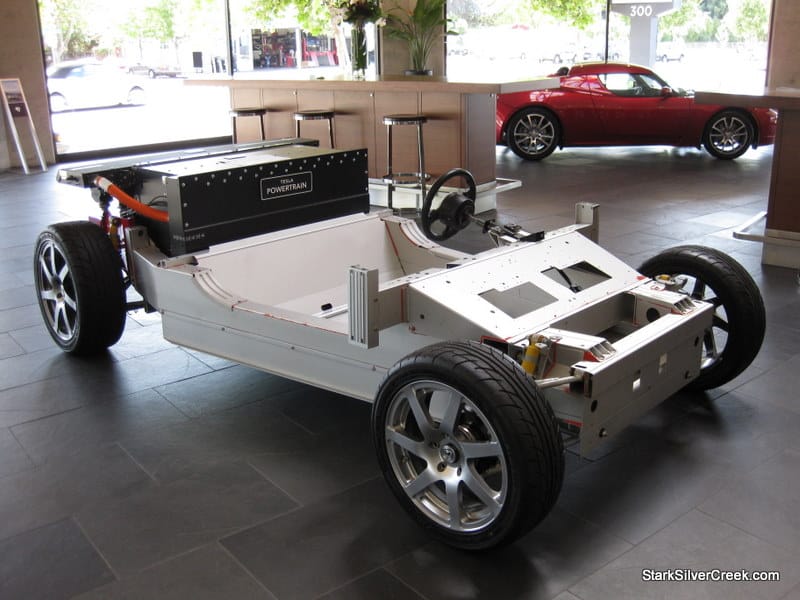 I have yet to drive one, but I expect it will be a thrill, based on the reports I've read and people I've talked with. One concern? What is it like to drive a sports car without the obligatory rumble and burbling exhaust note?
One of the things I loved — and I mean LOVED — about my 911 was the superb and intoxicating sounds that came from behind me as I torqued the car onto the highway. Is there really a substitute for Porsche?
The green car you see in these photos was used in recent photos with Tesla CEO Elon Musk (founder of PayPal). Elon, wouldn't that green monster look great in an HD video road test here on StarkSilverCreek? It would be tough work, but I supposed I could find a few minutes to volunteer for duty.
Meanwhile, if you're still reading (guys only right?) then just to keep you up-to-date, here are the latest Tesla headlines you should know about:
Daimler has invested 10% in Tesla; rumored to be about $50M and considers them a go-to battery and electric powertrain developer
Co-founder, and former CEO, Martin Eberhard is suing the company claiming the company orchestrated the events and that current CEO Musk is taking credit for invention of the car
Will Tesla survive?
I sure hope so. They, and probably others in the wings, represent a new wave of auto production needed to jump-start not just a small part of the industry, but also those that believe in American know-how, and the spirit of Silicon Valley innovation. Still, I wish something could be done about those prices…