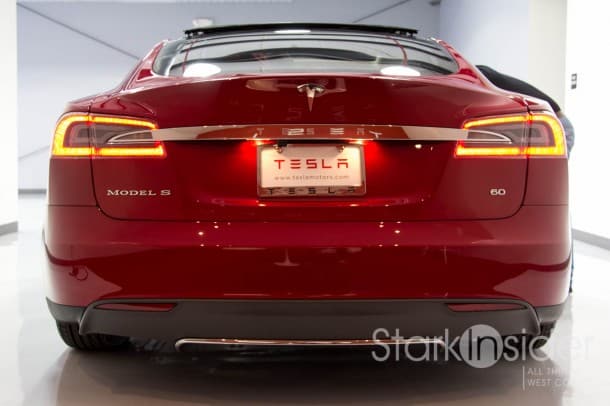 One thing I learned about that the Tesla S sedan after spending some time behind the wheel here in Silicon Valley is, yes, this thing drives like a slot car. It's as impressive as we've been hearing for the past few months.
Tesla has built a car that is not only electric (relatively easy), but actually made it desirable (hard). Take a look on eBay and you'll find very few available for sale. There's a reason for that. Owners love their cars–and the ones I've spoken have raved incessantly. Call it the honeymoon phase, or early adopter lust if you like, but it's consistent.
The other thing I learned about the Tesla S is that is has an available air suspension. The $1,500 option is active, while you drive. That is, per the Tesla "Design Studio"–where a car can be ordered with a 5K down payment (yes, they accept PayPal, of course!)–it "continuously responds to the vehicle's speed, lowering to improve aerodynamics at highway speeds or raising to increase clearance for city driving."
When I asked Mr. O., the owner of the amped Red rocket you see in these photos, why he opted for the option he indicated he wasn't sure. But it sounded cool! And we both agreed it makes for a crowd pleasing demo. And isn't that what Tesla is partly about anyways?
Here you can see the car lowered, at regular position, and then with the suspension raised. If you want to enjoy the thrill of making your bleeding edge electric cruiser sound like a big yellow school bus, the active suspension is definitely the ticket.
In case you missed it, here's the scoop on the Tesla Customer Pickup experience, where I take along with Mr. O. while he takes delivery of his Tesla S sedan at the factory in Fremont, California.