In my time with the Canon EOS R I found a lot to like. The relatively small camera packs a full-frame sensor into a mirrorless design — Canon's first. For far less you're essentially getting a Canon 5D IV in a small body, with all the great features mirrorless shooters expect, in addition to 4K video. Not bad.
But speaking of bad. There is at least one really bad thing I discovered in a week or so of shooting photos and videos with the EOS R. And that would be the now infamous Touch Bar.
On paper it sounds pretty clever. Instead of the usual physical joystick on the back that is used to navigate, and to choose focus points and to perform other basic functions, Team Canon opted for something far more modern. In comes the Touch Bar. Instead of clicking a joystick around, you slide your finger across the bar. You can use it to adjust ISO and shutter speed for instance. You can also tap the left and right sides to perform additional things, and, again, all of this can be customized in the settings menu to the user's preference.
In my tests for Stark Insider I found the Touch Bar very sensitive. It's very easy to accidentally hit and throw off your settings. There's a workaround you can choose to use but it means delaying actions, in essence almost waking the Touch Bar from a quasi-sleep mode. That slows down responsiveness and is not the best feeling in the world when you're in the moment.
I must say in reading forums and various EOS R reviews that some do love the Touch Bar. Given the flexibility of its design, if you can get comfortable with, in essence swiping across it and tapping it (with no tactile response mind you), then it could be a powerful feature.
I was not one of them. Maybe I just needed more time to get accustomed to it? In theory I can see the potential.
In the end I just turned off the Touch Bar. That small space at the back of the EOS R where my right thumb rested became wasted space, and I longed for an old school joystick, much like the one I've come to really appreciate on my current camera of choice, the Panasonic GH5.
All of this to say… according to some reports it would appear Canon is listening to customer feedback. Either that or the idea of no Touch Bar on lower end R models was the plan all along.
We all expect more EOS R models to come down the line. Canon has invested a lot in the new RF mount, and, no doubt, mirrorless is the way forward — be in a few years or even a few decades from now. The Canon EOS R was the first (major) step in what should be a comprehensive R body and lens line-up. Given that Nikon also jumped into mirrorless full-frame at about the same time as Canon, along with the existing mirrorless juggernaut that is Sony, makes for a very exciting marketplace.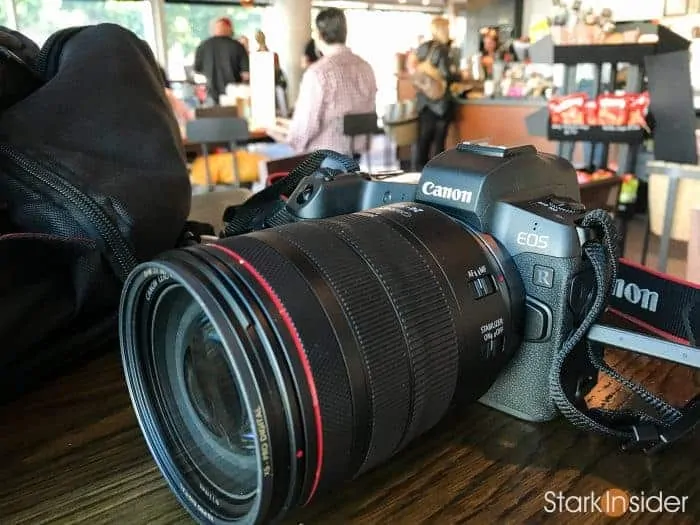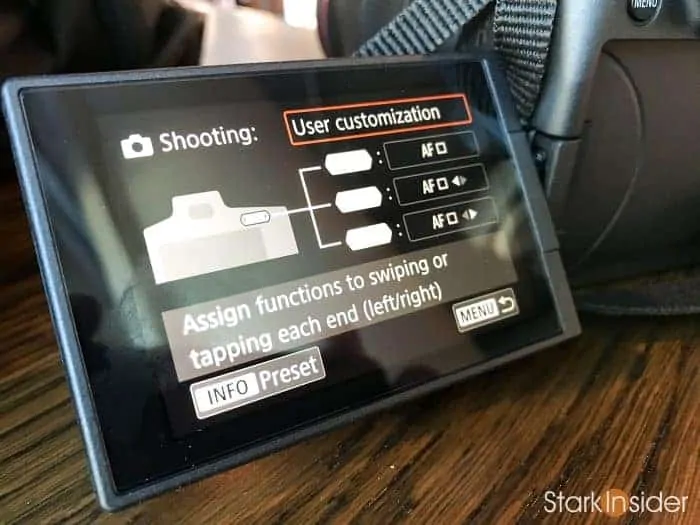 With this heated competition in the mirrorless space every little design decision matters. Articulating screen. Display size. Focus points. Grip ergonomics. Battery life. Processor power and shooting speeds. Crop modes and frame rates. All of these decisions, among so many others, result in something more or less appealing to a variety of photographers and videographers.
Canon EOS R

Canon EOS R (l) and Panasonic GH5 (r) mirrorless cameras. For stills I like the EOS R, but would recommend you're okay with the ergonomics first before buying (notably the M-Fn touch bar and lack of Mode dial). For serious video I'd go with the GH5 all day, every day.
So it would make sense that Canon would reconsider the Touch Bar in upcoming EOS R models.
I suspect it's more expensive to manufacture than a standard joystick. So if Canon ever were to go downmarket from the current EOS R (as is widely expected), it could save money in an effort to retain margin at lower price points.
EOS R was a big story in 2018. Along with the upcoming Panasonic S1 camera, we can expect the R series (and Z from Nikon) to keep our attention as Canon attempts to make inroads in the mirrorless camera market segment. Let's hope, though, it doesn't roll out more solutions looking for problems as we saw with the controversial Touch Bar.