It's official. The new Samsung smartwatch runs Tizen. Not Android Wear OS, as many were hoping. Too bad about that.
Aside from that unfortunate bit of news, Samsung is offering two sizes of the new Galaxy Watch — the successor to the decidedly poorly received Gear S3. Galaxy Watch 42mm will go for $330 (USD) and the larger 46mm for $350. The reveal came this morning at Samsung's Unpacked conference in New York.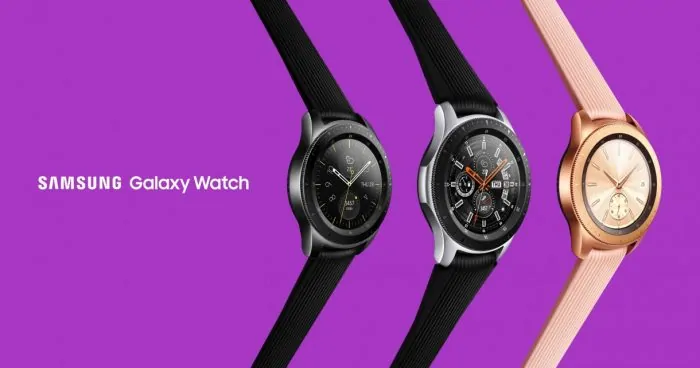 Galaxy Watches will begin shipping later this month.
These watches are pricey, given you can buy the Apple Watch for less, and something like the excellent Fitbit Versa for only $199. Samsung, though, does include LTE, so that could be useful for some buyers (I'm not convinced).
Samsung says there will over 60,000 watch faces available. Quantity? Quality? Based on my experience we're clearly talking about the latter. Apple on the other hand offers very few faces, but most are superbly designed. Interestingly, Samsung opts to go for the headline number. 60,000!
Overall, there's not a whole lot here to love. This is an expensive smartwatch, and yet it doesn't do anything better than its lower-priced competition. Tizen has proven to be a troublesome wearable OS (random things go wrong, like, for example, the weather widget no longer works on the Gear S3), app support is limited, and reliability is questionable. Apple Watch. TicWatch. Fitbit Versa. Heck, even an older Huawei Watch running Google's Wear OS are likely better choices if you're looking for a smartwatch.
Still, we can't pass final judgment until we get our hands on a tester and put it through the paces. On the upside, based on the press images, the Galaxy Watch is a looker. Samsung definitely opted for the solid, chiseled design. That will likely to appeal to buyers interested in something resembling a real watch sitting on their wrists and not a techy looking toy. Plus, unlike the Apple Watch and most of the competition, the Galaxy Watch offers an always-on display.
Samsung says the 46mm version will provide up to 7 days of battery life. If that turns out to be the case then it will easily outperform most of the competition which typically last around a day (the Fitbit Versa can easily last 4 days in my tests).
On a final note, it will be interesting to see where the smartwatch (and wearables) market goes. At this point Apple is leading by a wide margin. Fitbit and Garmin serve their fitness needs well, but don't move massive units as does the Apple Watch. Samsung also trails in wearables. Will the Galaxy Watch (and hopefully an updated version of Tizen OS) help? We will find out in the coming months of 2018.