While many are struggling Apple clearly is not. Sales for the Apple Watch are estimated to be up 30% y/y in Q2 2018.
That means Apple shipped something in the order of 3.5 million versions of its Series 1, 2 and 3 smartwatch (it no longer sells the original Series 0).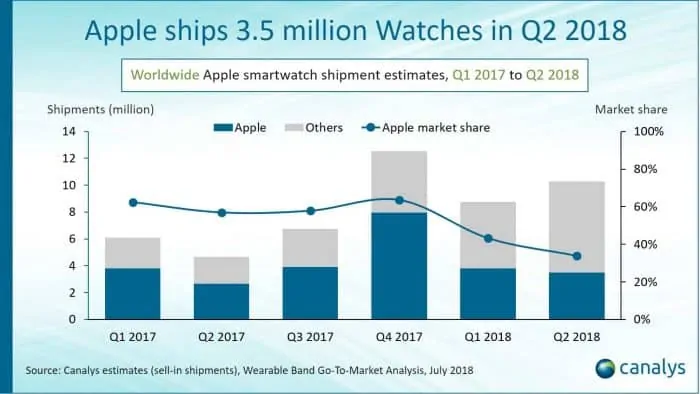 Overall smartwatch shipments came in at 10 million units.
However, analyst firm Canalys who produced the report shows a sizable dip in Apple's market share. Notably it drops from almost 60% in Q4 2017 to just over 20% in Q1 2018. Quite odd, to have a drop that dramatic. It could be any number of factors. Q4 is typically strong because of holiday sales, so a drop off is expected each new year. Others are saying Garmin and Fitbit are chipping away. But at such a torrid pace in only a matter of months?
"Apple faces a growing threat from competitors, which have started to pass the million quarterly shipments mark," said Canalys Research Analyst Vincent Thielke. "Vendors are trying to differentiate their products with advanced heart-rate metrics, smart coaching and mapping, and consumers now have a much wider range of smartwatches to choose from than they did a year ago. Amid further competition from Samsung and Google, rumored to be launching Galaxy and Pixel watches respectively, Apple needs to work out how to drive refreshes in markets such as the US, where its penetration into the existing iPhone installed base has started to level off."
I suspect Apple is actually dominating its category.
And that's the key. Category.
It matters what category you're referring to and what you include.
In my view, the broad "category" is Wearables. That includes everything you wear on your wrist that has some sort of smarts. That could be a new Fitbit Versa, a Garmin Vivoactive 3 or Apple Watch.
Next, is the Fitness Tracker category. Here we have devices that specialize in fitness trackers. They're especially made for people who run, workout on a regular basis, swim, etc.
Finally, there's the Smartwatch. These are things like the Huawei Watch, TicWatch, and, of course Apple Watch. In my estimation, this is the sub-category that Apple is dominated. Google's Wear OS is hurting and the company is struggling to move units through its partners, and updates are slow and unimpressive. Expect Google to right that in the Fall with some sort of Pixel watch made in house, along with a major OS overhaul. Samsung is struggling as well with its Tizen smartwatches. Sales are slow. Meantime Apple is absolutely dominating.
Canalys perhaps changed the way it reports on the smartwatch market at the end of the year, and maybe decided to lump the likes of Garmin and Fitbit into that category. Doing so, of course, would dramatically alter that market share of Apple since the bucket would be much larger.
Then again, boundaries are blurring.
Who's to say a Garmin isn't a smartwatch? If it has apps, can send notifications to your wrist, and give you heart rate monitoring in real-time, then isn't it also "smart"? I'd say yes. And likewise the Apple Watch is getting more into health and fitness tracking. So there's a morphing of capabilities. Garmin and Fitbit are more like the Apple Watch. And the Apple Watch is (becoming) more like Garmin and Fitbit fitness trackers. Therefore, maybe the categorization of Wearable vs. Fitness Tracker vs Smartwatch is ultimately futile, and unnecessary; at least in terms of tracking sales and market share.
Regardless, that Apple sold 30% more Apple Watches year-over-year is pretty impressive. Keeping older models (Series 1 and 2) in the line-up at lower price points is turning out to be a solid strategy. Having multiple price points is an attractive offer and broadens appeal.
Further, despite a slow start that defied original expectations and sales estimates, the smartwatch (wearables) category seems to be showing steady growth overall.
It's been a tough week for social media — especially Twitter and Facebook — but it seems as though other tech sectors are still humming along nicely. At least for now.