A new version of Google Fit is on the way. According to Google the updated app should roll out to most users in the coming days.
One key change to Fit is how the app tracks and displays your fitness throughout the days, weeks, months. Google is centralizing on the metrics of "Move Minutes" and "Heart Points."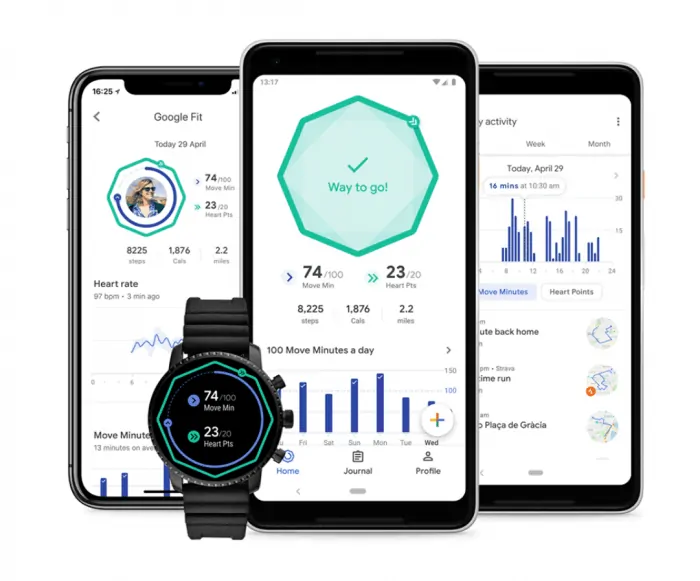 Per the announcement on the Google Blog, the team developed the idea through partnerships with the American Heart Association (AHA) and the World Health Organization (WHO).
Move Minutes are familiar to most of us. The idea is, as Google says, "to move more and sit less." Take the stairs instead of the elevator for example.
Heart Points are all abut moderate activity and getting your heart pumping faster. Google is giving Fit a dose of gamification. So, in this case, for each minute of moderate activity (walking the dog, jogging, etc.) you'll earn a point.
(note that it appears Google has only two ring categories compared to Apple's three, and doesn't include a measure for standing)
If use other fitness apps, you'll likely get credit for the "points" as well. Google notes that Fit also recognized activity from apps like Strava, Runkeeper, Endomondo and MyFitnessPal.
Reading into this app refresh there's a couple of things that come to mind.
First, Apple has won. The world understands and likes rings. Ever since Apple introduced the concept of "Close your rings" (Move, Exercise, Stand) with its Activity app and working in concert with the Apple Watch, consumers have embraced the idea and challenge. It's intuitive. It's visually fun. And, best of all, it seems to motivate a lot of people into living healthier lives. Because who doesn't like a challenge, and to see health improvements over time?
That Google is following Apple's lead is sort of an admission that this method works. In the end closing rings is cooler than reading bar charts. No surprise then that the new Fit app now looks slightly closer in look and feel to the iOS Activity app. As an interesting aside, if Google continues to refine the app, it could make switchers coming from iPhone to Androids feel more at home with the fitness tracking component of the experience.
Then there's the much rumored Pixel Watch.
Given that Google already rebranded its Android Wear operating system to simply Wear OS, and now has updated its fitness tracking app with a focus on simplicity, are we to assume that these moves (and others) are paving the way for an in-house designed smartwatch that will better compete with the Apple Watch?
I think yes.
Wear OS has little traction in the marketplace. I still stand behind my assertion that early on developers were listening to closely to themselves (and to other developers at events like I/O) instead of doing the harder work of getting out there and listening to the everyday needs of everyday people — especially those outside the sphere of tech. As a result early Android Wear efforts seemed determined to turn the smartwatch into a Dick Tracy like party trick, rather than a useful consumer product with practical utility.
I'm hoping that if the Pixel Watch does come to fruition that the team this time focuses on ease-of-use and elegant non-techy design. Google did great work with the Pixel phone so it's likely some of those same people will be (and have been) involved in this project.
Either way, Apple is running away with the smartwatch market. Google needs to do something. Wear OS and a new Google Fit app are promising foundational improvements. Come Q4 2018 we'll likely see how well the rest of the pieces fall into place.