Looking for an all-in-one lens for video shooting with the GH5? Clinton Stark says, "Time and time again I keep coming back to the Sigma 18-35mm ART 1.8 lens." Here's his thoughts on the camera, the lens, and using them together for video shooting.
We all know by now that the Panasonic GH5 is a phenomenal Micro Four Thirds mirrorless camera. Quite possible one of the best ever made. Yes, at about $2K US it's expensive, but, awe-golly-gee-shucks, did Panasonic load this thing up:
Dual I.S. (in-body + in-camera) when used with certain Panasonic lenses — I even find the in-camera IBIS to work really well, even with cine lenses like the Rokinon 35mm or photography-centric lenses like the Sigma 18-35mm. Really makes handheld shooting more practical in more situations.
4K/60fps output to an external monitor like the Ninja Inferno — results are beautiful. I suspect wedding shooters probably love this feature.
10-bit 4:2:2 — yep, Panasonic blew up the market for this price point.
Dual SD cards — not sexy, but very welcome. I like that I can slip one into my wallet during breaks and know I've got an instant back-up with me at all times.
Optional XLR hot-shoe adapter — I don't use it since most of my  stuff with the GH5 is narrative, but it's great Panasonic made this available.
The recent 2.0 firmware of course added even more features, including the highly anticipated ability to record 400 Mbps 4K 4:2:2 1-bit ALL-Intra files (hint: you'll need very fast SD cards and a lot of them too). Since the CPU won't need to interpret every frame during edits as it would with an inter-based algorithm All-I should help those not only looking for higher quality footage, but also for those concerned about ease of editing and playback performance.
I've been using the GH5 a lot this year to shoot videos for Stark Insider. Granted, I'm still using the (still fab) Canon C100 II for some run-and-gun and short doc work. But for those times where I need to be discrete or to travel light, the GH5 is pretty hard to beat.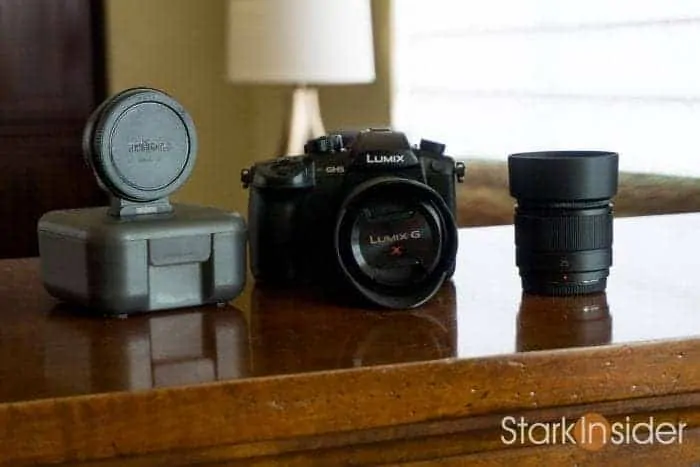 Over the past decade I've accumulated a fair amount of EF glass. About a dozen lenses or so in total. After picking up the GH5 I also purchased a few native MFT lenses. I used one of them, the Panasonic Lumix 12-35mm (mark I) zoom lens to shoot a casual short piece at SFMOMA:
Shooting an Event: Festival of Disruption with David Lynch
Gear: Panasonic GH5 and Panasonic Lumix 12-35mm I lens.
Location: Los Angeles, California.
I was pleased with the image. Relatively organic (after some film conversion), nice color, smooth highlight roll-off, etc. Not to mention an easy camera to handle and outstanding IBIS seals the deal. Plus thanks to the discrete body I could get away with filming David Lynch at his awesome festival in L.A.
But, I find myself turning more often than not to the Sigma 18-35mm and Metabones Speedboster Ultra (0.71) combination. It costs a little more since you need the pricey Metabones adapter to convert MFT to EF, but wow. This is a beast of a camera/lens combo if there was ever one.
I use the Sigma a lot. On the C100. And occasionally on a RED camera. But with the Speedbooster on a GH5 you get that extra stop of light and a slightly wider field of view which just opens up the creative possibilities. Best of all: that image quality. Gorgeous! I now get why people call the Sigma 18-35 like using 3 primes, 18/24/35mm. It's truly that good.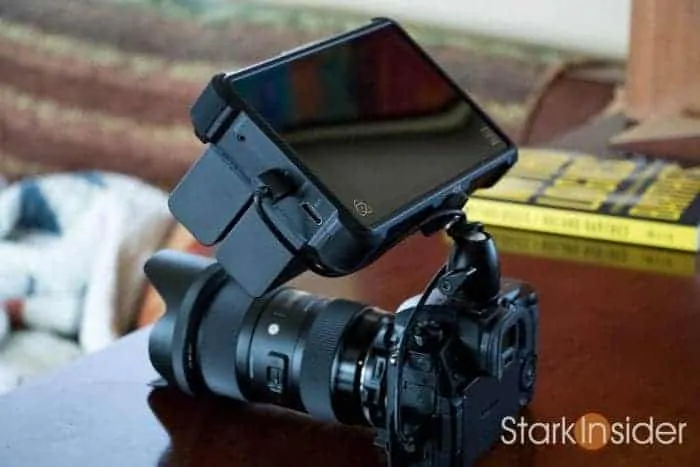 One downside of this combination is the weight and overall size. It makes the relatively small DSLR form-factor of the GH5 not so diminutive.
Maybe it's because I've been used to shooting with large lenses and cameras handheld that it really doesn't bother me too much — walking a city and shooting video over the course of the day, though, may test your endurance to be sure. One plus of the heft is that it can help provide for natural stabilization, and also makes it easier to hold the rig (I use that term loosely here as this is simply a camera + adapter + lens and not the massive proper "rigs" you might see on a traditional movie set).
Panasonic GH5 on Stark Insider
A neat thing about the GH5 I've discovered is the "Extra Teleconversion" function. Turn that on and you get a 1.4x punch in… without degradation of image quality. Very nice. So that 18-35mm, for instance, becomes something like 25mm-50mm. Getting that extra reach without having to change lenses is a real bonus and time saver.
Recently I used the GH5 and Sigma 18-35mm (and Rokinon 35mm for a few shots as well) to shoot a short film, watch here if you dare:
Short Film: Crazy or Die
Gear: Panasonic GH5. Sigma 18-35mm ART 1.8. Rokinon 35mm Cine T1.5. Metabones Speedbooster Ultra. Ektron Slider and Skater. Genaray LED light panels. $10 neon rope from Amazon. Stuffed animals, The Little Prince, a wig, a Stella and 1 willing spouse.
Location: San Francisco and San Jose, California.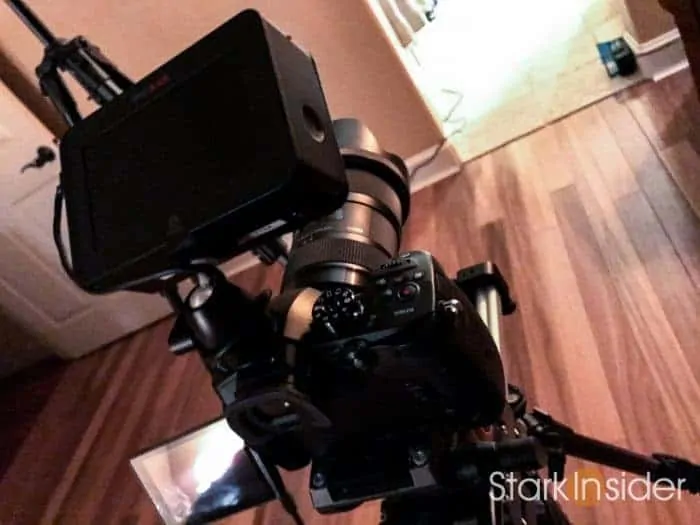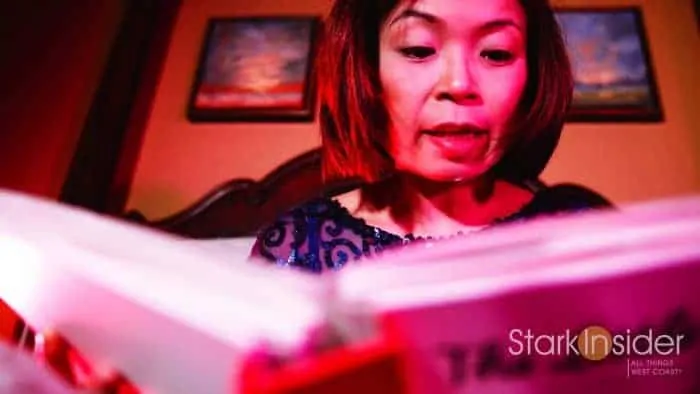 I pushed the image aggressively for the opening scene (probably too much!) to achieve a hyper dream-like quality that hopefully suited the material. I think the 10-bit files out of the GH5 really helped here. I suspect if I tried something similar with my former DSLR video camera bodies of choice, the Canon 70D and 80D, that I'd encounter lots of macro-blocking and noise (maybe even on the C100 too).
But… that small MFT sensor… isn't that an issue?

Depending on what you shoot the GH5/Sigma combo may not be for you. It all depends. Landscape shooters will likely opt for something like the incredible Sony Alpha range, including the new Sony a7R III  and IV. The GH5 MFT sensor will not be for everyone. Since I shoot mostly narrative and work approximating Super 35, the crop factor and smaller sensor are not of much concern to me.
There's a lot of solid lens choices out there for the GH5 and MFT cameras in general: Panasonic, Leica, Voigtlander, Olympus, Rokinon, Canon (with adapter), not to mention all the vintage lenses readily available on eBay that you can easily adapt.
For me, though, 9 times out of 10, I find the Sigma 18-35mm (EF) with the Speedbooster adapter to be a flexible option that covers me in almost all situations, be it shooting a music video, short doc or film, interview or travel video.