I've been shooting on the new Panasonic GH5 for a few months. So far so good. In fact, so very good. I'm so impressed with the mirrorless camera that I've semi-retired my previous favorite, the Canon EOS 80D DSLR. I'll likely still use the 80D for photos — I prefer the controls for that, plus it has more pixels — but for video it's now GH5 all the way for what we're doing here on Stark Insider.
Recently, I picked up an Atomos Ninja Inferno 4K monitor. The idea was to help my focusing accuracy (a bit iffy!). And, also, to benefit from the higher bit rates that Atomos offers.
As many of you know Australia-based Atomos makes a variety of highly rated external monitor/recorders. Connect HDMI or SDI from your camera output to one and you can enjoy larger displays, and, often, higher quality recordings.
In this case, with the new Ninja Inferno, you can even capture 10-bit 4:2:2 4K at 60 fps. In other words: very high quality slow motion. That's something you can't do with a standalone GH5. It would have to be 8-bit 4K video at that frame rate.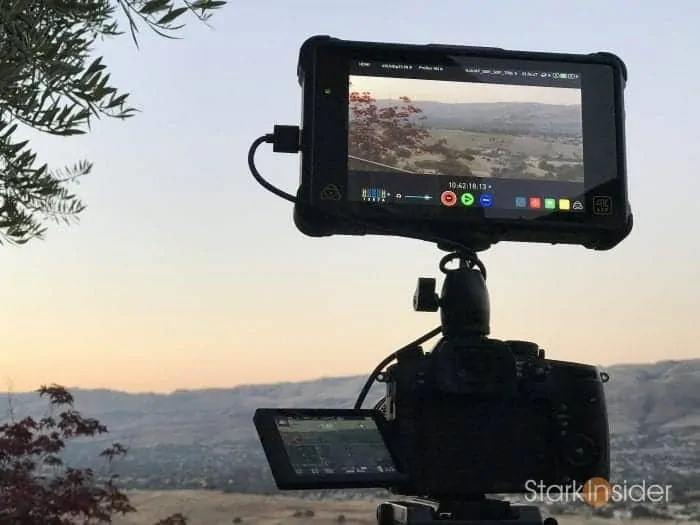 At first I wasn't too pleased with the Flame.
There's apparently a known bug. That is, if you activate the mode that will show you the Panasonic VLog-L lut applied in-monitor, weird red artifacts appear. I contacted support. They're aware of the bug. Hopefully a fix will come. Meantime, the easy work around is to just use the included Rec 709 LUT. That will give you a contrasty image to focus and frame your shots. So no big deal.
Other things I didn't like initially:
It's bulky! (then again, this is a 7-inch monitor and recorder)
It's a battery hog
Expect fan noise and heat
When inserting SSDs (even officially supported ones) I kept seeing an "invalid media" error message — see fix below
But, the upside far outways the negatives, at least in my experience.
SSDs are relatively inexpensive and make for handy recording media
Atomos monitoring tools are superb, once again (waveform, focus peaking, 2:1 punch-in, etc.)
The screen looks beautiful: sharp, easy to read, vivid colors
Power on is fairly fast
And, finally, the touch interface is a breeze to use
Would I recommend the Atomos Ninja Inferno to GH5 video shooters?
Yes, absolutely.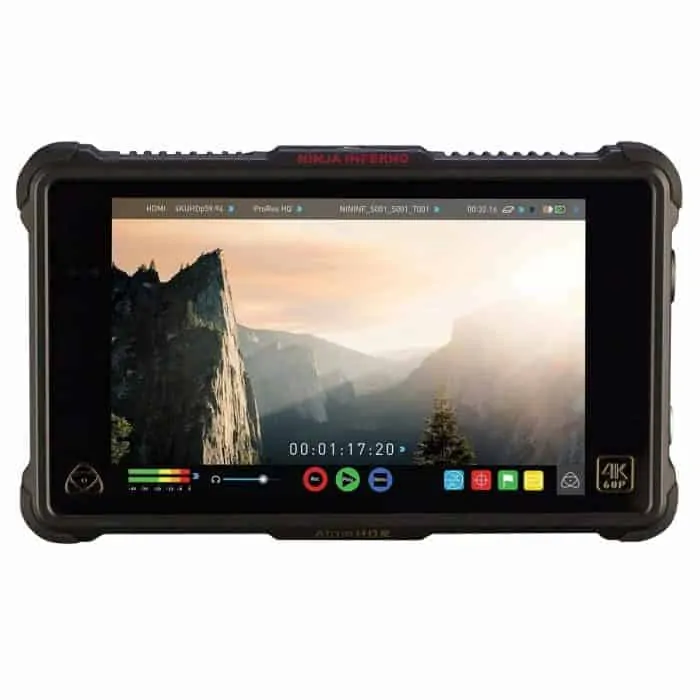 Just know that once you've added a few Sony NP-F batteries, your setup can become quite bulky. I don't mind it. Maybe it's because I'm accustomed to running-and-gunning with larger rigs, like the Canon C100 II. If anything the larger monitor actually, in my experience, makes it easier to balance and stabilize the camera body. Takes practice, but I'm in the groove now.
For those times you want to run around inconspicuously to grab b-roll, say in a coffee shop or in a restaurant, I'd obviously advise that you take off the Atomos and simply shoot with the GH5 as is, aka "tourist mode."
Give battery life on the Ninja Inferno is not great I'd also recommend you either: (1) load up on beefy NP-F spares; or (2) consider solely using it in controlled environments where power is readily available.
WATCH: 3 Days in Iceland Preview // Aurora Borealis
A clip from a short film by Clint Stark. Featuring Loni Stark. Coming soon to Stark Insider. 
WATCH: Crazy or Die // A Short Film by Clint Stark
A short film shot on Panasonic GH5. What is essential is invisible to the eye.
And… "director's commentary" with Loni Stark and I talking about making Crazy or Die:
I've been pleased with the Atomos Ninja Blade on my Canon C100. Now I think there's an equally, perhaps even better, performing monitor/recorder combo in town for us video shooters, and that's the Atomos Ninja Inferno paired with the (outstanding) Panasonic GH5.
I have more videos coming soon. After all, what good is it capturing stuff if we're not producing and publishing?!
Atomos "Invalid Media" SSD Bug Fix

If you get "Invalid Media" message when inserting an SSD into your Atomos recorder try this:

Format the drive first in your PC or Mac using exFAT

Then Atomos should recognize it. Also, I highly recommend (as the manual suggests) that you then format the SSD in-monitor.

This fix worked for me so I'm hoping if you're getting the pesky "Invalid Media" error message that it will work for you too.
Over the past twelve months or so I've shot with a mixture of cameras for Stark Insider: Sony Alpha a6500, Blackmagic Micro Cinema Camera, Canon EOS C100, RED, and, yes, trusty, but now retired Canon EOS 80D. All quite good. My favorites, though, are becoming: GH5 (for all around video, run-and-gun), Canon C100 II (doc style shoots, events, interviews), and RED Scarlet-W (music video, narrative, experimental).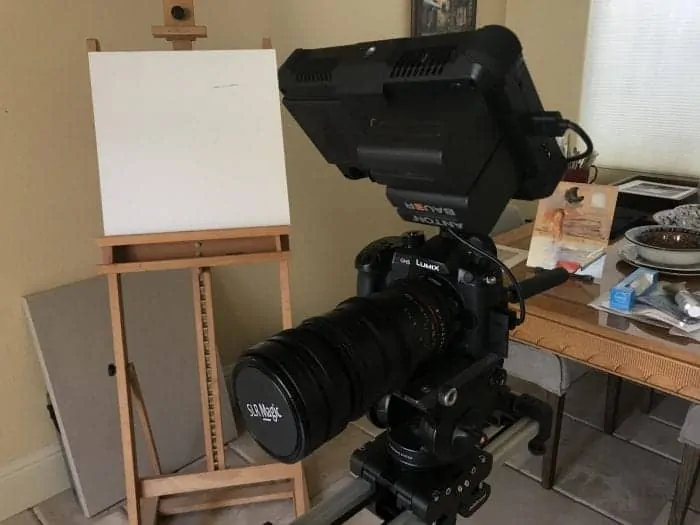 These days, though, I try (operative word, try) to think less about camera bodies, manufacturers and specs, and what RED is releasing next (what are they releasing next?), and more about the story, the emotion, the edit, etc.
If you're looking for some help composing your shots, you might want to consider the Ninja Inferno. Yes, at $995 USD it's expensive relative to the price of the GH5 itself, but it's priced far less than previous flagship Atomos monitors. So in that respect it was finally within my budget.
Happy shooting!