The SmartThings hub has a new owner and is now called Aeotec Smart Home Hub — but is essentially the same as before and works better than ever thanks to updated Samsung SmartThings apps for Android and iOS.
As has been widely reported across the tech and home automation community, the Samsung SmartThings hub is now on sale. Amazon is now selling the ground-breaking device which can act as the brain of your home, connecting to hundreds of devices, for only $49.99 (USD).
Is the SmartThings hub a good deal for $50?
In a word: absolutely.
In my experience, this smart home hub is amazingly capable. Combined with robust build quality, low heat generation (my Insteon hub runs much hotter), and a strong enthusiast community and you have the makings of a strong choice for one hub to rule them all. There's s a few reasons why I believe SmartThings to be a good investment for now and the future.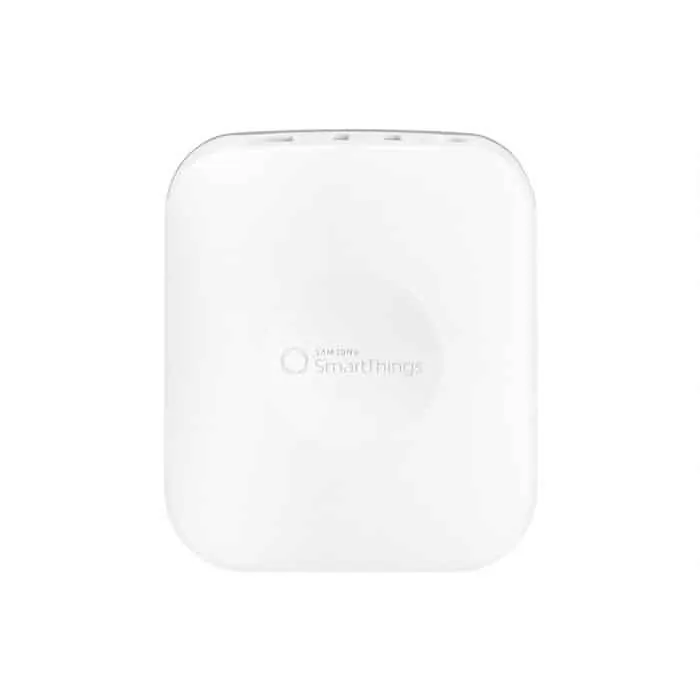 SmartThings is backed by a tech giant with massive resources
First, it's backed by Samsung.
In 2014 the tech giant acquired the Silicon Valley-based start-up "SmartThings" and kept the brand, folding the business into its home automation group. Given the smart home is quickly becoming a battle ground with major players — Amazon, Apple, Google — it might be wise to consider the viability of any platform you choose. After all, you'll likely be spending years to come building it out, adding devices, and creating scenes and routines to automate your house. That first hub or device you buy is merely a toe in the water.
SmartThings is like consumer IoT on steroids
Second, SmartThings is compatible with a ton of stuff… er, things. Consumer IoT? This is it on steroids. Check out some of the partners you'll find in the SmartThings ecosystem:
Samsung SmartThings Hub: Compatible Devices

(partial list)

Apple Watch
Google Assistant
Sylvania bulbs
Philips bulbs
Lutron switches and modules
Leviton switches and modules
Anotec (sensors)
Schlage door locks
Bose speakers
Ecobee thermostats
Netgear Arlo cameras
Ring video doorbell

For complete list: Samsung SmartThings compatible products.
And on and on. There are hundreds of "Works with SmartThings" products out there. Chances are if you're looking to do something, be it monitor a door or garage, or automatically bring certain lights on at a specified time, or have a security camera email you when motion is detected in the side yard, this hub will have you covered.
But…
SmartThings is powerful, but not as easy to use as some of the competition like the Wink 2 Hub and WeMo smart plugs
There's a caveat to be sure. The Samsung SmartThings is not completely plug-and-play. Those looking for a setup experience along the lines of an Apple iPhone, for instance, might be surprised to learn that this hub has a fairly steep learning curve.
If you'd rather do simple things like control lights and set schedules, and aren't too into diving deep into setting up complex automation scenarios might do better to stick with simpler hubs and solutions. The Wink 2 and WeMo are good places to start.
RoundUp:
Smart Home Hubs and Smart Devices

Samsung SmartThings ($49.99 on sale)

4.5 out of 5 stars

Verdict: The power player.
Price: $49.99 on Amazon (retail $99.00)

Pros: Robust functionality. Long list of compatible devices. Active online community. Backed by a tech giant. Inexpensive. Highly recommended for smart home gurus.

Cons: Power comes at a price and requires steeper learning curve than other hubs. App could use polish.

Wink Hub 2 ($92.95 on sale)

4.5 out of 5 stars

Verdict: A hub straight out of Apple's playbook.
Price: $92.95 on Amazon (retail $99.00)

Pros: Stylish design. Beautiful looking app that's very easy to use. All the basics are here: controlling doors and locks, automating lights, alerts, and scheduling. Impressive partner list.

Cons: Not as customizable as SmartThings (for many that will be a good thing).

Insteon ($57.50 on sale)

4 out of 5 stars

Verdict: The lighting guru.
Price: $57.50 on Amazon (retail $99.00)

Pros: Insteon dimmer switches are among the best with user-definable dim and ramp rates. Excels at creating lighting scenes without the needs for plug-ins or smart apps (like SmartThings).

Cons: App works, but could use a UI update. The Android app lags iOS by a significant margin. Insteon is a closed system which means you'll only be able to add Instreon lights and modules.

Belkin WeMo (from $25 per module)

4 out of 5 stars

Verdict: Plug and play.
Price: Varies from about $25-$35 per module

Pros: Doesn't require a hub. Simple and easy to use app. "Away" mode will randomly switch on and off lights to look as if people are home. Attractively designed modules.

Cons: Limited automation. If you add lots of WeMo devices you'll possibly be adding more traffic to your Wi-Fi network (though likely a negligible amount).

Other Options to Consider

Apple HomeKit (devices from $20 and up) – No hub required. Expensive. HomePod comes out later this year. Siri voice control.

Amazon Echo (from $49.99 for Echo to $229 for Echo Show) – Works with Echo-enabled devices, and also works with above hubs above for adding convenient voice control. The Echo Dot ($49.99 USD) is a particularly good bargain.

Google Home ($109) – Same as Echo, for Home-enabled devices and adding voice control.

Smart Bulbs (from about $26 and up) – Many prefer to do away with the idea of a hub. Smart Bulbs from Philips, Sylvania and others connect directly to your phone giving them an edge in simplicity. If you live in a condo or apartment or temporary space or travel a lot, this might make more sense than wiring switches. When you move just take your bulbs and go.
Speaking of Apple, another option for those looking for a simpler system: HomeKit.
Apple's answer to the smart home is called HomeKit and it too has partners who make compatible devices, including Lutron, Philips, Leviton among others.
You will pay the Apple tax to be sure. And, to date, HomeKit primarily uses wi-fi (and a proprietary Apple protocol) so your wireless network could get congested if you add lots of switches and plugs. Later this year Apple will start shipping the HomePod. The speaker — much like Google Home and Amazon Echo — will act as a hub, and control your home using voice commands.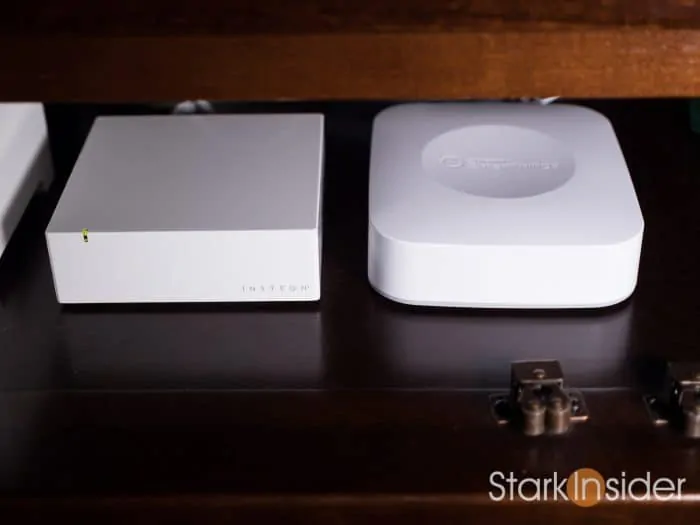 For basic smart home lighting control, Insteon might be worth considering
Also, in my tests with both an Insteon Hub and Samsung SmartThings Hub, I've found that Insteon still has the better overall control for lighting.
That's a personal preference. Obviously, ST can do everything as well, but, again, you'll need to dig deeper into its library of SmartApps and possibly even custom code (provided by community members) to get it to do what Insteon already does from the get-go. Again, this is what I've discovered with a 35 device system with a priority on lighting control.
Still, for just abut everything else, I prefer SmartThings.
ALSO SEE: Smart Home: Top 10 tips for getting started with Insteon
Back to the original question: Should you buy the Samsung SmartThings Hub?
Should you buy the Samsung SmartThings Hub?
If you're okay with what I've noted above, then by all means yes, you should buy or at least short list the Samsung SmartThings hub in your quest to make your home smart.
Net-net: this is a fantastic deal.
For $50 you get a heck of a lot of power in a little box that tucks quietly away somewhere in a cabinet. Fire up the SmartThings app and the world is yours. Add some IFTTT and Stringify (both apps support ST and run on iOS and Android) and you can program incredibly useful security, thermostat, and lighting routines and schedules. For DIYers it's nirvana.
Aeotec Smart Home Hub
4.5 out of 5 stars
Highly Recommended – A powerful platform for building your smart home. Lots of partners. Inexpensive modules and dimmer switches. Extensive online community. At only $50 a veritable smart home bargain.
List Price: $99 (now on sale at Amazon)