Already own or considering buying a smart home hub? Clinton Stark shares 10 tips for the Insteon Hub that might help you get the most out of your existing Insteon system or help you understand the hub market and some of the options on the market today.
It's the year of home automation alright. In spite of the hype, the reality is finally the Internet of Things (IoT) has arrived, and reasonably priced products are lining store shelves (Lowes, Home Depot, Amazon, Best Buy) that, in my experience, are relatively easy to install.
Best of all: they do make life more convenient. In the case of color shifting bulbs, like Philips Hue, can turn your living space into a kaleidoscope of fun.
Revenue from home automation systems is North America and Europe is expected to grow at a compound rate of 31% to $50 billion in 2021.
But, for today I'm going to talk about the Insteon smart home hub and share 10 quick tips I've learned from using the system for over 10 years (I installed my first Insteon hub and dimmer switch in 2006).
Insteon is made by a company called Smarthome, itself a subsidiary of Smartlabs, a California-based company founded in 1992. Competition for the "hub" or the brains of your home is fierce. With its acquisition of SmartThings (Mountain View, California), Samsung entered the market in a big way in 2014 and makes all sorts of "things" to automate your home. Central to its strategy is the Samsung SmartThings Smart Home Hub. Wink Labs Inc (New York) is another strong player — launching a new v2 version of its well-reviewed Wink Hub.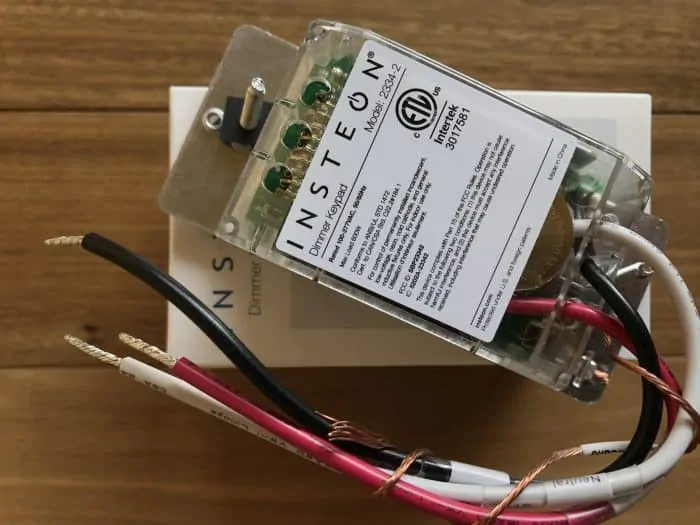 Cloud technology and lower prices are key factors why the smart home is finally within grasp of the mainstream. Unlike years past when contractors might quote you $10,000+ for a custom Crestron system to control lights and cameras, these things are DIY friendly, and don't require you to take out a second mortgage.
But there's another reason why the time is now for home automation:
Voice control.
And we can predominantly thank Amazon (Alexa and Echo) and Google (Google Assistant and Google Home) for that.
With a voice interface, we can now interact with our home in a natural way. Better still, we can combine multiple hubs, and switches from various manufacturers and need only control it all with, say, an Amazon Echo Dot ("Alexa, turn on kitchen lights"). In my experience, it works especially with Insteon.
But more on all of that in future posts. For now, if you've just bought a hub, or are researching the home automation market and considering what to do, here's 10 things I've learned over the past 10 years working with Insteon.
Smart Home: Top 10 tips for getting started with Insteon
1. Buy only the latest revisions of Insteon hubs, switches and modules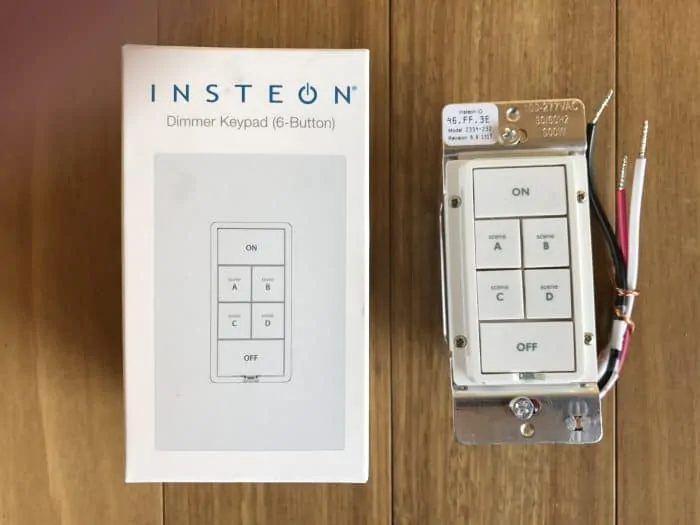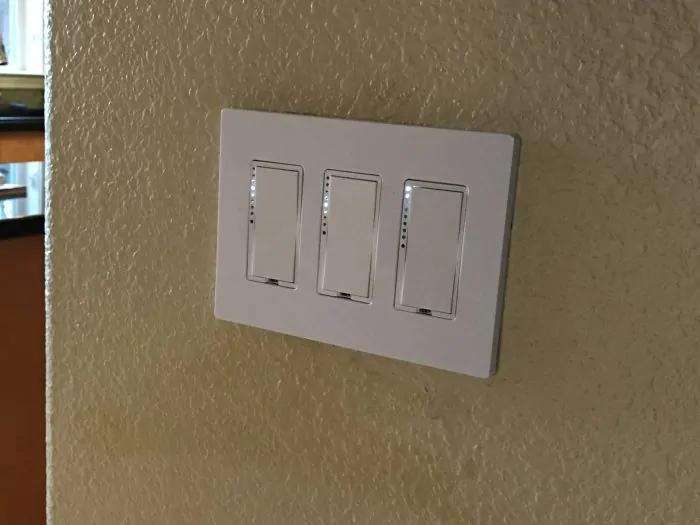 This is important. Insteon (the brand name for Smarthome's line of home automation products) has been around for a while. I bought in early, in 2006. Products were in their infancy and it showed. Reliability was a big issue — software and hardware. Dimmer switches often failed. Communication between the hub and devices was iffy. Flash forward to 2017 and the situation is dramatically improved.
So, please be sure to buy the latest revision (or as close to it as possible) of any Insteon device.
How?
Each Insteon device has a version label, usually placed on the front of a switch, or the rear of a plug-in module. Check that. Then use a Google search to verify the latest versions.
For instance, the most recent version of the 6 and 8-button keypad controllers (models 2334-232 and 2334-222 respectively) is at least 8.0 and from what I can tell they were manufactured in 2017. The latest version of the Insteon Dimmer (2477D) that I've installed this year is 8.2.
My understanding is that if you buy Insteon products from Amazon you will get the newest stuff so long as you select the seller as: "Ships from and sold by Amazon.com." That's key. if you buy from a marketplace seller or a third-party that is fulfilled by Amazon you may get old switches as many suppliers will try to move old inventory.
If you buy on eBay (a good place to sometimes look for deals on Insteon switches), again, look for the label. A good seller with include a photo of the switch with the label so you can verify it's a later version.
This is my #1 tip for Insteon.
I've had a love/hate relationship with Insteon, but in recent years it's been mostly love because the newer, 2nd generation (Dual Band) products are vastly improved over their iffy predecessors. Today, I find Insteon to be very stable, and reliable — so long as you heed this advice and only buy/install newer versions of their hubs, switches and modules.
2. Keep it simple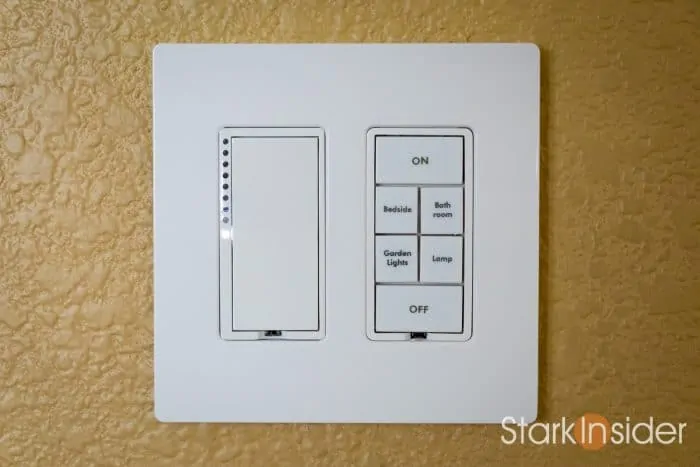 Complexity can really create problems when it comes to the smart home. For Insteon I've found that keeping scenes (groups of multiple devices that turn on together) as simple as possible ensure that your home network won't get overloaded with commands and create slowdowns and errors.
In particular, if you're adding devices to an Insteon Keypad (6 or 8 button switch) just know that if you set one of the buttons as a "controller" and assign, say, 10 devices, the hub will then create 20 links, a two-way connection between each device. This can multiply exponentially if, for instance, you want multiple buttons on keypads around the home to act as a "controller" for the same scene. It can get messy really fast.
One solution is not to use Keypads. Instead just use dimmer switches and plug-in modules. Besides, with Alexa you can simply ask your Echo to turn on a scene ("Alexa, turn on evening mode"). I still use two keypads as I like to see the status. And sometimes hitting a physical switch is all you want. But I don't create mega scenes, and ensure that the scenes I do create are a minimal as possible, and typically have just one "controller" defined (the rest being a "responder").
Note: a controller in Insteon speak can control all the devices in a scene meaning it can turn the entire thing on or off and also control brightness. A responder merely responds to the controller. For example, you have a button "All On" and set it as a "controller" and group 20 devices (dimmers and plug-in modules connected to lights throughout the home or condo) into a scene each as a "responder". If you tap the "All on" button all 20 lights will turn on. Tap again and, of course, everything turns off. However, if you turn off the switch for any of the assigned responders (say, a living room light) it will only turn off that individual device, not the entire scene.
3. Avoid Android: You really want to use the iOS version of the Insteon app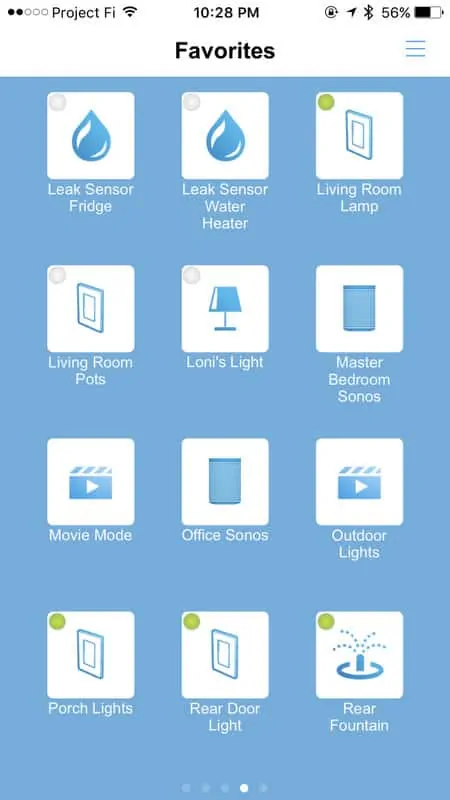 If possible use the iOS Insteon app. it's miles better than the Android equivalent. It looks better. It runs better. It just a better overall experience.
This is where you can feel the roots of Smarthome, an A/V company founded in the 1990's. Unlike many new home automation players who are software-centric, with many based here in Silicon Valley, Smarthome has had to morph over the years. Thankfully, the latest version of the Insteon app for the iPhone is good. Not phenomenal. But definitely functional, with a few design quirks to be sure. However, in my experience it does the job and is reliable. Just take your time and spend some time learning the layout and you'll be fine.
 4. Setting local dim level and ramp rate is very easy with Insteon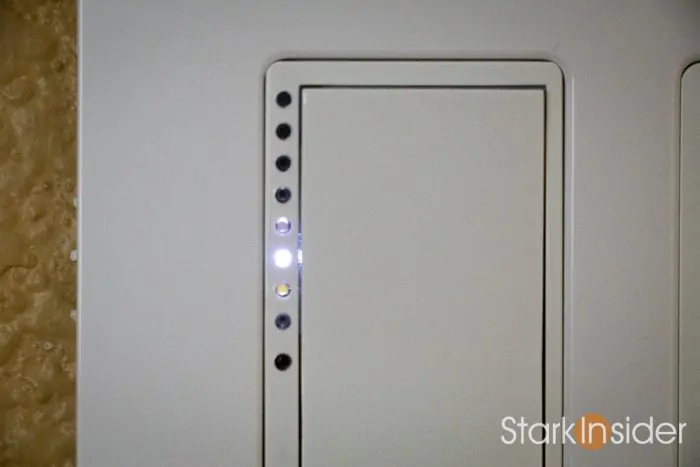 I still believe Insteon makes the best all around dimmer switches. They look modern and clean, and are easy to install thanks to the included pigtail cables (4 in total).
Perhaps best of all is this little trick:
You can easily set the local dim level and ramp rate for any Insteon dimmer switch:
To set dim level (the brightness of the light when you turn it on) simply set the switch to the desired level and tap the set button (below the paddle) once. It will beep. Next time you turn on the light it will go to your preferred brightness. Easy.
To adjust the ramp rate — the speed  at which a light turns on:
To set ramp rate set the light from near off for a slow ramp or up to on (100%) for instant on, or anything in between. Then double tap the set button. It will beep. Now your light will turn on at the rate which you set.
Once you've done this a few times it's very easy. For some reason I can't find similar features in other dimmers from the likes of GE, Lutron and Leviton. Yes, of course you can customize dim and ramp when you create a scene, but unlike Insteon it seems hard if not impossible to actually set them on the dimmer switch itself.
5. Double tap On and Off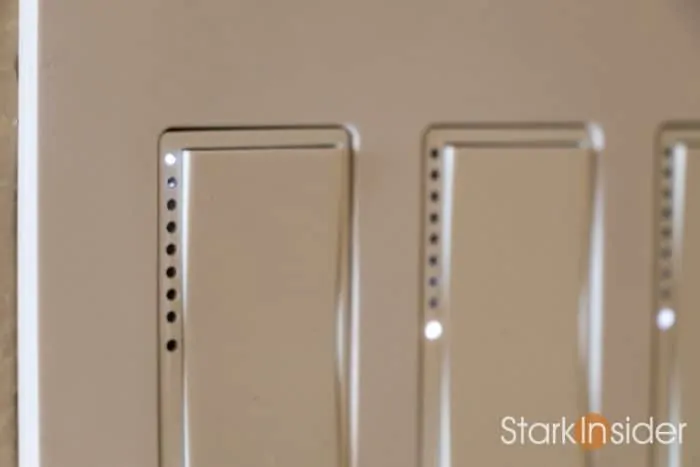 Another nifty trick. Double tapping the top or bottom of an Insteon dimmer switch will instantly turn the light to full brightness or turn it off — convenient if you don't want to wait for the light to ramp dimness.
6. More Insteon devices strengthen the network*
*but quickly deplete your bank account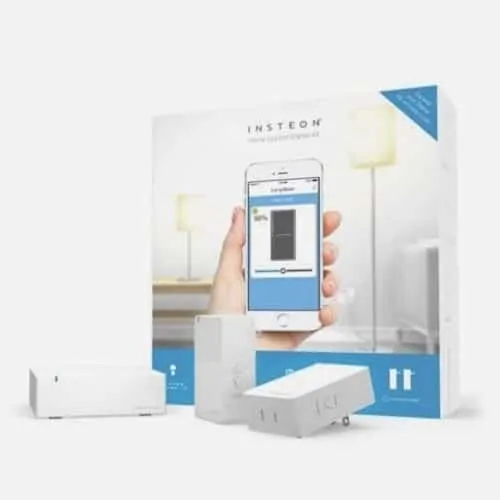 Another thing I like about Insteon is that it is dual band. That is, it communicates using two methods: (1) power line (white neutral wire); and (2) wireless RF signal (proprietary).
In my experience, it's extremely reliable and very fast to respond. I now have 37 Insteon devices across a small home. As I add new lamp modules and dimmer switches (and, more importantly, replace older ones from 2006!) the Insteon network actually gets better. That's because each device extends the range, and also adds another communication point to send/receive commands. I'm no expert, but it's something called a "mesh network." Like me, you may not want or need to know all the details. Just know that Insteon is not wi-fi based, and it provides serious performance, especially as you expand the number of devices throughout your home.
7. Leak sensors and alerts: Your new best friends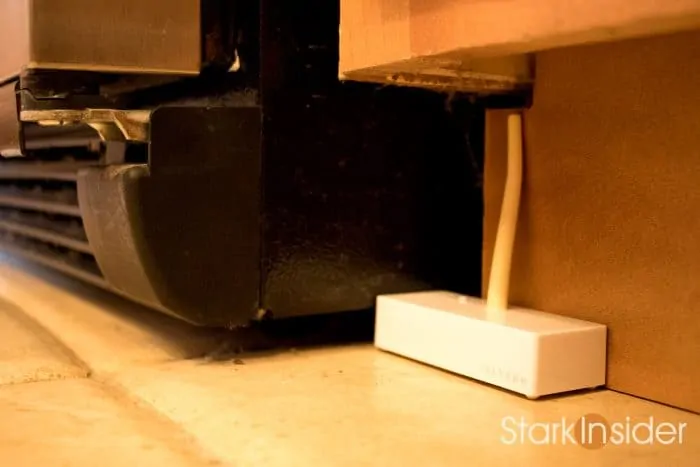 Quick tip to avoid costly home repair. Put Insteon water leak sensors in places prone to potential flooding: the refrigerator, washer/dryer area, shower, hot water heater, etc. Occasionally Smarthome direct or Amazon run 2-for-1 specials and you can get these sensors inexpensively. I sure do wish I had one a few years back when a line from our hot water tank burst.
Place the sensors on the ground next to these areas. Don't worry, they're white and fairly unobtrusive. Then after you've added them to the Insteon Hub, be sure to setup alerts in the app. Slide them to on, and add your email address. If a sensor detects wet, it will immediately email you. Then you can start freaking out.
8. Go deep with Stringify to create conditional Insteon programs ("flows")
You might have heard of IFFF (If This Then That)? Unfortunately Insteon is not yet supported on that platform (though other hubs are supported, including Samsung SmartThings and Wink). You can use a competitor app called Srtingify. It's available for iOS and Android and can really take your smart home to the next level.
I won't go into details here, that's for another day. But you can do things like switch lights on randomly late at night while you're away to make it look like someone's home. Or detect if your garage door is open for 20 minutes and have it automatically close. Or have your irrigation system not run if rain is detected. And on and on… and on and on and on. The possibilities are near endless.
With Stringify (and IFTTT) and Insteon the sky is the limit and you can really do some interesting things. It's definitely not for the plug-and-play crowd, but it's there if you want to do more advanced things with your IoT things. It really is a thing.
9. Insteon is closed and proprietary while most of the competition is based on open standards

This one is not really a tip, but something to be aware of.
If you own an Insteon Hub you already know that you can only use it with Insteon products. You can't mix and match with other manufacturers. So dimmers from Lutron or Leviton or GE are a no go and aren't compatible with Insteon.
Much of the competition, however, is based on open standards. The most prevalent — and one that appears to be gaining even more momentum — is known as Z-Wave, with the more recent standard dubbed Z-Wave Plus.
Samsung SmartThings and Wink 2 are hubs that support Z-Wave Plus. When you buy into the system you can mix and match from a variety of vendors: Nexia, GE, Lutron, Leviton, Ecolink, Honeywell, Schlage, Kwikset, and dozens of others. A lot of brands make Z-Wave enabled smart home devices.
Something to keep in mind.
In a sense, Insteon is like Apple. You buy in, and you buy only Insteon.
Z-Wave is more akin to Google and Android. You buy in, and can buy a variety of devices made by partner companies.
Neither approach — like Apple and Google's business models — is necessarily better or worse. If you really have your heart set on that Lutron Caseta dimmer switch (Z-Wave based), then you're choice is made and it's not Insteon. Go with the Samsung SmartThings or Wink 2 hub. If you appreciate the look of Insteon switches and don't mind buying only that brand then it's definitely a strong option.
10. THIS IS BIG: Use Alexa and Amazon Echo, Dot and/or Show to control Insteon lights (Hint: it's a home automation nerd's dream come true)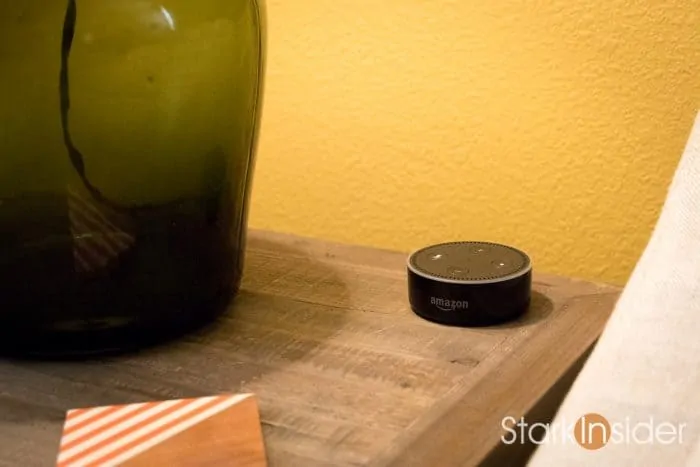 Finally, but not least: voice control.
When I first tried out an Echo Dot I wasn't a fan. It sat on a tabletop mostly unused. That is, until I discovered it could work with Insteon. First, I had to update to the latest hub. A bit of a pain because I needed to re-add all my devices and setup scenes from scratch. But it was worth it.
It's as simple as this: Alexa a game changer for home automation. Together with Insteon I'm in a la-la land of smart home nirvana. I couldn't near imagine this stuff possible even 5 years ago:
"Alexa, turn on the downstairs lights."
"Alexa, dim the front lights to 50%."
"Alexa, turn on movie mode."
"Alexa, turn on sleeping."
and my favorite…
"Alexa, turn on the espresso machine."
It works so well that I was absolutely flabbergasted. Yes, we've had Siri and Google Assistant and Microsoft Cortana for a while now. But to now have this capability in the home, available anytime to control lighting is a dream come true… at least for this home automation nerd.
The best part of Alexa voice control and Insteon is that the setup is a breeze.
First, enable the Insteon skill in the Alexa app.
Then tap "discover devices" under the Smart Home section of the Alexa app. In about 20 seconds the app will import all of your Insteon scenes and devices.
That's it. You can start asking Alexa to control your lights.
Conclusion: Insteon Hub has its quirks, but is a strong option for smart home automation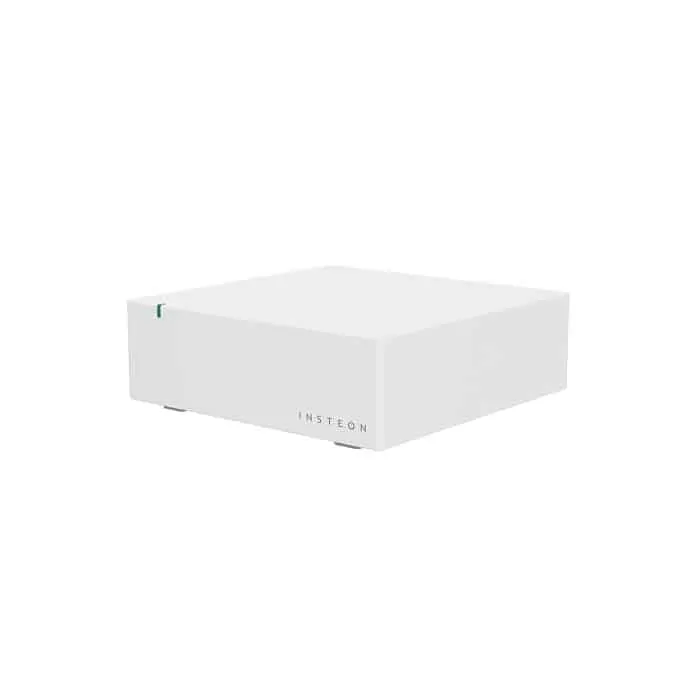 Insteon performs well. In my 10+ years of using it for lighting control I can say that 2017 is a breakthrough year. Not only has the reliability of Insteon products improved, so has its ease of use.
No, Insteon is not as simple as something like Wemo or Wink. Then again, it gives you more power, and, in my opinion, thanks to the dual band mesh network (power line + RF wireless) you get a rock solid network with fast response.
Alexa and an Echo speaker takes it the next level as I already mentioned. For seniors and people with disabilities this is technology that can potentially really improve livelihoods, if not make a small thing, like turning off bedroom lights, something far easier.
For plug-and-play and simplicity I recommend shoppers look into WeMo or Wink Hub 2.
Buy into Insteon, and like Apple, you live in its ecosystem. That means only Insteon dimmers, switches and modules will work with the Insteon Hub. Keep that in mind. And note that Insteon is now competing in a market with huge players with vast resources: Samsung, Google, Amazon. Can a small company survive long-term? I may have seen this scenario play-out with smartwatch start-up Pebble, and its eventual acquisition by Fitbit. Could a similar fate await Insteon (Smarthome Labs)?
With roots as an audio-visual company it's evident that software is not Insteon's forte. Thankfully the iOS app is markedly improved. Android, though, is poor. Something to consider it you're making a buying decision and researching smart home hubs.
Insteon switches, particularly the dimmer (2477D) and 6-button (2334-232) and 8-button (2334-222) keypads are still among the best. Setting local dim and ramp rates is easy — something not so readily possible on much of the competitor switches. Just make sure you buy the latest models and versions.
Smart Home Hub Recommendations

For plug-and-play and simplicity I recommend shoppers look into WeMo or the Wink Hub 2.

For advanced users I recommend the Insteon Hub. It's especially well-suited for lighting control (so long as you're okay with only buying Insteon devices). If that's a priority then Insteon should not disappoint. One caveat. By comparison, Insteon is a small company, swimming among giants like Samsung, Google, Apple and Amazon in the battle for the smart home. That's something to keep in mind when budgeting and considering a long-term investment.

And, I also recommend the Samsung SmartThings Hub thanks to the expanding presence of Z-Wave, and its superb developer and enthusiast communities. Again, this is for buyers who are comfortable with diving a little deeper when it comes to customization.
Those living in dorms, condos or apartments, or in spaces that are temporary, will probably not want to wire in fixed switches into the wall. Instead, smart bulbs would be a great choice. Install a few and then when it's time to go, unscrew them, and take them (along with your lighting investment) to your next location. A Philips Hue starter kit is a good option, and is compatible with Amazon Alexa, Apple HomeKit (Siri) and Google Assistant for voice control.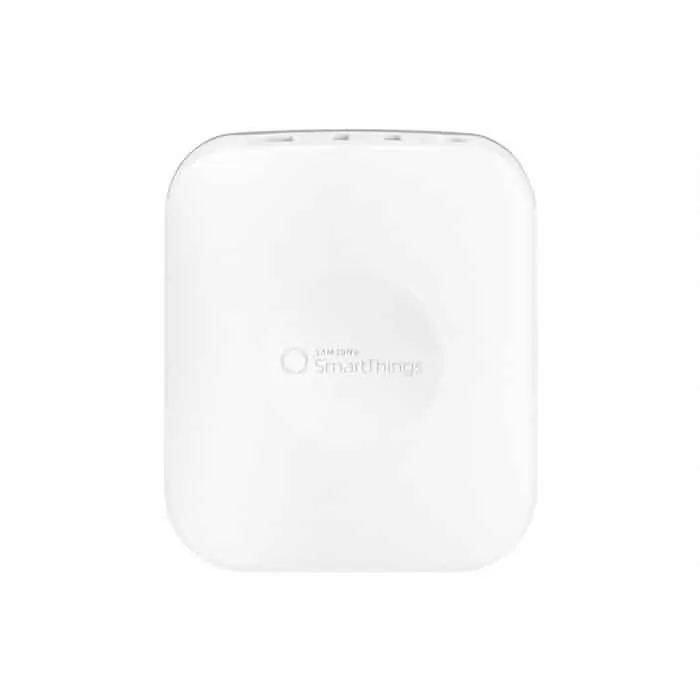 However you approach it, the smart home has finally arrived. This is just the tip of the iceberg. According to this recent report ("Smart Homes and Home Automation – 5th Edition") revenue from home automation systems is North America and Europe is expected to grow at a compound rate of 31% to $50 billion in 2021. By then about 154 million homes will have some form of automation. This means we will see more companies enter the market resulting in more choice. Likely, lower prices in the coming years. And, no doubt, improved software and expanded catalog of apps and, in the case of Amazon Alexa, more smart home "skills".
However you approach it, the smart home has finally arrived.
I hope these 10 Insteon hints helped you understand your existing Insteon Hub a bit better. Or at least provided you some things to think about in your quest to taking your first step into the world of — queue dramatic drum roll — IoT.
Stay tuned to Stark Insider. I have 2 strong passions (3 if you include incessantly re-watching David Lynch films like Eraserhead, Lost Highway & Mulholland Drive): videography and making videos and short films here on Stark Insider; and home automation. I'll be writing more about my experience with Insteon. And also others including SmartThings, HomeKit and Wink. Plus interesting things you can do with scenes and apps.
Plus more soon on IFTTT and Stringify and how all of these emerging technologies can make life more convenient… and fun.