Pixel.
That's the new brand for Google's in-house smartphones. Nexus is no more. And this morning in San Francisco, CEO Sundar Pichai revealed two new Pixel-branded phones (Pixel, Pixel XL) that, unsurprisingly both look very similar to their Apple counterparts (iPhone 7, iPhone 7 Plus) in form and price.
"It represents the best of hardware and software designed by Google." This time around Google's flagship will not be made by Motorola or HTC or LG (Update: turns out the Pixel phones are made by HTC, though Google made no mention). Instead for the first time ever, with Pixel, is making its own phone without the support of a partner. Could this be the first step in moving towards a model more in line with the vertical integration strategy employed by Apple?
As part of the launch, Google also kicked off a new "Made by Google" campaign.
A quick look at the specs:
Google Pixel Smartphones 2016

Two models: 5-inch (Pixel) and 5.5-inch (Pixel XL)
AMOLED Display (1920×1080 HD 441ppi  / 2560×1440 QHD 534ppi) with Gorilla Glass 4
Qualcomm Snapdragon 821 processor (Quad Core 2x 2.15GHz / 2x 1.6 GHz)
4GB RAM
Fingerprint sensor
2,770 or 3,450 battery
12.3MP rear camera with large 1.55 μm pixels f/2.0 aperture / 8MP front
32 GB or 128GB
USB Type-C
3.5mm headphone jack (yeah!)
Bluetooth 4.2
Polished aluminum unibody
Rear glass design element surrounding camera and top third (no bump)
Quick charging
Android 7.1 Nougat operating system
Bottom-firing speaker and 3 microphones
Customer support built-in (24/7) via phone and chat
Three Colors: Quite Black, Very Silver, Really Blue
Project Fi compatible
Dimensions: Pixel 5.66″ x 2.74″ x 0.29″ 5.04oz / Pixel XL 6.09″ x 2.98″ x 0.29″ 5.92oz
Availability: Unlocked on Google Store or via Verizon (exclusive)
Price: starting at $649 (ouch)
Note that Google didn't lead with specs (thankfully), instead preferring to emphasize key services (below) Pixel will provide to its users.
What's New / Updated
The headline for the Pixel phones is the inclusion of the new Google Assistant (more below). All told, Google emphasized five key areas as part of the launch:
Google Assistant (Built-in to the Pixel phones and Google Home)
Photography (DxOMark rating: 89 – "the highest ever for a smartphone")
Storage (free, unlimited original quality photo and video backups)
Communications (Google Duo video calling)
Virtual Reality ("Daydream Ready")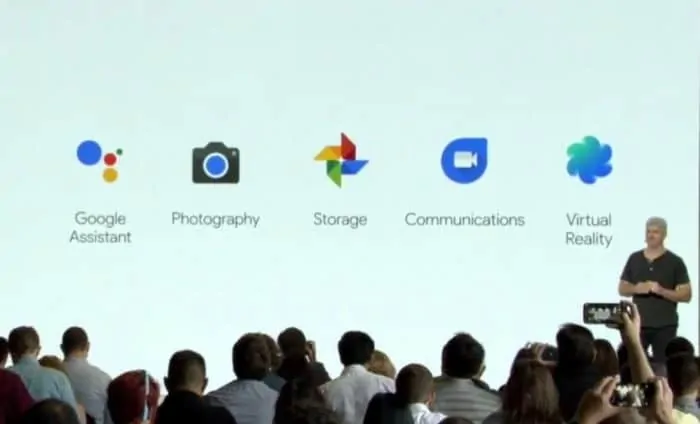 Google Pixel: Google Assistant – "An individual Google for everyone."
Pichai led today's announcement with an explanation of the technology behind Google's new assistant. "It's the early days," he said. "But they [Google] will work on it for a long time."
Machine learning is at the heart of the strategy. The ability, for instance, to distinguish between different languages. Expect the new Google Assistant to start popping up across various places.
It's clear voice recognition is a big part of the future of user interfaces — especially for mobile.
Google Pixel: Photography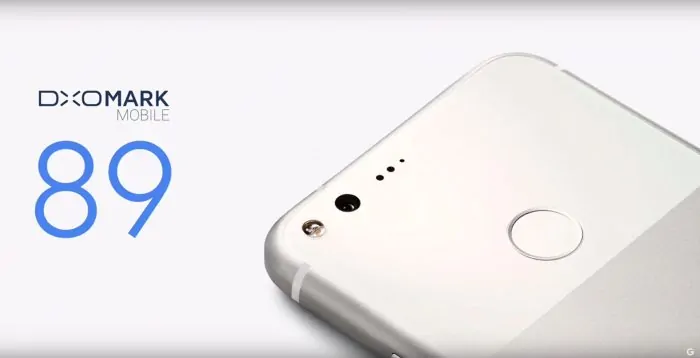 Cameras are an important battleground for phone makers. We all takes of photos. For Instagram, Facebook, Twitter, or just for our own personal memories. The point-and-click camera market has all but been killed by the smartphone. Now, Apple and Google are upping their games. If I were a low to mid-range DSLR camera company like Nikon, Sony, or Canon I'd be watching these new phones very carefully.
According to Google, the Pixel camera received a DxOMark score of 89 (the gold standard of sensor review sites) making it the "the highest ever for a smartphone":
"Simply put, the Pixel raises the bar for what is possible with a smartphone camera… While we have reviewed other smartphone cameras that matched the Pixel's numbers in a few categories, the Pixel is uniquely capable of capturing outstanding images under a wide variety of conditions, and is also among the best we have tested for video capture."
Google Duo is a video calling app that allows you to see who is calling before picking up. The presentation smartly glossed over this new feature. After all, this is pretty common stuff.
Google Pixel: Virtual Reality (VR) Headset
Pixel is Daydream ready, and you can jump on the VR bandwagon with this new and very nice looking Daydream View VR headset (yes, you can wear it while keeping your glasses on):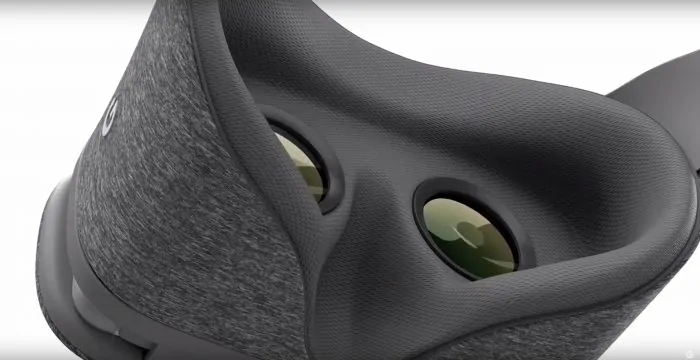 In addition to the normal assortment of interesting, nauseating and unproductive things you can do with consumer VR, Daydream View will also enable you to watch Netflix, HBO. Daydream View VR will sell for $79 and be available in November.
Smartphones Shipments Have Plateaued
The Problem that Google and Apple face going forward is a mobile market that is saturated.
Almost all of us have a smartphone. And even if it's a year or two old, it probably still does the job well enough. Smartphones in recent years are so powerful that checking email and Facebook, and surfing the web, and playing Pokemon Go, and watching videos are child's play in terms of processing power (AR/VR… a different story).
Increasingly, OS updates are about refinement not revolution. As a result growth strategy is about expanding into new markets (virtual reality, wearables, home automation and assistants) and strengthening customer retention and ecosystem lock-in.
Smash or Trash?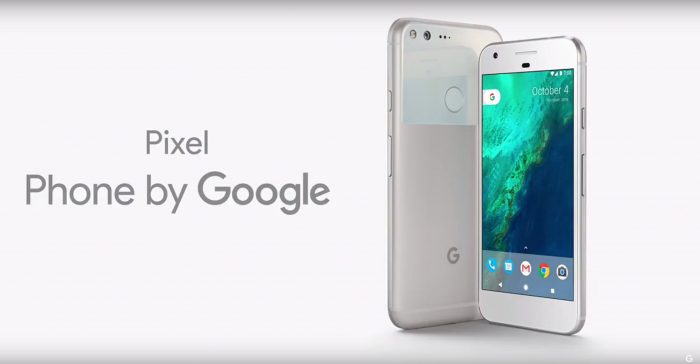 Did Google bring it today?
Stark Insider Grade: C+.
A solid performance, but not earth shattering to be sure. And it seemed to be a slightly disjointed presentation (confusing mix of product, service, hardware) and most notably, low energy.
Then again, earlier this year Apple towed the party line just fine with the iPhone 7 launch, without necessarily wowing us like it has it has in past years. Meh, the new Yeah.
Google Assistant, which will initially be available in the Pixel phones and Google Home, is handy–but we've had fairly decent voice recognition for a long time. Amazon (Alexa), Apple (Siri) and others also offer similar features. It's useful but not always practical. In public spaces, for instance, it might not be polite to use voice search, or at a music concert it might be too loud. At home, of course, this doesn't matter. And, granted, Google has done a nice job integrating Google Home with Chromecast so that you can, as demonstrated today, pull up the latest Katy Perry video on your television by simply asking Google.
Consumers are accustomed to paying a premium for an iPhone, but will it work for a Google phone?
Pixel is a nice brand name. I like it. Google's first Pixel branded device, an Android tablet (Pixel C), has been well-received so it makes sense the company would extend it to other products. The new name does away with the geekiness associated with "Nexus" the former flagship branding.
Will I be upgrading from my Nexus 6p?
Probably not anytime soon. The Huawei flagship performs perfectly well. Though, I have to say, I have a thing for phones that have an RGB LED notification light (Pixels have them) — a feature that seemed doomed.
I suspect the new software features we saw today — most notably Google Assistant — will eventually make their way to the older Nexus line-up.
Google Pixel phones start at a very Apple-like $649 (USD) and are available for pre-order now on the Google Store.
Google products announced today:
Google Pixel phones: from $649 (October)
Google Daydream View VR: $79 (November)
Google Chromecast Ultra $69 (November)
Google Home $129 (November)
Google Wifi: $129 single pack, $299 3-pack (December)