Loni was back from London. And it was the weekend. Clearly, that could mean only one thing: time to test the new RED Raven camera.
I had already shot some slowmo (high frame rate) tests with Raven and was very pleased with the image produced by the well-regarded Dragon sensor (Diet Coke + H2O: RED Raven slow motion test). To my eyes, it looked organic, with beautiful color rendition, and, the highlights falled off beautifully — meaning thanks to the sensor's dynamic range, there wasn't any of that harsh contrast or blowouts you typically see in Canon DSLRs.
When Loni said she was going to bake an apple pie, and that she'd be willing for it to be captured on video I was all in. With a big But. There had to be more. How many apple pie videos does the world need? So, yes, of course, I got out the fake blood, some mysterious black leather gloves, and a few stuffed toys. I quickly story-boarded something (rather silly):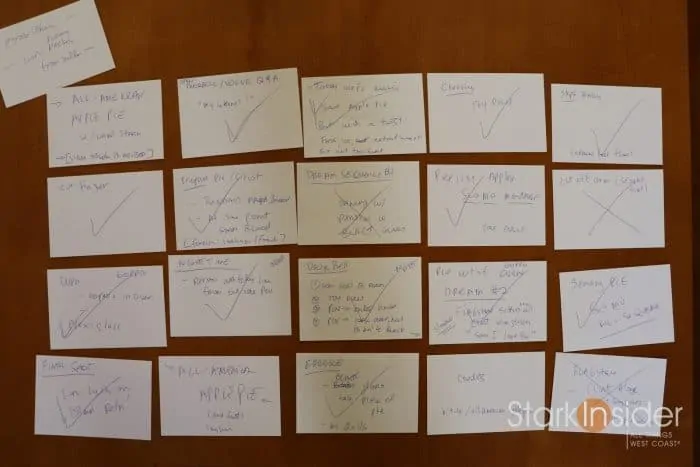 And attempted to cram in as many homages as I could: Lynch, Refn (Refn Red!), and most of all Argento. I love using index cards. I check off each one as the scene is shot. I delete some, modify others on the fly. Then, when it's time to edit, the whole timeline is sitting right there before me. I use the approach even for our run-and-gun event coverage on Stark Insider because it makes life so much easier.
We went to Lowe's and bought a few bags of soil for the garden and a piece of plexiglass for the kitchen so we could shoot some foodie slow motion:
Another setup. For slowmo foodie shots. #RED #Raven #Dragon #orbust pic.twitter.com/619Jl7cfCr

— Clinton Stark (@clintonstark) May 15, 2016
And here are stills pulled from All American Apple Pie with Loni Stark. Coming Soon to web browsers everywhere!
BTS: "All American Apple Pie with Loni Stark" (Shot on RED Raven)
Thoughts on Shooting on RED
Yes, shooting on RED is expensive. I've written about that before. Still, for an "entry" level cinema camera, you get incredible technology. A few years back this would be far out of my reach, and, yet, here I am today able to shoot videos with basically the same sensor so many films have been shot with.
I do realize, very very well, that a camera is just a tool, and I'm not destined to become Clint Scorceses anytime soon just because I have 16.5+ stops of dynamic range.
If you shoot 4K the camera eats storage like nobody's business, especially if you dabble in HFR (high frame rates). Mid-way in the Saturday night shoot I had to dump the 128GB card to make more space. That cost about 20 minutes. I shot R3D 8:1 in 4K (with some slowmo in 3K to get higher fps). Premiere Pro doesn't yet support REDcode files from Raven, so I have to convert them using REDCINE PRO to Prores 422. That ran overnight. In the end, the project took up some 300GB of hard drive space. I'm a backup fiend. So that gets replicated at least three times, with one copy placed in a fire proof safe, and another off location. Safe to say going forward I will likely be shooting most of my stuff in good old Prores 1080p.
Coming from Canon DSLRs and the Canon C100, handling the RED feels very different in most ways.
It's heavier. The materials very dense, and the thing is built like a tank.
RED's approach is buttonless. So the "brain" is devoid of buttons (aside from the record buttons, there are two customizable buttons on the front of the media bay), many of which I find very handy on the C100 for a quick auto-exposure or auto-focus. Likewise the C100, for example, has handy controls on the grip for adjusting aperture and the like. On the Raven I have an "outrigger" handle that only has one button, for start/stop. By year's end, however, RED is releasing a great looking handle that has more controls in it. So: budget!
RED Raven Slowmo Test
And Super SlowMo. Need wider focus next time & HD to get more fps. Still, loving look of RED Dragon. pic.twitter.com/ih353PExCN

— Clinton Stark (@clintonstark) May 15, 2016
Focusing is perhaps my biggest challenge so far.
After shooting on EOS 70D, 80D for so long, and, recently, on the C100, I've come accustomed to Canon's incredibly fast auto-focus system (DPAF). And here's where L.A. filmmakers can close this article… But, in my feeble defense, I do shoot manual often. It's just getting that first shot in focus quickly and then going manual from there, can be so very handy. I did just that when shooting the Live in the Vineyard music festival recently in Napa. Lock on artist. Auto-focus. Boom! Switch to MF. And I'm off to the races.
Making matters worst, peaking mode on RED is not very aggressive. It's actually part of the "False Color" tools menu. There you can set "Focus" mode, and when an image is in focus, the area will have sharp outlines. The problem is, it's hard to see those outlines. On my Ninja Blade monitor, for instance, peaking is represented by strong red outlines, and are easy to discern. Still, there are other focus tools in the RED software — including a circle that fills up in green as a subject comes into focus. I'm guessing a 7-inch monitor might help.
Before RED: My first "test video" shot on Canon C100 II
In the end, it will take practice. Like anything else, a new camera can push your skills, and take you into uncharted territory. And, that's a large reason why I bought a Raven camera in the first place: to improve my skills. Color grading. Lighting. Framing. Pacing. Story-telling. All of it… it needs to get much better in order for me to (attempt to) take Stark Insider videos to the next level.
It Was Only Supposed to Take an Hour
I told Loni: it'll only take an hour. Maybe a bit longer if we include that fancy final scene. Well, four hours later…
We did multiple takes, as usual. But most of the time, Loni had to stand while I said things like, "Hang on a second, I'm trying to focus." "Come on, focus, focus, focus…" or "Good enough, go!"
The next day I was on Advil patrol. Not sure why, but when I shoot for hours in a row, my body is in all sorts of pain the next day. Feels good though to give the biceps a RED workout.
That Image!
After the 4 hours, and given the fact that we (Loni!) had given up a Saturday night, especially after spending a week in London presenting and in meetings, we were not in the best of spirits. This felt like work. Now we understand, if even on this two-person "set", what it must be like to film a real show or film. Minor miracles indeed.
So we both agreed that I would just sell the RED Raven. It wasn't for us. Maybe get a Sony FS7 — that can do 4K, has nice codec, handy on shoulder when needed, and is ideal for run-and-gun, plus the occasional cinematic stuff.
But, my mindset changed later that evening when I reviewed the footage. See stills above.
Wow!
It looked like… well, it looked like… film. Exactly the look I love. Organic grain. Stunning colors. Gorgeous whites and shadows. Those images above are untouched. Playing around a bit with grading I could do even more with the image. Simply amazing. That with a rather lowly Canon 24-105mm lens (slowmo with the incredible Sigma 18-35mm). I can only imaging what decent primes could do.
When I'm shooting concerts, or interviews, or running around backstage at a touring Broadway show here in San Francisco, I suspect I will still shoot with the Canon C100 (and 80D). But for special video features, where I have more time, and more ability to control light, I would definitely use the RED Raven. I will know more soon as I continue to use and learn the ins and outs of the camera.
STARK INSIDER AND THE ROAD TO RED
Beyond all else, creativity some how, some way, must triumph, and overcome technical obstacles, real or otherwise.
By the way, watch out for that fake blood, it's a bugger and leaves stains everywhere!
Look soon for the edit, All American Apple Pie with Loni Stark. Because the only thing more bloody good and American than Apple Pie is a RED camera.
Happy shooting!
PS – thank you Loni, what a sport!