UPDATE: I wasn't pleased with the noise on my first cut. I re-shot some tests with Raven using ISO 320. Also I used REDlogFilm instead of REDgamma4, and used Lumetri Color to grade (not exactly a strength of mine). You can see the results at the end of the video. I think much better, cleaner result!
I was about to toss out that last, icky warm, bit of Diet Coke. Then I thought: hang on a sec, this is a slow motion test waiting to happen!
Before you know it, I had pulled out the RED Raven and proceeded to pour out that soda in 160fps slow mo glory.
If you've been following my adventures in Canon DSLR and short filmmaking here on Stark Insider, you'll probably know I'm not a HRF (high frame rate) kind of guy. A run-and-gunner to be sure. But I realize that anything — anything — looks better when slowed down. As I watch commercials and music videos I'm quick to point out to Loni how many scenes are shot in slow motion. It can look incredibly beautiful, especially when used in fashion films. That's why when a new camera is released, such as the RED Raven, everyone wants to know about frame rates (well, right after specs for resolution of course).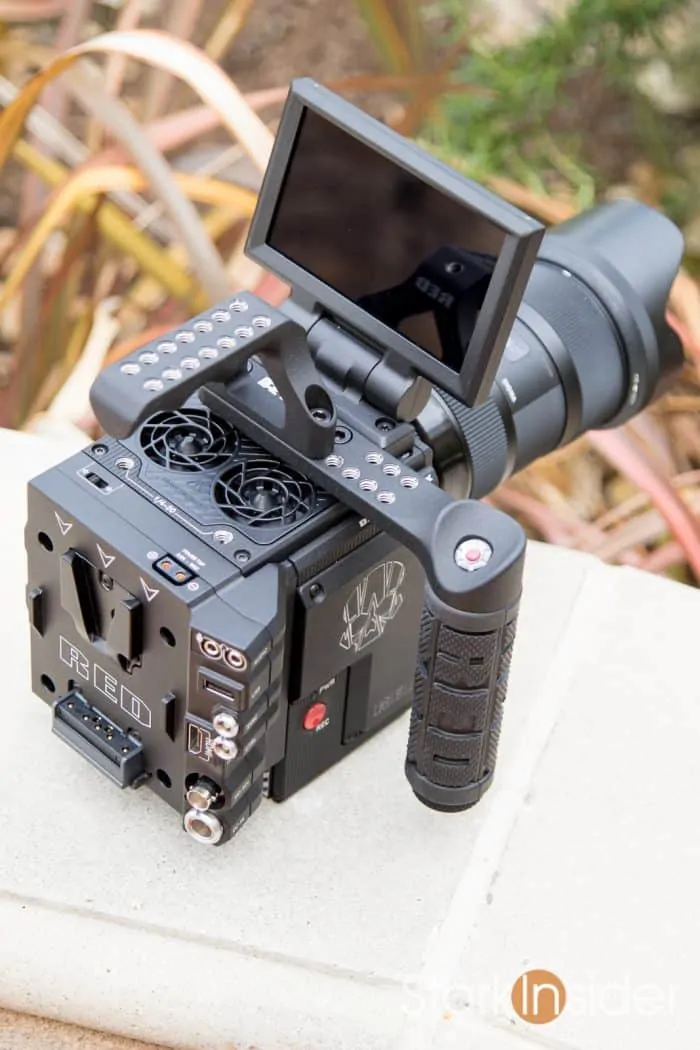 I'm also not a "camera test" sort. So this will be my only "test" video for Raven. The rest must, by law of Stark Insider, have a quasi mix of story, montage, homage, and/or quirky randomness.
Maybe we'll shoot Loni baking an apple pie in the kitchen? After all, I've got some Argento approved fake blood sitting around still. Stay tuned.
Notes about Red Raven Slow Motion Test
For those interested in the nitty gritty, here you go.
Diet Coke
3K R3D (8:1) to ProRes 422 HQ @ 160fps
ISO 1600
Canon 24-105mm

Water
1080p R3D (8:1) to ProRes 422 HQ @ 240fps
ISO 800
Sigma 18-35mm

All natural light, hence the slight under-exposure. Edited in Premiere Pro.
The hardest part I found in shooting with the Raven was focusing. The 4.7-inch monitor, while about the same size as the one I use on my C100 (Ninja Blade), doesn't really provide much accuracy when it comes to focus. It's really, really difficult to nail focus; at least to my eyes. I suspect a 7-inch monitor is in my future, something like the Atomos Shogun Flame.
Also See: RED Raven: It's Alive! (Unboxing)
Everything about shooting with the RED Raven, at least for me initially, is trickier than my Canon C100 II or 80D. The overall rig is heavier. Batteries are bigger, and don't last as long. Memory is (way) more expensive, and the camera chews through it fast. And accessories? Get out that check book, or call your banker. Even though the Raven is deemed "entry level" (below Scarlet-W and Weapon), by former DSLR shooter standards it requires significant financial gusto — though I realize by L.A. film-making standards it's the exact opposite, and a screaming bargain.
But forget all that.
At the end of the day, it's the image that counts most, right? (after story, acting, lighting, composition, sound, directing…)
And all I can say is: Wow.
I can't wait to shoot, shoot, shoot as much as I can on RED. And share the experience and learnings here on Stark Insider.
RED Raven: "Diet Coke" Slow Motion Test