Google might be on to something. With Project Fi, its pre-paid cellular service, the search giant has managed to make signing up for a plan an easy — even enjoyable and fun — experience.
It starts with the innocuous, cleanly designed packaging that playfully encloses the nano SIM card: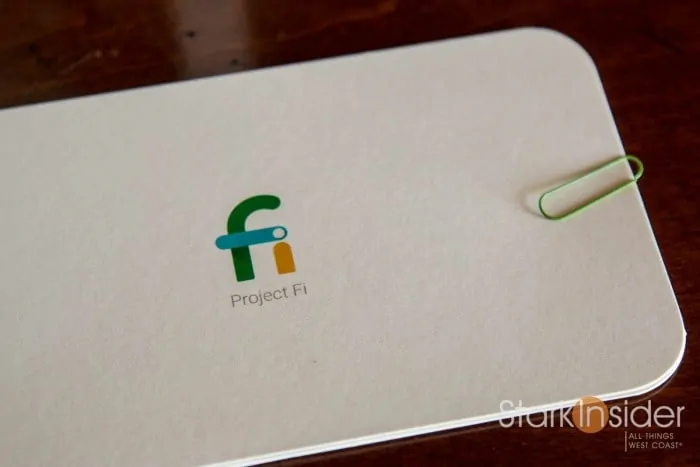 Quick Fi Tip: see that green paper clip in the above photo? That's the SIM tray removal. Gently push an end into the tiny hole on the top-left side of the Nexus 5X to pop the tray.
Pop the SIM into one of three Fi-approved handsets (Nexus 6, Nexus 5X or Nexus 6P) and switching from a contract-based plan from T-Mobile, Verizon or Sprint seems within grasp.
I'm on Day 1 with Project Fi, and these are my first impressions.
Backgrounder: T-Mobile + Nexus 6
First, I should note that I'm on a lowly pre-paid T-Mobile plan. I pay about $30/month. Yep, I'm one of those guys. I can't fathom spending ~$100 every month for phone service when I all I mostly do is listen to music, text, and check in on emails while on the road. Given that I'm in the office or edit suite most of the time, and have wi-fi, I'd rather not spend a boatload on cellular service.
Though I received an invitation (silly, those invites for tech products and services) last year, I stayed loyal to T-Mobile which, for the most part, has been reliable enough around here in Silicon Valley. Though T-Mobile caps the first 5GB of data on its pre-paid plans before dropping to slower speeds, I've never come close to reaching that limit. I do stream music — a lot. Pandora, Google Play Music, the stuff of dreams for a Bay Area commuter. Thankfully T-Mobile doesn't count those streams against the monthly limit.
I should also add I'm an ardent fan of Google's Nexus handsets. I've been with them since almost the beginning, working my way from the Galaxy Nexus (Samsung), to the Nexus 4 and Nexus 5 (both by LG). And, because I'm one of those guys, I waited about 18 months after the release of the phablet Nexus 6 (Motorola) and scored it at a discount ($299) because I cringe at the notion of paying $700-800 for a flagship phone I know will soon become fast company with concrete. I still think the Nexus 6 is a great buy for those that like Android Phablets.
Then Google rolled out its promo for Project Fi. Pay only $199 and receive a Nexus 5X when you sign up (and, since this is a pre-paid service, there is no obligation to continue beyond even the first month of service).
Setting up Project Fi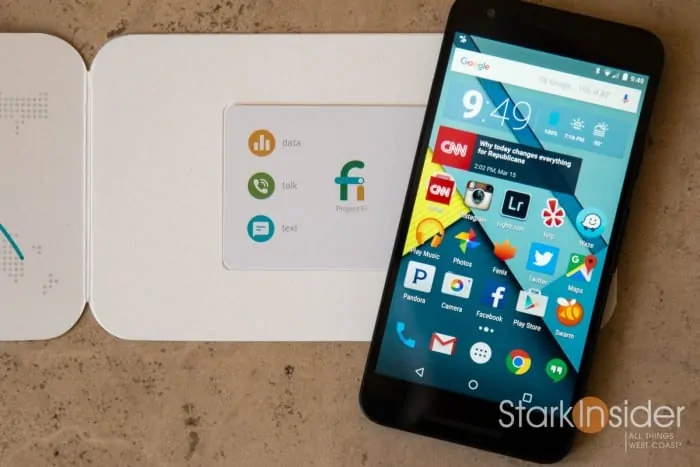 After inserting the Fi SIM and booting up the Nexus 5X, I was guided through an easy set-up process. My Google Voice number was migrated to Fi, a process which I was told could take 1-2 business days, after which I would receive a notification. I'm still not certain if my T-Mobile service will automatically be cancelled. I hope not, as I'd like to compare the two directly, and am willing, at least for a month, to pay an extra $40 running Fi at the same time, to help make my final decision moving forward.
Quick Fi Tip: You have the option to migrate all your apps and settings from a previous Android device. To initiate the process, on your old device go to Settings –> Google (under "Personal" section). Near the bottom, you'll see the option "Set up nearby device". It works remarkably well, though it takes time.
Activating Fi took a good twenty minutes or so. For a moment I had thought things had frozen because it was taking so long. But eventually it finished. My Fi service was activated. But my number itself would still take time to port. For now, I was in two phone limbo land.
Project Fi Service Quality
I'm on Day 1 so it's far too early to make any sort of assessment here regarding signal strength and quality. So far, though, the Fi Nexus 5X is receiving as strong or better an LTE signal as compared to my T-Mobile Nexus 6.
Given that Project Fi is actually a virtual mobile network, riding on top of two the nation's largest services — T-Mobile and Sprint — it would make sense that signal strength be at least as good as compared to a device running on just one of those networks.
Thanks to some Google mojo, Fi automatically switches between T-Mobile and Spring depending on which provides best service at any particular location.
And, the real party trick: Wi-Fi hopping.
Fi — hence the name — knows when a nearby Wi-Fi network is available and, again, automatically connects to it. This means you're getting the best of three worlds at any given time: T-Mobile, Sprint, or Wi-Fi.
I'll be interested to see how Fi performs over the coming days and weeks as I travel up and down Highway 101 here in Silicon Valley, and run around San Francisco, and roadtrip it up to Napa and wine country (where cell service is notoriously poor).
And… How about that Nexus 5X Handset?
TL;DR Nexus 5X: it's great.
Sure, the screen is smaller, and at 5.2-inches it might seem too small for someone coming from a larger phone. But using it in one hand is a snap. Further, it runs fast, features a display with bright, clean whites, has a decent enough camera (but still not up to iPhone standards), and, of course, runs stock Android Marshmallow 6 out of the box. All good stuff.
The fingerprint sensor? Fast. Really fast. As in instantaneous. Good work here by LG. I can see using my index finger to unlock the 5X becoming second nature in a matter of days.
Bonus points…
Much to  my surprise the Nexus 5X has an LED notification. You'll find it at the bottom center, just above the USB Type-C charging port. About that port though… it's a blessing and a curse. I don't have any Type-C cables lying around. So, if the 5X becomes my daily driver I'll need to get one for the car, for the office, for the bedside, etc. The time will come sooner or later that we migrate away from the standard, fidgety Micro USB connector so I suppose now is as good a time as any.
Nexus 5X vs Nexus 6
I've been comparing the 5X and 6 since I received the Project Fi package yesterday. I've come to appreciate handsets with large screens. It's so handy when surfing, reading, checking emails to not have to squint, and to have lots of information right there in your hand. Since I commute (a lot) around the San Francisco Bay Area, Google Maps is an essential app for me, and the bright, spacious 6-inch screen on the Nexus 6 is pure joy in those situations.
Still, a phablet-sized device does come with trade-offs.
They are hard, if not impossible, to use with one hand.
They can be uncomfortable in pants pockets, and, in some situations, just finding somewhere to store the phone can be a challenge.
And, of course, larger screens result in increased energy consumption which has a negative impact on battery life.
Nexus 5X vs Nexus 6: Points of Comparison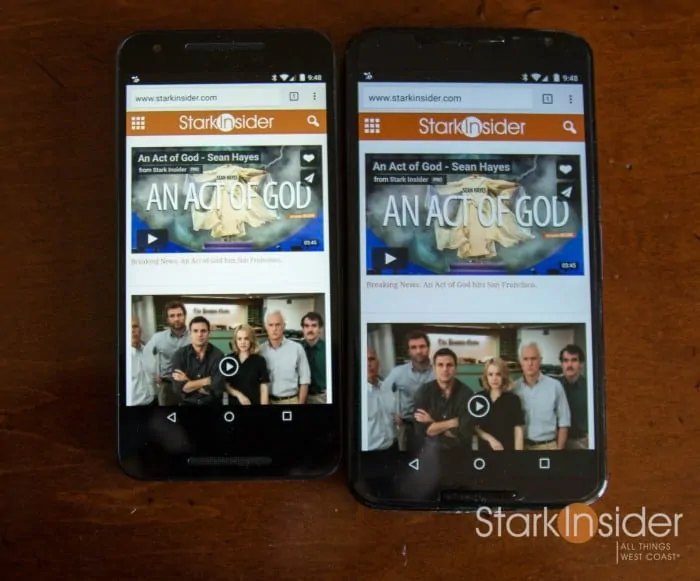 Whites tend to be warmer on the Nexus 6, with the Nexus 5X overall looking more balanced.
Blacks, however, are deeper on the Nexus 6 (AMOLED), giving the display more contrast.
Colors are more saturated on the 6.
Performance-wise, both phones appear close in my casual tests – the Stark Insider front page loads equally fast on both.
Because the Nexus 6 has higher resolution (2560×1440) vs the 5X (1920×1080) everything, small fonts in particular, seem just that much sharper.
Battery: too early to tell — the 6 has a larger one (3200mAh vs. 2700mAh for the 5X) but also has a larger, higher resolution display.
One handed operation? Yes for the 5X (5.79 inches x 2.86 x .31). No for the 6 (6.27 inches x 3.27 x .4).
Nexus 6 has Qi wireless charging – I find it very handy and have several Qi pads around the home and office.
Nexus 5X, though, has an old-school, honest-to-goodness LED notification light. Does that matter in the day of ambient displays and smartwatches? Probably not as much as it once did. But it does give me a good old Nexus vibe.
1 word I'd use to describe the 5X, sitting on a surface from a distance: iPhone-ish.
Let's keep in mind: the 5X is only $199 (with Fi), a bargain!
I'm going to give the 5X a go, and see if I can live with the (diminutive!) 5.2-inch display. There's a lot of upside with this handset — fingerprint sensor, LED notification light, small bezel — that's it worth a shot.
The nice thing about Fi is that you can easily swap the SIM from one supported device to the next. Better still, Google offers "Data only" versions of Fi SIM cards. You can pop those into secondary devices. You won't receive texts or calls on them, but data will work as normal, and draw from the same, unified monthly Fi account. That means you could, for example, use the 5X as your primary device, and use an LTE-enabled Nexus 7 on the go, say as a dedicated in-car nav system. Or, as I'm going to try, you could have a 5X as your primary device, and a Nexus 6 as a data-enabled sibling for situations where you prefer the larger screen.
Is it Worth Switching from T-Mobile to Google Project Fi?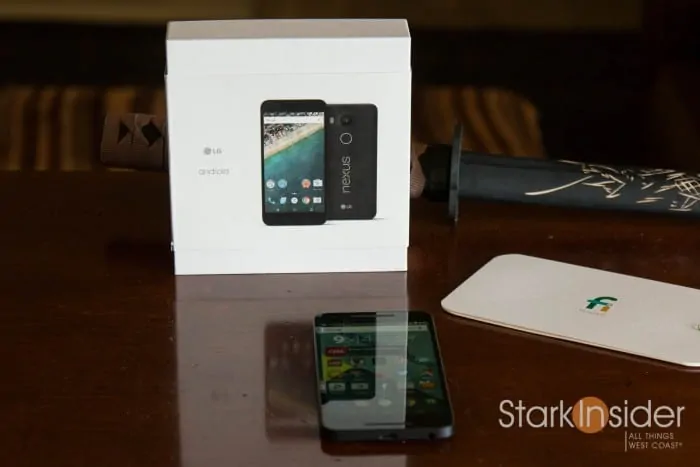 After just 24 hours I can't say if it's yet worth switching to Fi. Early signs are very positive. I like that Google has simplified the monthly statement. That, plus the easy set-up experience reminds me of something that would come from Tesla, or Apple, or Nest. It's a fun experience. Google has come a long, long way over the past few years when it comes to refining the customer experience. Kudos to the team.
"Switching" from T-Mobile is not quite the whole story. Fi still runs partly on T-Mobile (and Sprint), so I'm still on the same network, the difference being that it's brokered by Google.
I pay about $30/month to John Legere and friends, where as on Fi I'll pay about $40/month to Larry and Serge (or is that Sundar Pichai? or all of the above?) which includes $20 in baseline service ("Fi Basics"), and $20 for 2GB of data. For all that Fi offers, it seems compelling.
Then there's the data-only SIMs. You can add up to nine using Fi. All draw from the same data pool, and are billed on the one account. Very handy. This flexibility alone might persuade you to at least give Fi a try.
For now, I'm still in dual cell service limbo land. My Nexus 6 is on T-Mobile. My Nexus 5X on Project Fi. Google Voice number port is imminent.
Will I switch to Fi full-time? I should know in the coming weeks.
Meantime, color me (very) impressed with what Google has done with its fledgling Project Fi cell service, and what LG has done with its highly capable, mid-range Nexus 5X Android handset.
Google has launched a well-designed, informative micro-site that describes more about Project Fi.