Update 3.24.2016 – After today's news, seems like I need to make a major revision to this Pebble wish-list. Now at #1: Hoping Pebble, the company itself, can stick it out for the long run. 
By all accounts Pebble, a tiny smartwatch maker hanging amongst giants (Apple, Samsung, Motorola, LG, Fitbit), had a solid 2015. The Palo Alto-based start-up released Pebble Time, an updated version of its iconic, e-paper based smartwatch. For the first time, it featured a color display. More recently, another first: a slim model with a round face, dubbed with not much irony, Pebble Round.
While Pebble continued to innovate — introducing a new Health app, "Timeline" which integrates calendars and events into a scrollable view, and an updated Pebble app (that supports both iOS and Android) which is easy, even fun to use — others in the segment appear to be moving slower by comparison.
Take Apple. Its first foray into the smartwatch market isn't doing too badly. Most market data places Apple in second place, just behind Fitbit, in the wearables race. But since the release of the Apple Watch in April 2015, Tim Cook and team have done little to advance its capabilities or refine its usability (a key weakness in my view), instead opting to push minor software updates out to users.
A similar story could be said of Google and its Wear smartwatch operating system. Yes, there have been updates rolled out over the past 18 months or so, but, again just like the Apple Watch, there's nothing really revolutionary going on.
Is it that good enough is good enough in the smartwatch market?
Or, perhaps Google, Apple, and Samsung, and others have realized this market is not actually that large, and has become rapidly saturated. That Apple reduced the entry price of the Apple Watch down to $299 (from $349) could indicate smartwatches have already been reduced to commodity status — I've long argued that, while handy, these wrist-wearables are simply accessories that extend basic functionality of the smartphone, not game-changing devices in and of themselves.
So, back to Pebble.
I'd say it's in a pretty good place. Pebble's products are differentiated by long battery life, e-paper displays which are highly legible outdoors, and ease of use. Further, based on the app store, it would appear developers have embraced Pebble. And, daily scans of Reddit and other forums suggest Pebble users are a rabid, loyal bunch (no doubt, myself included).
Pebble would do well to continue to explore models that look timeless, rather than Nintendo-like.
Looking down the road, though, what does Pebble need to maintain, and maybe even further enhance, its momentum? To get those who might otherwise buy an Apple Watch or Android Wear-based watch from Samsung or Motorola, to consider a Pebble?
Here's 5 things I think Team Pebble should consider for any number of the company's upcoming wearable products.
5 Things Future Pebble Smartwatches Need
1. Touch Screen
Blasphemy, I know. And I love the physical buttons on my Pebble Time; it makes controlling music, for instance, something that can be done without even looking at the watch. But, we're living in a touchy-feely mobile world. Even young children know how to tap, swipe, pinch. Pebble, too, I suspect will need to get in the game. That doesn't mean leaving honest-to-goodness tactile buttons behind: I'd like to see some combo of the two on a future Pebble watch.
2. Larger Screens
Pebbles have small screens. Pebble Time's display measures a mere 1.25-inches (144 x 168 pixels). Compared to the competition, Pebble is a diminutive creature. Granted, it makes for an innocuous showing, and doesn't scream look at me, but it can make for a cramped display, especially when you want to enjoy all the various capabilities a smartwatch can provide at a glance — weather, step counter, date, upcoming events, etc. Meantime, Apple watch can be had with a display measuring about 1.5-inches (312 x 390 pixels), found on the larger 42mm model. Popular Android Wear devices too are larger, and can offer more utility in this regard, including the Moto 360 (1.56-inches), slick Huawei Watch (1.4-inches), and entry level Asus ZenWatch 2 (1.63-inches). I realize a larger screen means concessions when it comes to battery life, and perhaps wrist comfort… still this is a wish list, right?
3. Wireless Charging
Whether its Qi-based or something else, it would be nice to see Pebble have a wireless charging option. I'd rank this one as less critical since we don't need to charge our Pebbles that often. Still, wireless is the way of the future (or is that the here and now?), and it would be nice to see, rather than having to deal with those fiddly connectors, and trying, impatiently, to line-up charging pins.
4. Style!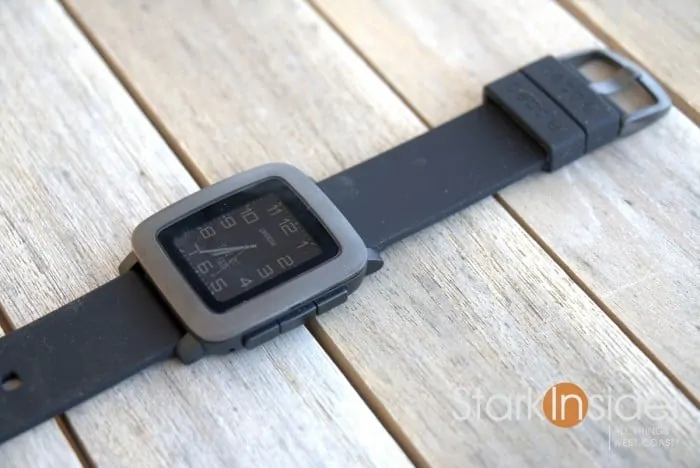 I get it. Pebble has a sort-of cutesy, anime-like aura about it. The team did a good job to separate itself from the often overwhelming, complicated wearable competition (try figuring out an Apple Watch for the first time). That ethos has, successfully, translated into products that are fun and easy to use, even whimsical (like the tip-toeing mouse that pops up when "Quiet Time" is enabled). In my estimation, though, there's a larger market out there who might consider purchasing a Pebble if it had a modicum of classic styling. Maybe not chunky, business-ready Huawei Watch style, but something that more readily approximates a classic timepiece. Time Steel comes close, and I think Pebble would do well to continue to explore models that look timeless, rather than Nintendo-like.
5. Even Longer Battery Life
Call me selfish. I admit it. If we're dreaming, let's dream big. At up to a week endurance, not many of us would complain about battery life on Pebble watches. It really is a key differentiator. And that's why I think Pebble should allocate even more R&D to this area. Wouldn't it be really sweet to charge your smartwatch only once a month? I think that day is coming. And my bet would be on Pebble to do it first.
I'm sure there's even more wish-list items us Pebblers would like to see implemented down the road. For now, I'm a pretty happy Pebble Time user. I find myself wearing it more often than my Asus ZenWatch 2. The Wear watch is decent enough, but Pebble does everything so well — like automatically tracking sleep — it rarely comes off my wrist.