Canon surprised last night. Not be releasing the successor to its ever popular EOS 70D DSLR camera, but giving it to us early. Most of us saw this as a summer release. Good on Canon. It's nice to know the storied company can still keep us on our toes.
So, the wraps are off the brand new, eagerly anticipated Canon EOS 80D.
Set to ship in March, and priced at $1,299 USD (body only) and $1,799 (with updated 18-135mm kit lens), is this the new "mid-range" DSLR to get?
First things first, if you're like me, take all the marketing and positioning terminology with a grain of salt.
Yes, this is technically a "mid-range" camera. It slots in between cheaper Rebel DSLRs (such as the T6i/T6s, etc.) and below "pro" models such as the vaunted 5D series and upcoming 4K-capable 1DX. Nevertheless, the 80D, and certainly still the almost three-year-old 70D, are extremely capably cameras. Images can be astonishing (glass is important!). Videos, too, can be equally impressive. On that latter point, I believe if video is your thing, there is no better camera on planet earth than the 70D or 80D. It works a miracle.
I've been shooting on Canon for as long as I can remember. For Stark Insider videos, I invested in a Canon T2i. Great move. What a workhorse. Still have that camera (running Magic Lantern firmware), and use it as a b-cam. Year after year I moved up the Canon chain, from the T2i to a 60D, then, in 2013, to the 70D. Thanks to that camera's trick Dual Pixel auto-focus — that works supremely well for auto-tracking moving subjects — I believe it will go down in history as one of Canon's best. Yes, there's other exciting cameras out there in this price class, notably the Panasonic GH4 and the new Sony a6300 (I own an a6000 and love it), but when it comes to the total package — durability, lens selection, focus technology, image quality, battery life, reliability — it's really, really hard to beat Canon.
I've now shot hundreds and hundreds of videos on Canon DSLR, with most over the past two years being shot on the Canon 70D. On some recent videos I've used a Canon C100 Mark II cinema camera. All fantastic gear. Interviews (Brie Larson). Concerts (A Great Big World). BTS Broadway (Matilda the Musical). Travelogues (Sausalito Art Festival). Silly arthouse projects (Only Art Forgives). Whatever it is… the Canon has always delivered for me. Admittedly, I'm a fan. Not just because, though. Because the company's products have never (not once) let me down, and the results are continually good.
A quick look at the main 80D specs, which if you're an enthusiast you already read several times last night:
Canon EOS 80D

(70D in parenthesis)

24.2MP CMOS APS-C sensor (vs. 20.2MP on the 70D)
Digic 6 processor (Digic 5+)
OLPF
ISO 100-16000 (100-12800)
7fps burst shooting
100% viewfinder footage (98%)
45-point phase-detection all cross-type (19-point)
Video: h.264 mov, 1080/30p.25p, mp4 1080/60p (70D can't do 1080/60 mp4)
Recording limit: 30 minutes (4GB on 70D)
Wireless: Wi-fi, NFC
Battery: EP-6 (same as 70D, thankfully)
730g (771g)
EOS 80D Body: $1,299 USD
EOS 80D Kit: $1,799 USD with updated 18-135mm USM lens
80D improvements over the 70D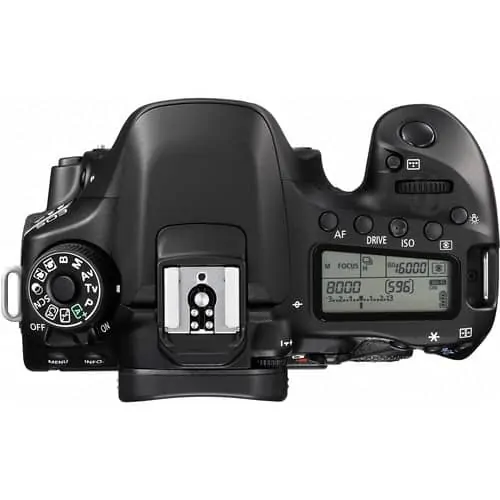 After skimming the specs, it's clear that Canon is giving us an incremental upgrade. Fair enough — it's how it's been done for years from the T2i and its successors, to the 60D and to the 70D. Don't wreck a good thing. Others may push the envelope, but they also run into firmware and reliability issues. I like that Canon releases a very stable product on the first go-round.
The biggest news here appears to be the autofocus. Canon has more than doubled the number of focus points. That, along with a speedier Digic 6 processor should mean even faster, more accurate tracking of moving subjects. Given Canon leads the field with this feature, it only seems natural they would further strengthen it.
There's slightly more resolution (from 20.2MP to 24.2MP) thanks to an updated sensor, but I'm not sure that'll make a huge difference, though it's always welcome.
Burst rates are the same. It's a little lighter, also welcome. Vibration control has been improved thanks to a new shutter mechanism.
Nano USM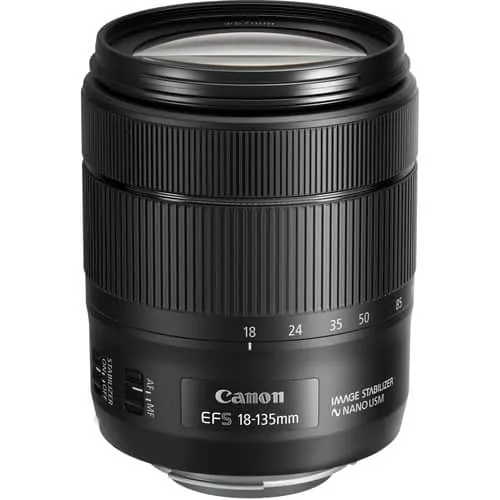 Perhaps the biggest news with the Canon 80D are the accessories.
First is something Canon is calling the Nano Ultra-Sonic Motor (USM). Essentially a fancy way of saying quiet focusing. It's found in the new 18-135mm kit lens ($599). When you're shooting video you don't need to worry about any lens noise being picked up by the microphone. Very, very handy for us run-and-gun shooters.
Power Zoom Adapter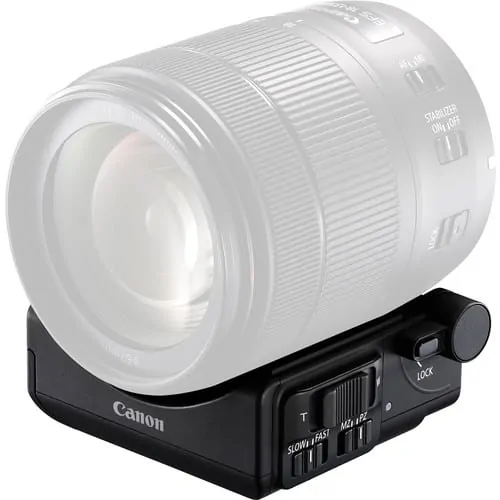 This is nifty. The PZ-E1 is a $149 accessory that attaches to the underside of the lens (currently, from my understanding, only the 18-135mm kit lens is supported) and provides motorized/electronic zoom control. This is the kind of zoom you might find on a traditional camcorder, where you can push and hold to zoom in or out smoothly. Without the zoom adapter, the only way to zoom is to manually twist the lens. Doing it rapidly can result in something called a "crash zoom" — a style made popular in The Office television series. Still, there are times, say during a live concert, when you may want to slowly move in closer to your subject. Now you can do that by retrofitting the PZ-E1 to your 80D. Don't need it? Just take it off, and Bob's your uncle.
Microphone
Canon is finally going to start shipping its own on camera shotgun microphone (DM-E1). This news: not so exciting to me. Still, the price is right. At $149 you get a small mic that attaches to the hot-shoe. But, unlike some of the competition, you still need to route a cable into the 3.5mm audio-in jack. I wish Canon would build all of this into some sort of new, intelligent shoe. Regardless, I'll still use a Sennheiser MKE 600 mic (with XLR-mini adapter cable) as I find the audio quality much better.
What? You say Canon is dead? Can you say that again, a little louder please (and with constant Tweets to that effect)?!
Many have said Canon is dead. And that the company that created the DSLR video revolution (with the ground-breaking 5D Mark II) is slowing down when it comes to innovation.
I say…. whaaaat?!
Focus is one of the most important parts of any camera system. And Canon is at, or near, the front of the pack, relative to Sony, Canon and Panasonic, among others. For video shooters, yes, manual focus is almost always preferred for narrative, but for run-and-gun and events (e.g. weddings) when motion is unpredictable the benefits of the Dual-Pixel system are simply marvelous.
Video Examples: Shot on Canon EOS 70D by Clint Stark
4K – 4What?
A lot of the anti-Canon sentiment, seen so fervently in the forums, has to do with the company's seeming lack of interest in 4K.
Meanwhile Sony is gangbusters 4K.
Take your pick.
Both companies make phenomenal cameras. Sony killed it in 2015 with the FS7 and FS5 cinema cameras (not to mention the updated A7 range). Remarkable gear. Still, I'm not convinced most of us need 4K, and that's Sony's main calling card these days. Does the end viewer care? Maybe. Possibly for wildlife, landscape applications. But I've never heard my wife once say, too bad this new Taylor Swift video is not streaming in 4K otherwise then I might watch it another 100 times.
My mantra: story-telling, story-telling, story-telling. Use an iPhone. Use an old Super 8 camera. Or a 70D, or the new 80D. I believe they can get you where you need to go when it comes to telling stories using video.
That said, I admit, I pre-ordered a new RED Raven. RED, of course, is notorious for pushing resolution limits — 4k, 6k, 8k! Funny thing, though, is I'll likely shoot 1080p most of the time. I'm more interested in the "look" then I am super-duper razor sharp images (do actors really want that either?!).
Canon EOS 70D or 80D?
That is the question.
If you're just getting into the DSLR video game, and are on a really tight budget, I'd definitely look for a used 70D. Or wait for price drops to come next month when the newer stuff starts shipping. I still use the 70D all the time. It's great for when something like the C100 is too conspicuous. Plus, it's a stills camera. So you can shoot video, flip a switch, and grab high quality photos if you like. There's tonnes of accessories, including an endless array of lens choices. 70D, killer camera, even almost three years after its introduction.
If you can afford a little more, get the 80D. You get even faster auto-focus, faster processing, faster everything. The new sensor offers a bump in resolution too. Of course, this is all dependent on the camera performing as advertised — something we'll need to wait until March to find out.
More Video Tips & Tricks on Stark Insider
Us existing 70D owners… to upgrade or not?
Only you can make that decision obviously. It might come down to how often you shoot. Or, if you make money from videography, or are just getting into filmmaking. Treat the 80D as a business expense, and the decision might become easier.
Video is a big part of what I do for a living here on Stark Insider, so, just like buying the latest U2 album, or latest Jimmy Eat World album, or latest Green Day album, you just do it.
Spoiler: my 80D pre-order is in (RED Raven too!).
March is going to be a busy month around Stark Insider.
More to come.
Happy shooting!