Mobile World Congress (MWC) kicked off today in Barcelona, and a surprise presenter would add some much-needed pop to an otherwise predictable opening keynote.
Samsung "Unpacked" was all about the company's new Android flagship phones, the Galaxy S7 and S7 Edge. As you'd expect, the annual refresh features more of everything (up to 4GB RAM, and beefy 3000 and 3600 mAh batteries), faster everything (Snapdragon 820 processors), and sharper everything (12MP f/1.7 cameras with dual-pixel focusing).
All good. There's a lot to like about these handsets. But, as we've seen over the past 12-18 months, incrementalism is the order of the day when it comes to new smartphone models. The iPhone 6s is a perfect example — better, yes, but just a tad bit better than its successor. Gone it would seem is the massive handset innovation we had become accustomed to seeing in the early days of mobile, circa 2007-2009.
VR may generate a lot of headlines and opportunities for ooohs-and-aaahs (Google Glass?) but the camera drives purchase decisions.
With that, here are 3 takeaways that I came away with while watching the live stream of Samsung's unpacked S7/S7 edge presentation.
1. VR is the new battleground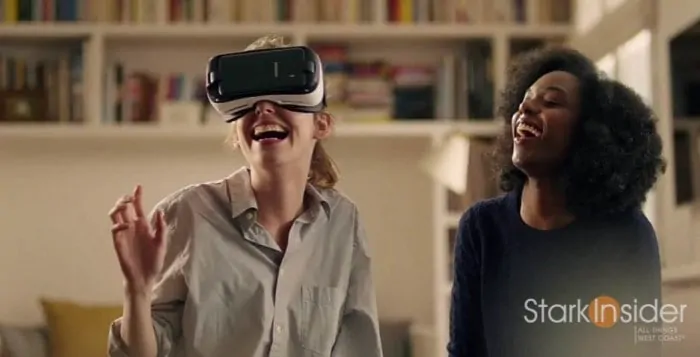 With the surprise appearance of Mark Zuckerberg — there to support the Gear VR headset — it became readily apparent that VR is the new mobile battleground. Not just between the wanna be platforms (Facebook and Apple and Google), but also in the battle for consumers' wallets.
Though Samsung's led with an overview of the new S7 and S7 Edge Android phones, it was clear the real star was designed to be the virtual reality demo (skilled guys kicking around a soccer ball on the streets of Barcelona) and Zuckerberg was there to reinforce its potential. He's also made it clear Facebook cares more about the platform and licensing software than it does about its own margin-challenged hardware entrant, the Oculus Rift.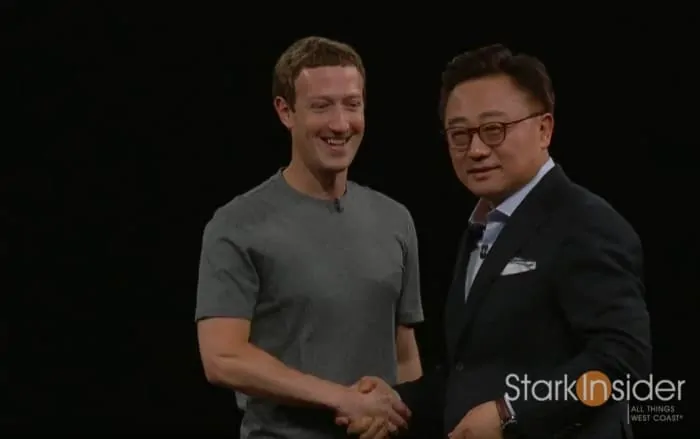 But that potential is just that at this point: potential. Clearly gaming, and "entertainment" will be strong niches for VR. Others, though, such as learning, and corporate applications (meetings), and travel, and, as Facebook is really banking on, the social networking aspects, are a long way from becoming mainstream. Some of that has to do with the kludgy setups required to get VR going (a headset, a PC and/or smartphone, and the right software), and the other has to do with the fact that this is an industry still in its infancy. Is VR the next 3D (i.e. a failure in the home, but a niche success outside of it), or is VR the next big thing as Samsung, Facebook and others are hoping?
2. Samsung makes nice phones, but boring presentations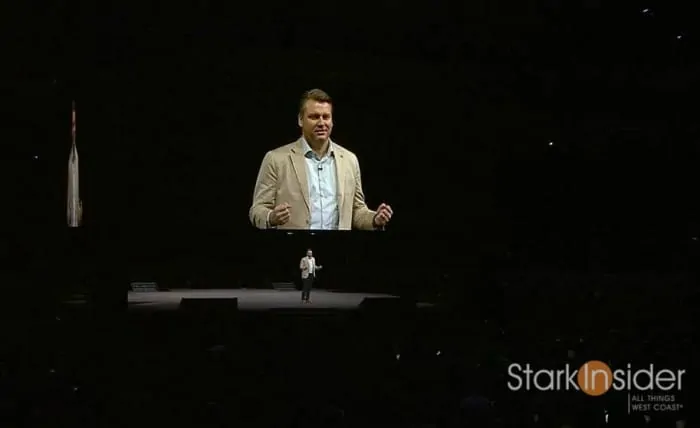 VR aside (which came later in the presentation), Samsung put the "B" in Boring on this occasion.
Perhaps, though, we shouldn't be too quick to judge. Celebrity-driven presentations are usually worse, bubbling over with cringe-worthy and contrived exchanges.
Still, how come there weren't more live demos, instead of just staid, pre-recorded fare projected onto the big screen with requisite royalty-free corporate music?
Games and VR sound great, yet what we saw were just a bunch of pre-rendered orbital explosions of some kind. Pretty, to be sure. But where were the ground-breaking VR games we're hearing so much about?
And women on stage…? None to be found.
Regardless, Samsung powered through, adding emphasis to even the most pedestrian of features. IP68! Water resistance! IP68! Plus: the ability to "game with confidence." My takeway: you can accidentally drop the S7 in the toilet, and have up to half-an-hour to recover it, and finish your Modern Combat 5 mission without batting an eye.
Parting thought: micro-SD. Thank you, Samsung. Google, please take notice.
3. Apple is still Samsung's favorite enemy

I thought Samsung did one thing smartly at its MWC presentation: take-down arch rival Apple, and, in particular, the iPhone 6s. This definitely feels like an election year.
In particular, when Justin Denison, VP of product strategy, showcased two photos — one from the new S7 next to the same one from the iPhone 6s Plus. The low-light capability of the S7 clearly triumphed. The clarity of the woman's face in the photo was very sharp, as opposed to that on the 6s. Side-by-side smackdowns can leave a resonating impact, and Samsung did well to take it to Cupertino.
That camera technology (f/1.7 aperture and Dual Pixel focusing) was a key competitive point for Samsung illustrates that while VR may generate a lot of headlines and opportunities for ooohs-and-aaahs (Google Glass?) it's the camera that really drives most consumers to choose one phone over another. We are living in a very visual, very social world — Instagram, Snapchat, Facebook, Twitter — and those with the hippest snaps enjoy the best odds of social media stardom.