If you're in the market for a new Android phone or upgrade, this, my friends, is your time. In my six years of covering Android and the mobile space I've never seen such incredible phones on offer, at prices that, in many cases, simply seem too low to be true.
Case in point: Moto G. The 2015 edition of this handset (third gen) starts at just $179 unlocked. Yet, it doesn't sacrifice one iota of build or experience. In my review last week ("Killer phone, killer price") I found a phone that could upend the Android smartphone market as we know it — are the days of the $700+ flagship coming to an end?
Now, here comes a lesser known company, with a similiar price-busting phone:
Alcatel.
If you have distant recollection of that company as being associated with telecommunications, you'd be right. Recently, however, the French firm created a joint venture with a Chinese manufacturing partner (TCL). The result is this phone, the one with the tricky name: OneTouch Idol 3.
Quite simply, the OneTouchIdol 3 is yet another mind-blowing phone for the price. Specs first:
5.5-inch IPS LCD display, 1080 x 1920, (401ppi)
Quad-core 1.5 GHz Cortex-A53 & quad-core 1.0 GHz Cortex-A53
Snapdragon 615
2GB RAM
16GB storage (and MicroSD, up to 128GB)
Bluetooth 4.1
13MP rear camera, 8MP front
2910 mAh battery (non-removable)
Kock-on
Front-facing speakers (JBL)
DESIGN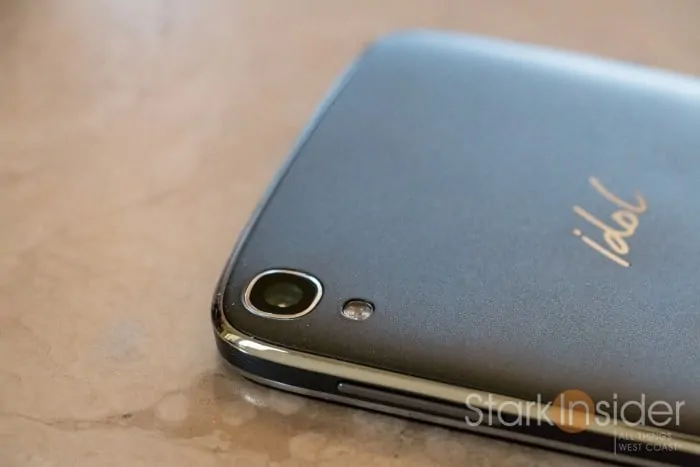 This is a thin phone. As far as I can recall, this is the thinnest Android phone I've ever tested. At just 7.4mm, we're talking iPhone levels of svelte. When I first picked up the Idol 3 I was astonished at how light and thin it was — even with a generous 5.5-inch display (about 73% screen-to-body ratio).
Some may thumb their noses at the pastick-y build. But it doesn't bother me. The trade-off is a feather-weight phone that easily slips into a pocket or purse, virtually unnoticed. Dual silver accents run top and bottom around the edge, distinguishing the Idol 3 from just another Android slab.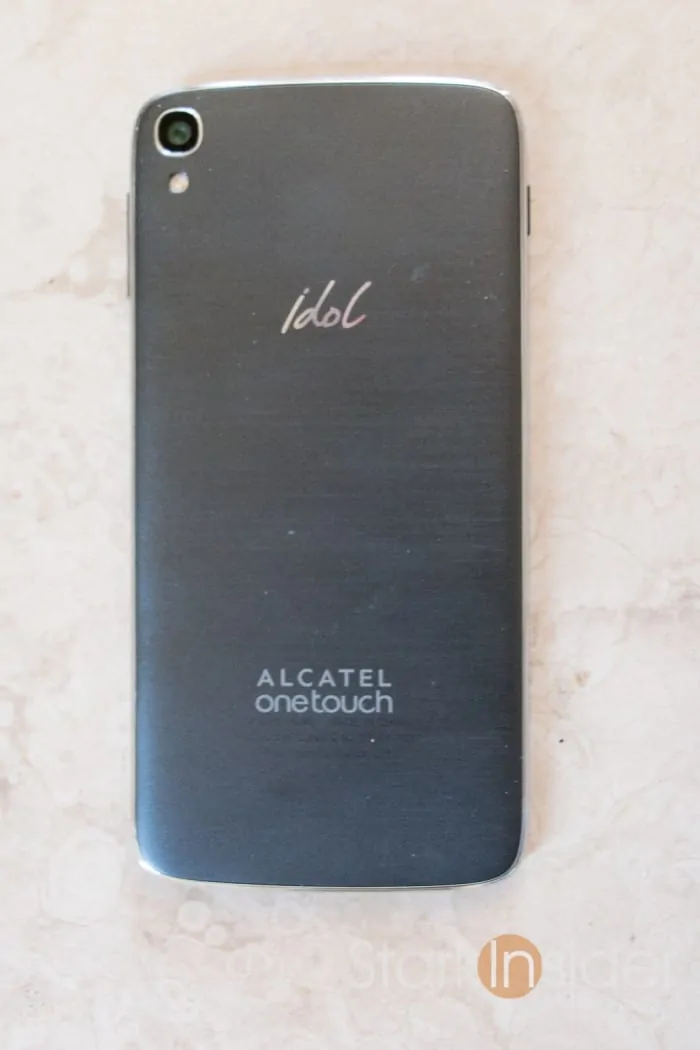 Button placement is slightly non conventional. Most Androids these days have power and volume on the upper right edge. The power button on the Idol 3 is top left, with volume on top right. Thankfully, there is a knock-on feature. Double tap the screen, and it wakes, eliminating the need to stretch up on high with your thumb (right-handed) or fore-finger (left-handed). One benefit I discovered thanks to the high button placement: when placing the Idol 3 in a car cradle, you don't need to worry as much about accidental button presses.
One other brief note regarding design. The Idol 3 has a LED notification light. Huzzah. On the downside it's not multi-colored. Still, when you get a notification, the LED (top left front) will pulse slowly, and when you charge the phone it will glow a steady white.
DISPLAY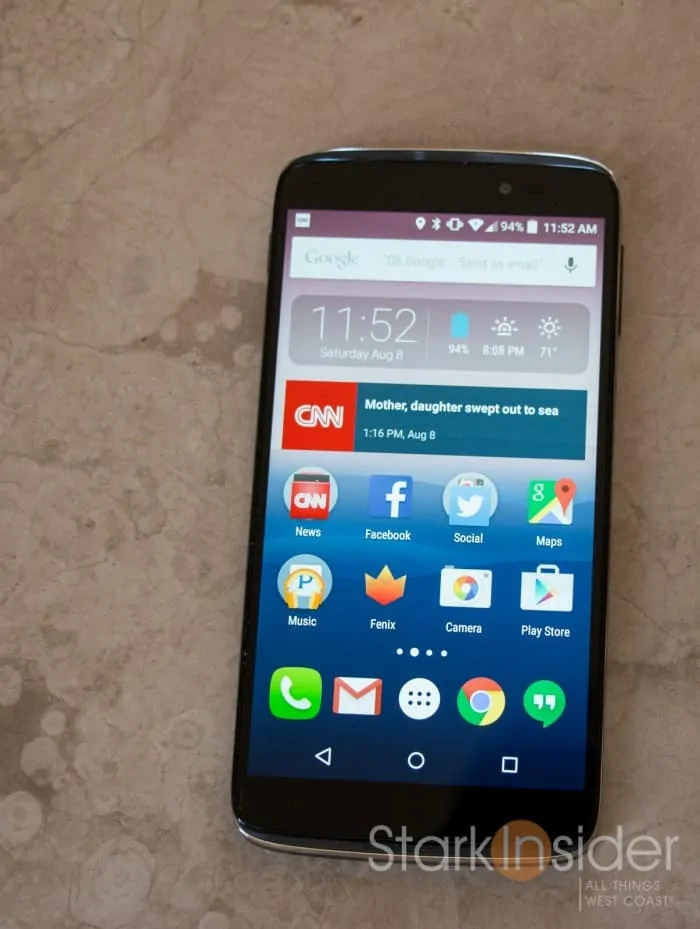 After you get over the slick design of the Idol 3, prepare yourself for another ooh-aah moment.
The display.
Astounding.
Bright (665 nits!).
And ever so pretty to behold.
Again, this is a $249 unlocked phone.
Sure, the screen is not quad HD. But you still get over 400 ppi, which to my eyes rendered very sharp text. Lollipop 5 (5.1.1. is not yet available unfortunately) looked bright, crisp, and flat out gorgeous — material design ftw.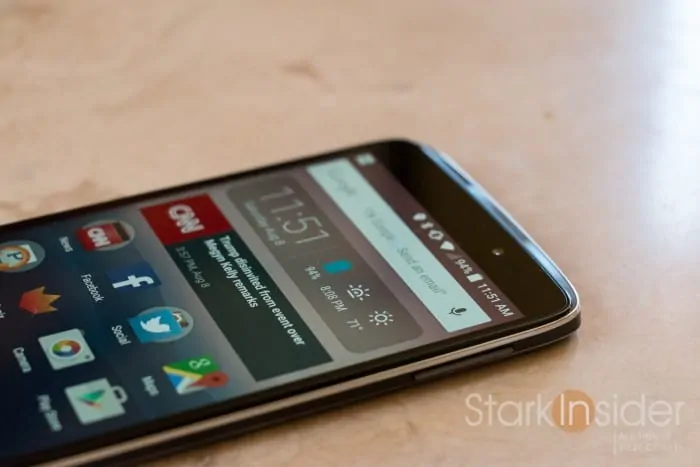 Moto G, by comparison definitely reveals its lower spec'd 720p self, with less sharpness (though still very good). On the upper end, at $50 more the Asus Zenfone 2 is dimmer — though perhaps the better color balanced of the trio.
Net-net: this is a gob-smackingly good screen for the price. No complaints whatsoever.
PERFORMANCE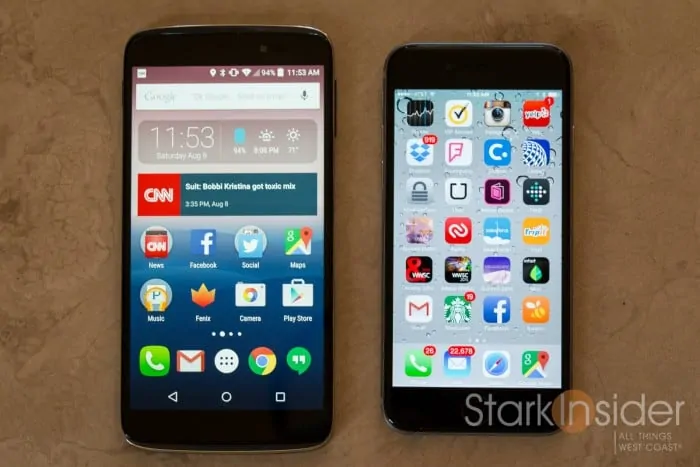 Even with a Snapdragon 615 there's some surprising, though only occasional, laggy performance. Hardcore gamers should avoid this and instead consider the Zenfone 2 or stretch for an 800-series Snapdragon. Still, for everyday stuff — email, Facebooking, Snapchatting, surfing — there shouldn't be any concern. Thanks to the 2GB of RAM, multi-tasking works generally well. And when things get too loaded up with apps, you can hit the little "sweep" button to clear out the memory (why doesn't stock Android offer something similiar to clear out background apps?).
As of today, the Idol 3 runs Android 5.0.2. My understanding is that a Stagefright patch should hit soon. I'm not sure when 5.1.1 will push, but it should be soon from what I'm told.
Thankfully, unlike the Zenfone 2, bloat is kept to a minimum. In fact, at a glance, this looks like stock Android. I'm a purist, and prefer Nexus devices ultimately, but I'd have no issue with the Idol 3 as a daily driver. The 2GB version of the Moto G would also work for me if I was looking to save a few dollars. The Zenfone 2, though, drives me crazy with what I consider an unacceptable number of Asus-branded apps; most of them can't be uninstalled or disabled. Ugh. Thumbs up to the Alcatel team for giving us a near-Nexus like experience.
BATTERY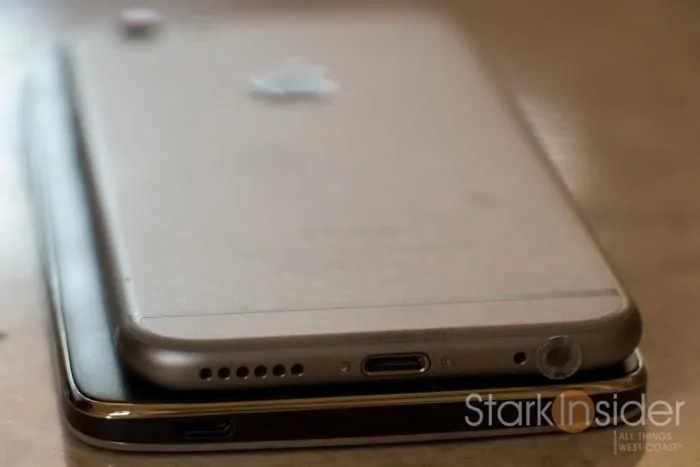 Expect decent battery life. I got through typical work days with about 30% or so charge remaining. For a 5.5-inch phone, the 2910 mAh power source is average. When it comes to endurance I found the Moto G to be better (rightfully so with a smaller 720p screen, and less powerful CPU), but the Zenfone 2 to be slightly worse. So, just like its $249 price, the Idol 3 splits the difference.
On the topic of battery, one oddity. In Android you can normally get an estimate of battery life remaining under the system settings. For whatever the reason, that information is unavailable with the Alcatel build. Not sure why. Those that depend on that estimate, heads up.
ODDS & ENDS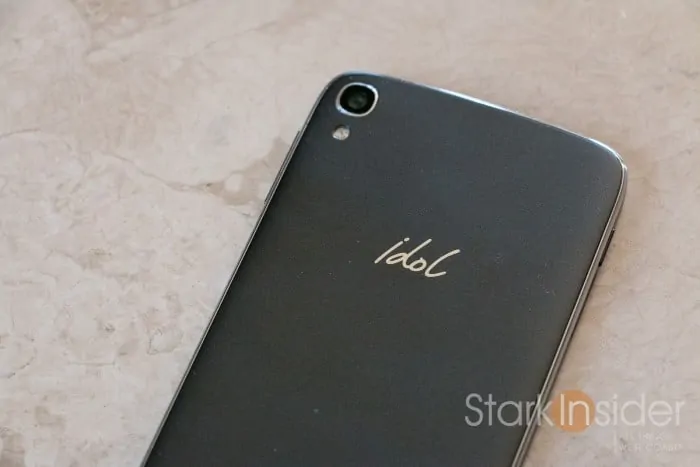 Camera-wise, you get typical Android performance. Which is to say, bordering somewhere on average to abysmal. I've never, never used an Android camera that can touch the iPhone when it comes to image quality. Perplexing that. Don't expect photographic greatness here. Sure, the Idol 3 is perfectly fine for social media shots, selfies, casual video, etc. Some day, my hope would be we'd get Android-based handsets with fast focus, sharp focus, decent low-light performance. At the end of the day, though, for serious camerawork I use my Canon 70D. I've come to terms that the odds of me capturing an image worthy of a magazine or photo contest with an Android handset are slim to none. Caveat: maybe that's a reflection on me more than the hardware!
Speakers. Excellent. Front-facing and loud and clear. Love them. Pop the Idol 3 into the car cradle, and you'll enjoy loud and clear voice navigation. Ditto that for watching television shows and movies. However, when I plugged in headphones at the gym, I was disappointed. The sound is muddy, undefined. Once I deactivated "JBL" under sound & notification, things noticeable improved — but still didn't sound as good as what I heard on the Moto G, Zenfone 2, or other phones, such as the highend Nexus 6 for example.
ONETOUCH IDOL 3 ANOTHER WINNER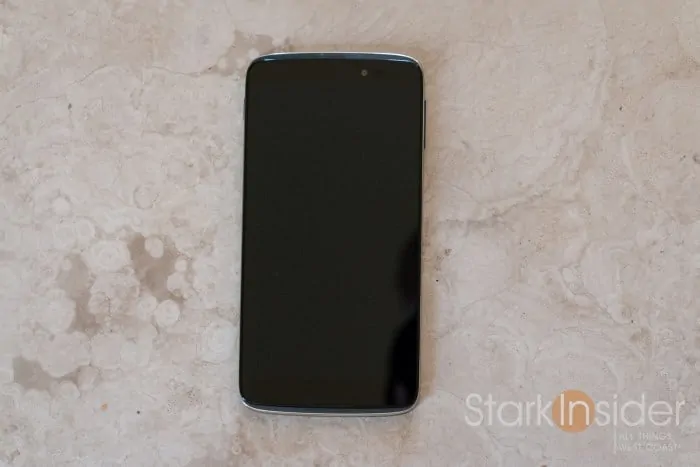 2015 is the year that could be remembered as the year that Android phone prices crashed.
To be a buyer in this market is happiness.
At just $249 the Alcatel OneTouch Idol 3 represents another smartphone bargain. You get a beautiful, crisp 5.5-inch HD display, Android Lollipop, and a svelte package that is unbelievably thin and light. Battery life is respectable. And because there's little bloatware, and almost no changes to stock Android, you get a near Nexus-like experience. Applause all around.
ALSO SEE: Fall Android Line-up Looks Amazing: Nexus 5 2015, Moto X Pure Edition, OnePlus 2
If I were looking at budget to mid-level Androids there's no question this would be among the top 3 or 5 on the market today. Moto G wins the ~$200 price point. Pay $50 more for the Idol 3 and you get 1080p and a bigger screen. Another $50 will get you the high performance (but bload-laden) Zenfone 2. All great devices. All unlocked, contract-free. $700+ for an Android flagship? I'm not so sure about that. I'd happily bank some of that, buy a Moto G, or Idol 3, or Zenfone 2, and spend the rest on… oh I don't know… a Moto 360 smartwatch… discounted Nexus 9 tablet… or, maybe, put some of that away for emergency funds during the school year.
Alcatel OneTouch Idol 3
4 out of 5 stars
Tested on T-Mobile / San Francisco Bay Area
Buy/Research Alcatel OneTouch Idol: Amazon