Here that crashing noise? That's the sound of Android smartphones crashing to the ground. In price, at least. Never before has there been such a vast choice of stellar handsets at such affordable prices. If Chevy Chase we're to sign up for Deal of the Century 2 (not that I think that film needs a sequel…) he'd likely flog a cheap basket of Androids in lieu of arms.
So, here comes Moto. Under Lenovo it seems once-Google-owned Motorola Mobility is set on making price the battleground for 2015 and beyond.
Case in point: the new 3rd gen Moto G. Check out the specs:
5-inch 720p HD display with Gorilla Glass 3
64-bit quad-core 1.4 GHz CPU (Snapdragon 410)
8GB storage with 1GB memory
13 MP camera with dual LED flash on back / 5 MP on front
microSD (up to 32GB)
4G LTE (this is new to Moto G this year, and is a huge add)
2,470 mAh battery
All that for just $179 (8GB storage, 1GB RAM). Unlocked. Free and clear. No contracts. How low can we go?
Oh, also it runs Google's latest and greatest, which as of August 2015 is Android 5.1.1 Lollipop.
And — ding, ding — bonus: it's IPX7 certified, so you can dunk it in water (within reason) or use it in the rain. Something, sadly, I'll not be able to test much here in drought-ridden Northern California.
Aside from all that juicy stuff, you get Motorola's quality build, a high probability of regular software updates, and a minimum of bloatware. On paper this seems to be a pretty sweet deal.
There must be a catch right?
I've spent about a week now with G, cycling it through a posse of testers that include the Asus Zenfone 2 (fast, dim screen, slightly bulky), Motorola Nexus 6 (gorgeous screen, battery not so great), OnePlus One (solid all-rounder), and a good old Huawei Ascend Mate 2 (amazing battery life, confusing system bloat/mods).
In short, this 2015 Moto G delivers on the promise. It's highly capable, and does just about everything you'd expect.
Mind you, please keep expectations in check. Again, this is a $179 unlocked phone (this is the one I tested, not the $220 step-up). If there's an Achilles heel it's likely the limited RAM. With just 1GB there's not much multi-tasking brawn to be found. I suspect that skimpy amount of memory hampers the phone more than its aging Snapdragon 410 processor.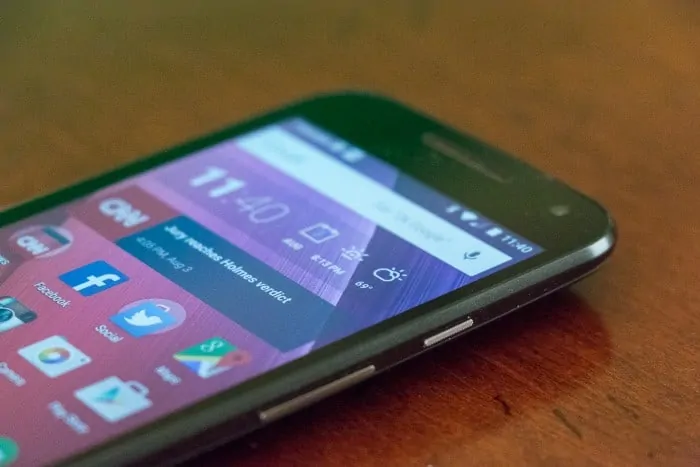 For instance, I use an Onkyo app in conjunction with an XBMC app to control my home theater. I regularly flip between the two, one to adjust sound and surround effects, and the other to control movie playback. Often when I hit the square multi-tasking button to switch to Onkyo to adjust volume the app reloads and I once again see the splash screen. I have to wait (for what seems like an eternity, though it's about 4 seconds) for the app to load before I can use it. Contrast that with higher-spec'd phones and you'll not encounter this delay.
Such is one concession for going with a budget phone. Whether it's a big deal depends on how you plan to use it. Heavy gamers, and those who run lots of apps at once — say, Nav + streaming music  + other background apps — might want to opt for the 2GB model or stretch their budgets to a mid-range device, such as the impressive Zenfone 2.
Moto Software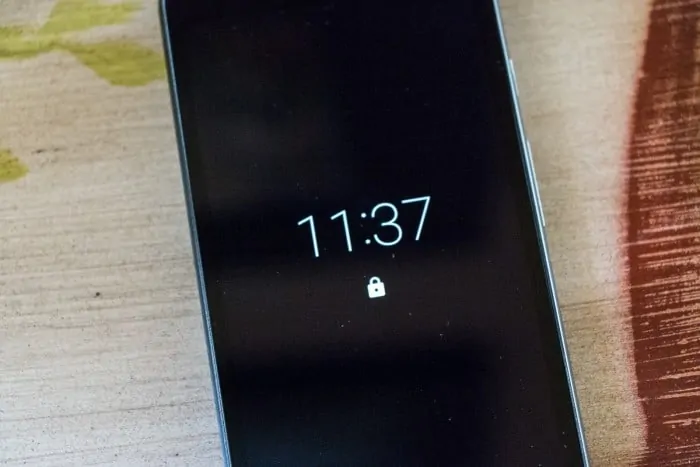 I'm a stock Android guy. Give me stock, or give me nothing!
Hyperbole aside, I've never found what any of the big guys do with Android to be all that handy, be it Samsung's or LG's or HTC's heavy-handed approaches, or even the more subtler ones such as what Motorola has done in the past. But, in the case of the Moto G, I actually like the additions.
Especially trick is the "Moto Display". I really like what the design team has done here.
When a notification comes in, the screen lights up in a power-saving monochromatic mode and shows you an interactive icon. Hold it down, and you can see the details. For example if I receive a Hangouts text, I can see the entire message at the top of the screen by holding the icon, and without having to unlock the phone. Swipe down on the icon, and Moto Display will take you to the app in question, at which point the phone resumes in full-on mode.
Another nifty thing: when you pick up the phone or remove it from your pocket, the display momentarily lights up with the current time and an unlock icon. Again, just like with interactive notifications you can swipe down on the icon, and quickly unlock Moto G without having to fumble around for the power button (not that's it that hard to reach in any case).
Only 720p HD…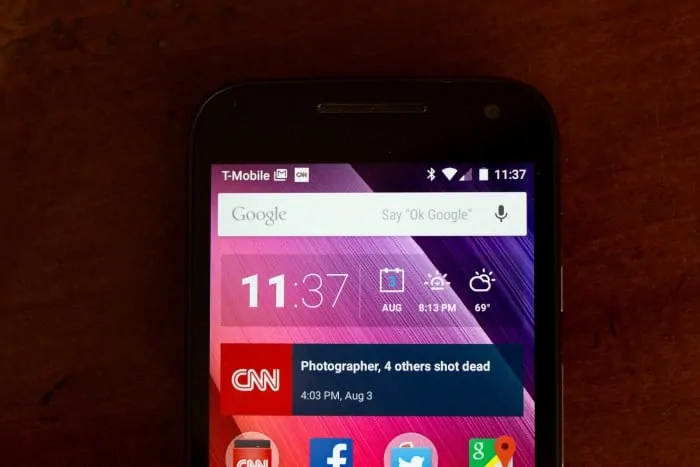 Ah, the humanity. For $170 don't expect 4K, or even 1080p. The downside with the Moto G display is that, yes, it's not quite as sharp as, say, a Nexus 6. Then again, how could it be? That's a budget vs. flagship comparison. Or, if we re-jigger the three tiers of Android phones as of 2015 (see below) then this is a mid-range vs. flagship comparison. Regardless, I found reading emails, surfing the web, controlling my home theater with the aforementioned Onkyo and XBMC apps a breeze. No issues. I'm happy to say that the screen is almost pure white, though not quite; in this regard a phone like the Nexus 6 wins handily, while the Zenfone 2 has a slight yellow cast (in day-to-day use it never bothered me, only when comparing two devices side-by-side).
Killer phone, killer price.
Yes, now that Motorola has added 4G LTE to its baby G I feel that not only is this a killer phone at a killer price, but it marks the dawn of a new era for Android handsets, and, perhaps, the broader market overall.
That you can get such a well-made, capable, and easy-to-use Android phone for only $179 is quite remarkable. And, reminder: this is not off-brand. This is Motorola for goodness sake. Color me impressed.
I wonder, will Apple still be able to command a premium, and charge $800+ for iPhones?
I see that as an increasingly dicey proposition. Apple customers have shown loyalty in the past and an affinity for buying products that cost significantly more than their Android-based competitors. Time will tell if Apple can maintain its beefy profit margins in the face of falling hardware prices.
For instance, look at Samsung. Poor financial performance is hammering its mobility business. It recently dropped prices on the S6 line. No wonder. You have the Chinese coming on strong. The new upcoming "flagship killer" OnePlus 2, with premium specs to be sure, will start at only $329 (and was that a cool VR launch presentation or what?!). ZTE and Huwaei, meanwhile, are flooding the market with low-cost, decently made products. Performance is getting better by the day it seems, and, yet, prices are crashing down hard.
In 2015 I think we're looking at new rules when it comes to the traditional three-tier market segmentation for unlocked Android smartphones:
1. Flagship (i.e. Moto X Pure Edition, Samsung Galaxy S6, Nexus 6)
Old: $549-$699+
2015: $329-$499+
2. Mid-range (Moto G, Asus Zenfone 2, OnePlus 2, Alcatel Onetouch Idol 3)
Old: $299-$549
2015: $179-$329
3. Budget (Moto E, Blu Studio, Amazon Fire Phone)
Old: $199-$299
2015: < $179
There's a few reasons for this downward pricing pressure and segmentation compression. Market saturation is one. The other is the so-called PC problem: the phones a lot of us own are "good enough." Gone are the days when you needed to upgrade whenever Google introduced a new OS. But, alas, this is a topic for another day.
Moto G: Dawn of a New Era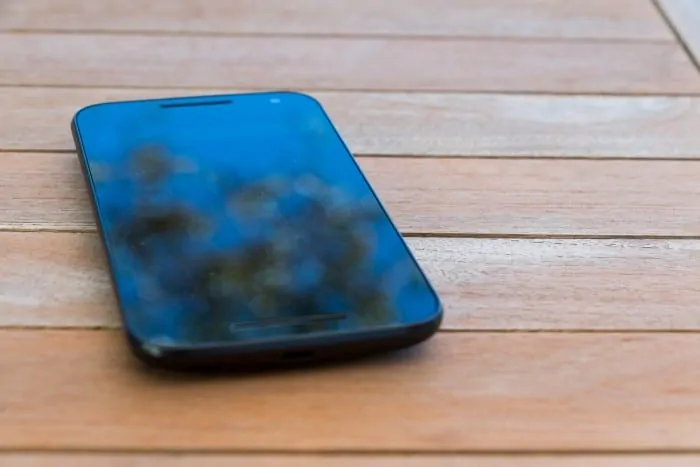 I really have no complaints with the Moto G. Yes, I wish it had a multi-colored notification LED (I'm old school that way). Quick charging would be nice. As would a 600-series Snagdragon chip. But at $179 don't expect mid-range or flagship specs. Reminder to self: this is foolhardy nitpicking.
In my week of testing I found the Moto G to be all-round brilliant. Casual users, and those who are crimping money for the upcoming school year, ought to find a lot to like here. Just a few years ago, this was a $400-$500 phone. Paging Gordon Moore, paging Gordon Moore…
Moto G Gen 3 (2015)
As tested: 8GB storage, 1GB RAM, T-Mobile in Silicon Valley/San Francisco
$179 USD
4.5 out of 5 stars
Research/Buy Moto G: