Living in the San Francisco Bay Area spoils us to no end. Case in point: the staggering amount of choice when it comes to dining out.
San Francisco has the highest density of restaurants of any city and readers of Saveur magazine have pegged San Francisco as their top culinary destination. You could spend a lifetime (or two) making the rounds, and not even scratch the surface.
Splurge? Enjoy an evening of poetic presentation (Atelier Crenn), or a night of delectable American with contemporary flare (Gary Danko), or take in stunning San Francisco waterfront views while digging in to clay pot chicken (Slanted Door).
Comfort food? Food trucks are your friend. As are the nifty little, inventive lunch spots popping up like Sushirrito (San Francisco and Palo Alto). When you live here, the culinary adventure never ends.
With my mom in town during the month of her birthday, it was a perfect excuse to celebrate. The experience? Worthy to share with you, dear reader.
Manresa has long been on my list of restaurants I've wanted to visit. An unfortunate event threw last year's plans off the rails. In the summer of 2014  a "devastating" fire tore through Chef David Kinch's much heralded kitchen:
Manresa Restaurant in Los Gatos severely damaged by overnight fire. 2 alarm. Still burning. pic.twitter.com/uEfzEKAMKC

— Bob Redell (@BobNBC) July 7, 2014
As far as I know, the cause was never determined, or at least it was not revealed to the public.
All told, it cost $2 million to restore the operation. Meanwhile, Manresa was closed for six months, a veritable eternity in the restaurant business. Thankfully, doors opened again, with gusto, on New Years' Eve 2014. I can only imagine the celebration that ensued that evening — surely one embraced lovingly by the Los Gatos locals, and larger culinary community at large.
ARRIVING AT MANRESA
If you've never been, one interesting thing about Manresa is its location. Though in the heart of Los Gatos, the building is not located on either of the two main streets (Santa Cruz, University) where you find most of the town's eclectic and diverse eateries. Instead, you must purposefully explore side streets. There you'll eventually find the grounds tucked away in a charming and cozy enclave.
As you approach the unassuming wooden sign marking the place you feel as if either your GPS has led you astray, or you're about to discover a hidden treasure. Indeed, with pretty Olive trees, meticulously manicured grounds, and understated, modern architecture, you feel as though every inch, every second, of the Manresa experience has been carefully curated. In fact, as I approach the entrance, the door swings open just as I was reaching for it — perfect timing. A concierge greets us enthusiastically, and the show begins.
FIRST IMPRESSIONS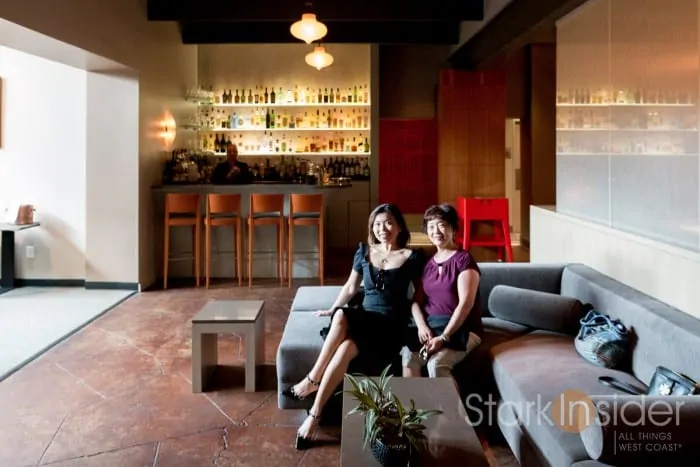 Step into the 65-seat space, and you instantly feel that chef and proprietor David Kinch wanted the walls, furniture and tableware to be a reflection of his style of culinary art. The meal has begun, even before the first course is served.
We arrive early (5:30pm). I'm glad we did. We are the first patrons on this evening, and it allows us to take in the space, and enjoy it in its quiet, elegant stillness. We spend a few minutes in the lounge. There's a small bar, amply stacked with bottles that glow like colorful gems; in contrast to the rest of the decor which is muted and layered.
We select a bottle of Peay Chardonnay (California). I have fond memories of this Pinot Noir which was one of the pairings for a meal we enjoyed at Le Pigeon in Portland. Jim Rollston, the sommelier, and his friendly team are on point, helping us choose a bottle, providing back story, and making thoughtful, entertaining conversation along the way. Note that corkage is $75, and that the Manresa wine program was awarded "Best of Award of Excellence" by Wine Spectator (Aug. 31, 2015 issue).
We head to our table, located in the center of the main dining room (there's another room opposite the lounge).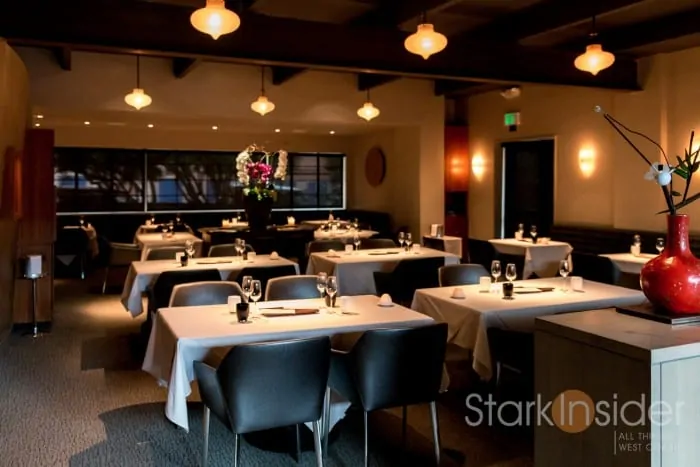 Just enough light enters the restaurant from the windows on the far wall, but not so much as to get into your eyes or distract.
Then the culinary theater begins. And what a tour de force!
14 acts are presented, culminating in a 2-course dessert that was simply magnificent. The timing was superbly orchestrated. Wait staff synchronously swoop in to present each course. Nothing feels rushed, yet there's unobtrusive attention and discreet service ever at hand.
Chef David Kinch is well known for his farm-to-table approach — more about that in the new documentary featuring Kinch and Love Apple Farms. That expression is over-used these days to be sure. But Kinch is the real deal. Read up on his philosophy towards cooking, and you'll find someone zealous about getting every ingredient just right (you can watch this Stark Insider video we shot with Chef David Kinch at the Napa Truffle Festival). I wondered if/how this approach would manifest itself in the dishes themselves.
THE FOOD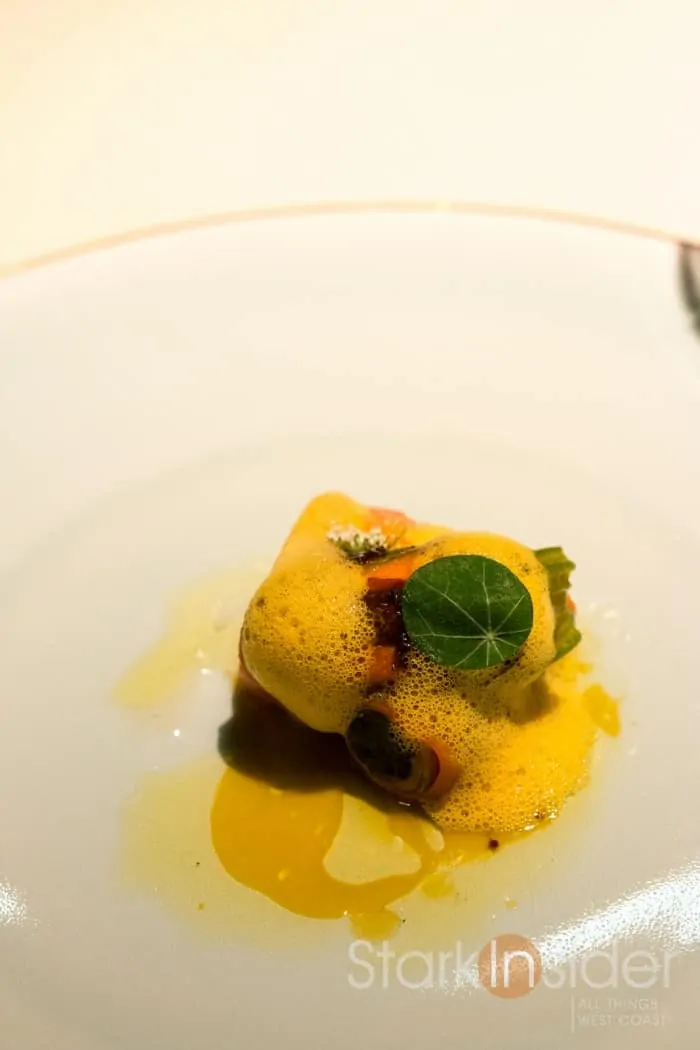 Definitively answered on this occasion: to gorgeous, savory perfection.
During the culinary journey, Chef greets us at our table, and invites us back to the kitchen. We made our way there a few hours later (or maybe that was three hours?) when the final dessert had been devoured.
For a man who has seen no shortage of ups-and-downs in this business, David Kinch is certainly not looking the least bit beaten down. Quite the opposite. He charms us, poses for some photos, before we catch up on the latest (I hadn't seen him since our original interview in Napa in 2012).
They say a photo is worth a thousand words. In this case, they are savory, delectable, lust-worthy words. Just take a look below at some of my favorite shots from my visit to Manresa.
We left feeling a warm glow from the overall experience, clutching onto loaves of Manresa Bread (which I promptly turned into pastrami, wild mushroom brie and arugula paninis that were a hit the next day).
I am often left with a tinge of guilt for such decadence, but not this evening. This special occasion was a celebration of my mom's birthday. As I stepped out onto the streets of Los Gatos I was greeted by an invigorating warm summer breeze. And that unmistakable fragrant waft of star jasmine. My smile was even wider. I hugged my mom realizing I had much to be grateful for.
IN PHOTOS: Dining at Manresa, Los Gatos, California