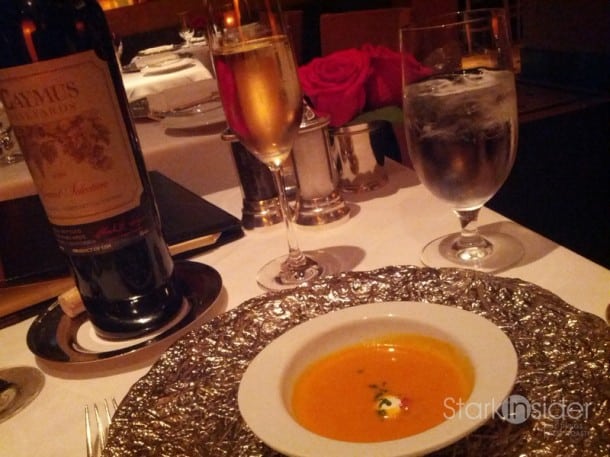 Isn't it a wondrous occasion when a real life experience matches the hype? I don't want to give away too much in the first few sentences of my review of Restaurant Gary Danko, but let's trust George Bernard Shaw on this one: "There is no sincerer love than the love of food."
Practitioners of the San Francisco fine dining scene already know that Gary Danko is one of the city's top restaurants (if not the top). It's become a cornerstone of the culinary scene not only here in San Francisco, but also a hallmark of what America's best restaurateurs are capable of achieving when deconstructing the boundaries normally associated with blasé, upscale dining.
I made reservations months in advance of a special — two-part no less! — celebration for Clint and I. We were toasting an achievement, and wanted to enjoy an evening in each other's company. Bubbly, gourmet food, and warm atmosphere were all part of the plan. I contemplated going to The House, a reliable and enjoyable spot. But I decided that something special was in order.
A few things pleased me right off the bat. Corkage is only $35. We pulled a nice bottle of Caymus from the cellar – you can bet by evening's end there was not a drop left. And the valet is $11, incredibly ridiculous by San Francisco standards.
My plan was to do the tasting menu. But that changed when I learned that you can mix and match, and create your own 5-course menu for only $104 each. If Clint selected five different dishes, that would mean we could experience ten of Gary Danko's culinary creations in one decadent sitting. That's exactly what we did.
As our extremely on-point waiter noted, the portions here are not fancy-petite. Yes, they're wonderfully plated and presented, but you won't need to dodge out past midnight for a double-double at In-N-Out. Ten dishes might have been stretching it for the two of us, however I don't think I would've changed a thing. Those with perhaps more modest hunger and ambition can opt for a 3- or 4-course service.
This is a restaurant that aims to please in every manner possible. From the warm welcome, comfortable (yet quite cozy) seating arrangements, and impeccable service level, the customer is front and center. Even the sighting of salt and pepper shakers on the table (blasphemy!), while entirely unnecessary of course, suggested that dining here is about comfort and pleasure.
Regarding the dishes, I'll let the photos below do the talking. A quick note regarding photography. These fuzzy-wuzzies are from Instagram – me on iPhone, Clint on Android. This was a rare time I felt the DSLR inappropriate. Turns out, it wouldn't have been an issue at all – again, it seems like just about anything goes (well, just don't come in your Nirvana torn jeans). I noticed patrons nearby gleefully shooting with a Canon DSLR. I can't blame them, this is an experience to capture for future salivation (they were thankfully discrete).
Chef Danko has an uncanny ability to artfully blend French, Mediterranean, and American styles in his presentation. It's hard to nail down exact descriptors. There's elements of familiarity, whimsy, surprise, and elegance across the board.
Favorites included Ahi Tuna (gorgeously plated as a butterfly), the Lobster Risotto (creamy, but not mashy), the Crispy Egg Polenta (absolute perfection), and the Seared Sea Scallops (tender, rich). One I might not order again was the Bison. It was beautifully grilled; pink and seared. But it's just not my favorite type of meat. Clint, however, might disagree on that point. Overall, high marks for flavor balance. Also, sauces are used sparingly, as are salts. Everything was savory, without being cloying, or over-the-top. It's a tricky accomplishment, a remarkably satisfying dining experience, without any dubious Chef shortcuts we so often see.
If you go, don't miss the cheese service. This cart is the things dreams are made of. Sin comes to mind, especially when that Seal Bay Triple Cream is melting in your mouth.
Three hours flew past. Before we knew it, we had experienced one of the most incredible evenings of dining in San Francisco. At over $300 for two many will recognize this as something of a culinary bargain. It's far less than French Laundry (haven't been yet). Sure you'll likely not dine here weekly, but it's nice to know that when you do, you'll get an A+ experience. I fear that when I finally do visit French Laundry that I may be disappointed. Maybe not. But there's so so much hype there's zero room for error.
Gary Danko is a dining experience not to be missed. Dreams do come true. It was a performance befitting an all-star. Execution definitely followed hype on this memorable evening. I will be back to live the dream again (and again).
IN PHOTOS: Gary Danko, San Francisco
(apologies for the Instagram shots, but as I mentioned in my review I was reluctant to tote the DSLR on this occasion)