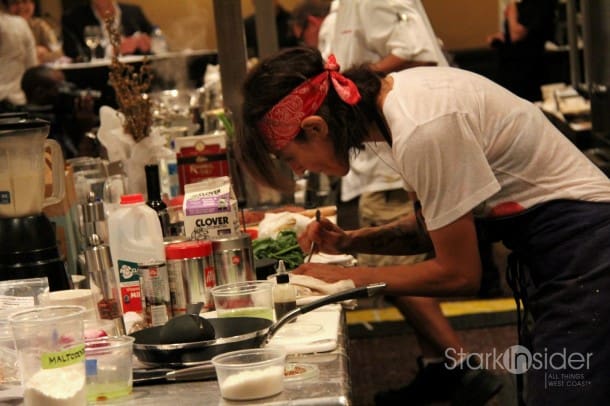 Atelier Crenn, the whimsical, fine French restaurant run by star Chef Dominque Crenn, received a promotion in this year's edition of the Michelin Guide. Crenn was bumped to two stars, joining a prestigious group that includes repeats Baume (Palo Alto), Benu (San Francisco), Coi (San Francisco), Manresa (Los Gatos), and Saison (San Francisco). Jump to bottom of this post for the complete list of 2013 winners.
Not surprisingly, heading to Napa is a pretty good bet if you want to experience the region's culinary best.
Chef Thomas Keller's French Laundry and Christopher Kostow's Restaurant at Meadowood retained their top-rated three Michelin star (restaurants "worth a special journey") status for 2013.
A total of 34 restaurants round out the Michelin list for the San Francisco Bay Area, each receiving one star. It was good to see Restaurant Gary Danko represented. I recently dined at Danko and enjoyed an exemplary experience (Review of Restaurant Gary Danko, San Francisco).
[Also: Wine Harvest News: Napa, Sonoma tonnage could be up 15-20%]
At a recent food competition in San Francisco, I caught up the vivacious Chef Atelier Crenn who brings passion and intensity to any event she attends (SF Chefs was another one of her energetic appearances on Stark Insider TV). You can see Crenn in action in this video and interview here:
In addition to San Francisco, Chicago and New York also receive special city editions of the famed Michelin Guide, which is widely regarded as the preeminent word on excellence in cuisine. A total of 539 restaurants are included in the San Francisco edition which also covers the East Bay, Wine Country, Marin, South Bay and the Peninsula. Yes, for culinary delights, indeed you could do worse.
San Francisco MICHELIN Guide 2013

Starred establishments

Three stars (2)

Exceptional cuisine, worth a special journey

Wine Country Napa Valley   The French Laundry            Thomas Keller
Wine Country Napa Valley   The Restaurant at Meadowood   Christopher Kostow


Two stars (6)

Excellent cuisine, worth a detour

San Francisco Marina                Atelier Crenn
South Bay Palo Alto                 Baume
San Francisco SoMa                  Benu
San Francisco North Beach           Coi
South Bay Los Gatos                 Manresa
San Francisco Mission               Saison


One star (21)

A very good restaurant in its category

San Francisco Nob Hill              Acquerello
South Bay Cupertino                 Alexander's Steakhouse (South Bay)
Peninsula San Mateo                 All Spice
San Francisco SoMa                  Ame
Wine Country Napa Valley            Auberge du Soleil
San Francisco Richmond & Sunset     Aziza
Wine Country Napa Valley            Bouchon
San Francisco SoMa                  Boulevard
San Francisco SoMa                  Campton Place
South Bay Mountain View             Chez TJ
East Bay Oakland                    Commis
Wine Country Sonoma County          Farmhouse Inn & Restaurant
San Francisco Castro                Frances
San Francisco North Beach           Gary Danko
San Francisco Nob Hill              Keiko à Nob Hill
Peninsula Montara                   La Costanera
San Francisco Nob Hill              La Folie
Wine Country Napa Valley            La Toque
San Francisco SoMa                  Luce
Peninsula Menlo Park                Madera
Wine Country Sonoma County          Madrona Manor
San Francisco Nob Hill              Masa's
San Francisco Financial District    Michael Mina
South Bay Saratoga                  Plumed Horse
San Francisco North Beach           Quince
Wine Country Napa Valley            Redd
Wine Country Napa Valley            Solbar
San Francisco Nob Hill              Sons & Daughters
San Francisco Marina                SPQR
San Francisco Marina                Spruce
Wine Country Napa Valley            Terra
Wine Country Sonoma County          Terrapin Creek
Peninsula Woodside                  The Village Pub
Peninsula San Mateo                 Wakuriya
Stark Insider TV – Michelin-rated Chefs
Appearance by Michelin-rated Chefs on Stark Insider TV:
Mathew Accarrino – SPQR
(at 7:18)
Peter Armellino – Plumed Horse
(at 0:38)
Ken Frank – La Toque
Nancy Oakes – Boulevard
(at 1:35)
Dominique Crenn – Atelier Crenn
at SF Chefs