Inside the Secret Sherry Society at Slanted Door, San Francisco from Stark Insider on Vimeo.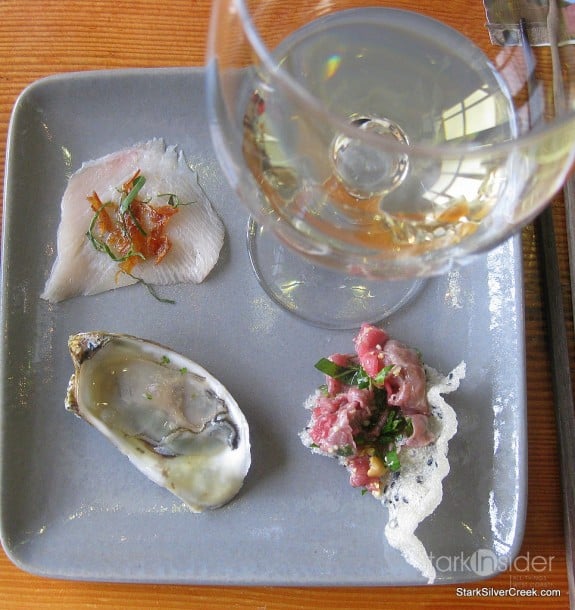 The Secret Society of Sherry is the brain child of the Sherry Council of America which has amongst its missions: the promotion of Sherry, from the Jerez region of Spain, in the U.S. market. I was invited to a Sherry-pairing dinner at the Slanted Door in San Francisco recently to explore the secrets of Sherry and its pairing with different types of dishes.
The evening started with a Sherry Cocktail which was light and the perfect start to a savory and flavorful meal paired with a spectrum of Sherries. This was one of the most interesting discoveries I made about Sherry during the dinner, which is that it comes in an array of varying styles from "Fino" which is a pale straw-colored dry wine to a "Pedro Ximénez", a dark rich mahogany wine with notes of raisins.
The Fino and Manzanilla served with the appetizers of Oysters on the Half Shell, Japanese Yellowtail with crispy shallots and Thai basil, and Prather Ranch Beef Carpaccio were delicious. It was a lot more comparable to white wine than the dark Sherry I remember from childhood kept in liquor cabinets.
For the main course of Crispy Imperial Rolls, Daikon Rice Cakes, Grilled Meyer Ranch Rib-Eye Steak, Cellophane Noodles with fresh Dungeness crab meat, Oven Roasted Alaskan Halibut, Chue Farm Baby Bok Choy and Capay Farm Organic Kale was paired with a Amontillado and a Palo Cortado. If the Fino and Manzanilla is pegged against white wines, then the Palo Cortado and Amontillado share more characteristics with red wines.
My favorite pairing of the Palo Cortado was with the Rib-Eye and the Crispy Imperial Rolls.
Dessert was a combination of Vanilla Bean Crème Brûlée with hazelnut financier and Browned Butter Pound Cake paired with a Pedro Ximénez and of course a cappuccino.
Sherry's popularity in the U.S. is still modest as most people are not aware of the large selection of different styles of sherry to suit all tastes and how the lighter variations are more comparable to wine than liquor. In this one meal, we had sherry paired with light seafood such as raw oysters all the way to pairings with a rich fatty piece of rib-eye. Some of the lighter sherries were served chilled while others paired with the main course were poured at room temperature.
I think for greater US consumer acceptance to take off, awareness with restaurant wine sommeliers and wine lists must first grow. Unlike California wines where visits to wineries will quickly educate the individual consumers, Sherry imported from Jerez, Spain will need to use restaurants as their ambassadors to drive awareness. Only then, will consumers, while perusing a shelves of their local wine shop desire a Sherry with their dinner.
Inside the Secret Sherry Society at Slanted Door, San Francisco from Stark Insider on Vimeo.
P.S. The food at the Slanted Door was superb. The restaurant is a bit noisy. The views of the Bay Bridge inspiring.