Looking for an all-round zoom lens for shooting video? Clint makes the case for the Canon 18-135mm STM zoom lens.
Being able to carry multiple lenses and switch them out at will is a nice luxury to have. But it just isn't always possible. Time and weight typically conspire to squash our dreams of using the ideal lens at any given time.
Enter the zoom.
Zooms are flexible. You can shoot wide shots. And, of course, you can tighten right up with a simple twist of the wrist and capture a close-up of a smile, or sunset, or scrumptious Panini. For run-and-gun and doc work, a zoom is almost mandatory. In these situations we don't have time to swap out for a prime. Story-telling must go on.
So, all that to say, here is a killer (and relatively new) all-rounder. The one lens to rule them all. It's on my Canon 70D about 95% of the time, and it's served me well for interviews, backstage shoots at theaters and rock concerts, and travel videography, and just about anything else I can throw at it:
Canon 18-135mm f/3.5-5.6 IS STM Zoom Lens
I love this lens. I've been using it professionally for two years, and have been thoroughly impressed by its image quality, color rendition, and ease of use.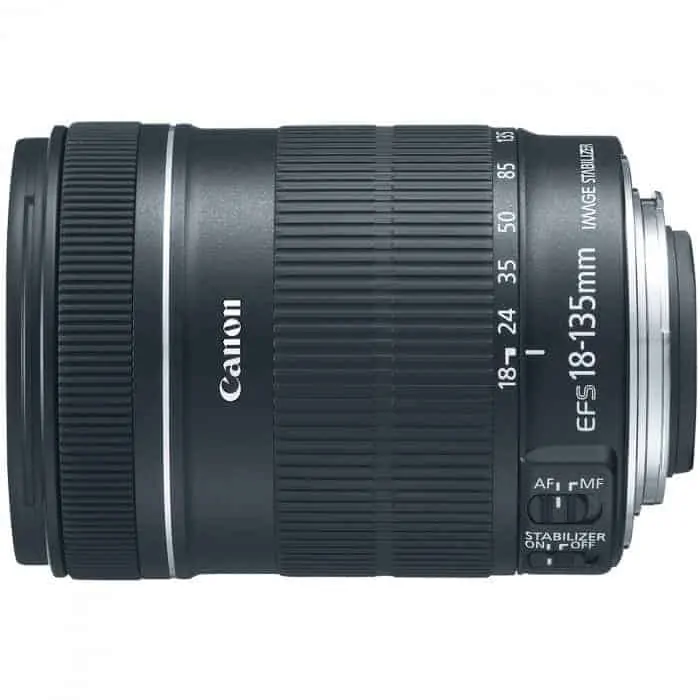 Here's why I think it's a superb do-all you should consider (primarily for shooting video):
The Good
1. Auto-focus works wonders
Look closely and you can see Canon has added "STM" designation to the name. This standards for Stepper (AF) Motor. Introduced in 2012, this technology works in tandem with some of Canon's newer DSLR bodies, like the EOS 70D, which have something called Dual Pixel auto-focus. Essentially the camera/lens work together and track/focus on moving subjects automatically. AF can be invaluable. After using this lens on my 70D since 2013, I'd find it hard to go back to shooting video any other way.
2. Image Stabilization
If you're shooting video handheld you really should look for an image stabilized lens. This 13-135mm has it (up to 4 stops), and I find that it works exceptionally well, even when you push the lens to 135mm for a close-up. A tripod is still essential for certain shots, but this is the next best thing. Make sure the lens has that "IS" designation.
3. Light and compact design
This is a fairly compact lens, at least as far as EF lens mounts go. Yes, it's made of plastic. Perhaps it doesn't feel as robust as, say, a Canon 50mm from the 1970s. In practice, though, I've experienced nothing but solid performance — and I like that it keeps my 70D set-up relatively light (I usually add a light, shotgun mic, and mounting bracket, so I appreciate weight savings whenever possible).
4. Ridiculously cheap price
$549. For a do-all zoom lens? Really, really impressive. And this is Canon. Not a cheap knock-off. I'm typically not a fan of kit lenses, but this one bucks the trend. Quick tip: also look for this lens in Canon body bundles at Costco.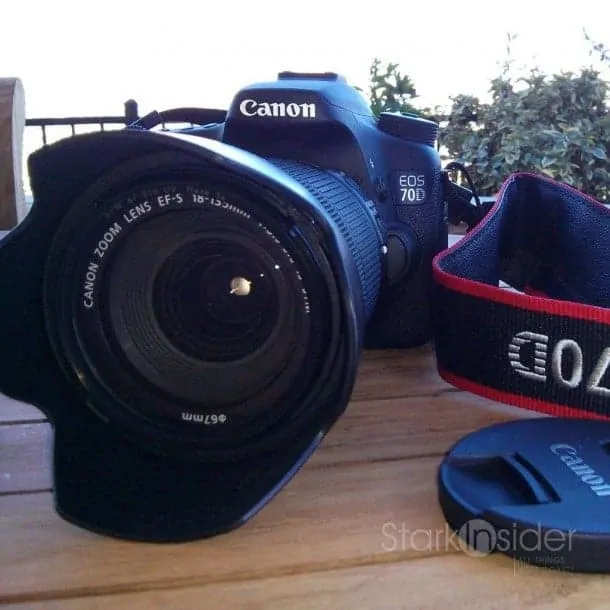 5. Image quality
I think images generally look terrific with the 18-135mm STM. There are some exceptions (see below). Don't expect this to deliver the same quality as a $2,000 "L" red-ring lens by Canon. Nevertheless I've found that it works well for video — and I believe that's the strong suit of this particular model.
Downsides?
Yes, some things to watch for and keep in mind if you buy this lens.
It's not the fastest lens. At f/3.5 at the wide end you're not going to get great low light performance. Still, I use it in low light all the time. I have to. Many situations — usually in a dark theater — require me to operate in less than ideal lighting. I use a Generay LED light in those cases to help out. Works fine.
There is barrel distortion at the wide end. If you shoot at 18mm you will notice some warping at the edges. This can be fixed with software like Lightroom and Premiere Pro. I suggest trying to avoid shooting at both extremes (18 and 135mm). Typically lens performance is best in the middle range.
VIDEO EXAMPLE: Shot with Canon 18-135mm and EOS 70D
"GLAMPING"
Equipment used in this video:
Canon EOS 70D camera, Canon 18-135mm STM lens, Sennheiser MKE 600 shotgun microphone, Genaray LED light panel, Manfrotto carbon fiber tripod, Zoom H6 field recorder (for voiceover), Adobe Premiere Pro, Adobe Audition, FilmConvert, and … of course … green screen!
Highly Recommended
Canon 18-135mm f/3.5-5.6 IS STM Zoom Lens
Net-net, this is a bargain, well performing zoom lens.
If I was recommending one do-all lens for shooting video, one that doesn't break the budget, and one that produces nice images it would be this winner from Canon.
Now, yes, if I was going to shoot a broadcast television series, or a doc for the big screen, I'd look at Canon "L" glass to be sure. Keep that in mind if your budget allows.
More Pro Video by Clint
With image stabilization (IS), and that trick stepper motor (STM) technology and a decent zoom range this is a killer all-rounder for shooting video. Easily, for the price, the Canon 18-135mm STM lens is one of my favorites and one of the best lenses I've used in the past five years.