BTS: How (not) to smash a guitar in Napa (Canon EOS 70D, Zoom H6) from Stark Insider on Vimeo.
Quick: what's one of the most important technical aspects of a video?
If you said the quality of the cinematography and, ultimately, the story itself, I'd say, kudos. Absolutely.
But there's something more.
Sound quality.
If you want to produce high quality videos, at some point you'll need to record and use the best audio that you can capture. In the world of DSLR and the new breed of mirrorless cameras that typically means adding accessories such as shotgun microphones, boom mics, and lavaliers. A Zoom H6 field recorder, which I'm going to talk about here, with a video example, is an filmmaker and video producers best friend. In a sec, I'll explain more.
One of the first things I recommend to anyone who is first embarking on DSLR video, is to invest in a shotgun mic. They don't cost much. The Rode Videomic, a perennial favorite among amateurs and pros alike, costs less than $200 and can improve the sound you capture from your camera by an order of magnitude. I've previously written about the Videomic on SI: Rode Videomic – Your DSLR's new best friend.
What if you've already added a shotgun mic? What next?
For those shooting interviews, lavaliers will be essential. Quick trick: use a Zoom H1 field recorder and a low cost lavalier in lieu of a more expensive wireless system. You may be surprised at the quality! I use that combo for all of our Stark Insider sit-down interviews.
Zoom H6 Field Recorder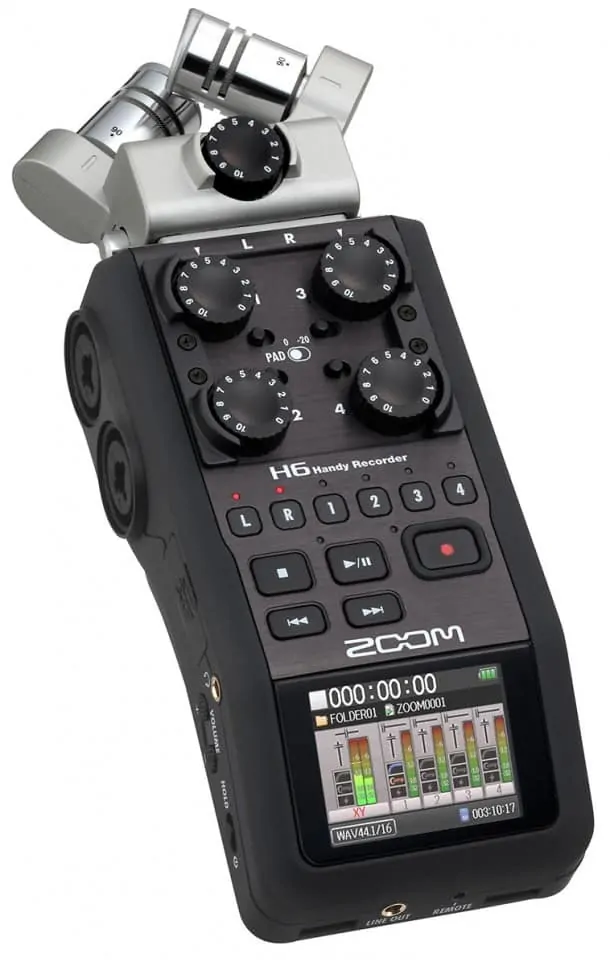 For those just getting their feet wet, a field recorder is simply a portable recording device for capturing audio on location. Typically they feature built-in microphones, in addition to inputs where you can plug in external microphones. More advanced models such as the Zoom H6 can accept multiple inputs at once. This means you could, for example, record a live performance using four different microphones–lead singer, guitars, drums. Later, you could mix the audio levels, resulting in a professional, balanced recording.
More Stark Insider: Top 5: Best DSLR and Mirrorless Cameras for Shooting Video
There's other uses for a field recorder too.
In this video example, I use a Zoom H6 field recorder to capture location audio so that later, in post-production, I can layer it onto the video, and eliminate unwanted sound–in this case, the sound from nearby Highway 29 in Napa.
Scene: "Smashing a Guitar in Napa"
First, as you can see in this short Stark Insider BTS segment, I capture the "talent" Loni dragging the guitar across gravel. I follow closely recording the sound effect using the X/Y mic built-in to the Zoom H6.
Next, I place the Zoom H6 near the location where Loni intends to smash a guitar as part of a scene. I try as much as possible to disguise it (but you can still make it out in the video–sunlight bounces of it ever so slightly).
Another Zoom H6 Application: Capturing Live Concert Audio via Mixing Panel

Recently, we recorded interviews with several acts as part of the Live in the Vineyard concert series in Napa. Each segment featured a sit-down component, in addition to highlights from the actual performances.

For most of those (but not all) I was fortunate enough to be able to plug the Zoom H6 right into the main mixing board using an XLR cable. Fortunately, publicists arranged this in advance, but it also helps to build a rapport with the engineers. And, very importantly, ensure you don't get in their way or interfere with other crews also capturing footage. The result was stellar audio quality. All I had to do was use the "synchronize" feature in Premiere Pro to match it up in post production.

Here's an example where we used the Zoom H6 to capture a live performance by Matt Nathanson at the Napa Valley Center for the Performing Arts, and, earlier, used a pair of Zoom H1s during his interview with Loni Stark:
5 Step Post-Production Workflow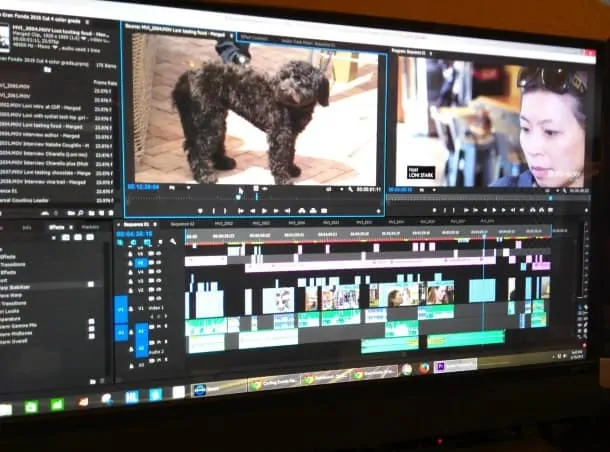 Now that I've recorded the video with my Canon EOS 70D, and the sound effects (similar to "foley") with the Zoom H6 I can re-mix everything in post production. I use Premiere Pro.
1. I remove all sound, completely.
2. I cut the video, piecing together the various angles.
3. When the video timeline is completed I add a soundtrack. In this case something rocker oriented (licensed "Wild Blood" from The Music Bed).
4. Then, the dragging-guitar–on-gravel sound effect captured from the Zoom H6 is overlayed onto an audio track to match the dragging of the guitar scene (it doesn't need to be exact in this particular application).
5. Finally, I synchronize the audio of the guitar smashing sound – using 70D shotgun mic to sync the better quality from the Zoom H6. Once that's done I use the Zoom H6 audio so that we get nice guitar smashing effect, without road noise, or any other unintended sound.
That's it.
Video Example: Using Zoom H6 to Capture Audio On Location
Here's the final result. In this video I demonstrate capturing the audio. During this opening sequence you can hear lots of road noise. In the final cut, I've applied all the effects captured with the Zoom H6 which results in clean, professional sound. And the final edit is complete!
BTS: How (not) to smash a guitar in Napa (Canon EOS 70D, Zoom H6) from Stark Insider on Vimeo.
But Let's Not Forget… Story Still Trumps All
Yes, in the end the story is the most important facet of just about any video production–be it a music video, narrative film, or documentary. Ensuring that the audio is clean, easy to understand, and devoice of unwanted noise, however, will hopefully increase the chances your audience will: (a) watch the video through to the end; (b) enjoy the experience; (c) emphasize the story-line and the visuals even further.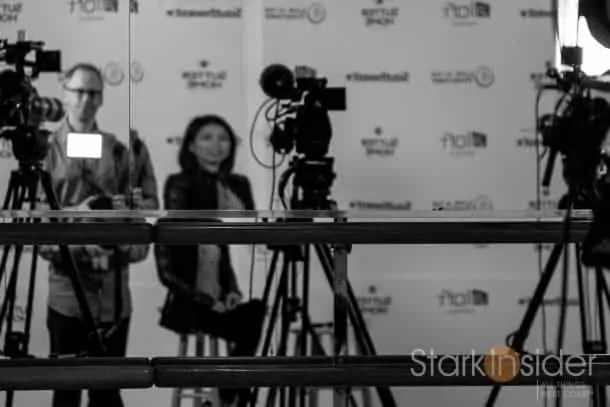 If you have a DSLR or mirrorless camera, and have already added a shotgun mic to your gear, I highly recommend field recorder(s) as your next opportunity to ensure first rate audio in your productions. Have fun, and let me know any questions you may have about the Zoom H1 and H6 field recorders (yes, I'm a fan, and have been using Zoom recorders for Stark Insider videos since 2012).
Lastly, providing my equipment list for those interested (this could be changing soon as we make move to either a Sony FS7 or Canon C100 Mark II cinema camera, or maybe something else introduced next month at NAB in Vegas…?)
STARK INSIDER VIDEO GEAR

Equipment used in this video segment:

Canon EOS 70D DSLR camera
Canon 18-135mm STM lens – a great all around lens, especially for run-and-gun
Sennheiser MKE600 shotgun microphone – for my money slightly better audio quality (esp. at low end) without costing much more than a Rode Videomic, though it is bulkier (note: the MKE600 requires an XLR adapter cable for cameras with only 3.5mm jack like the 70D)
Manfrotto 190CXPRO 3-Section Carbon Fiber Tripod and Manfrotto MVH500AH Flat Base Pro Fluid Head
Zoom H6 field recorder – pro audio bargain of the century