Tasting "outside the box" is a great way to learn about new grapes. Experimentation and an open mind, essential. If you enjoy wine chances are you've enjoyed your fair share of Chardonnay, Pinot Noir, Cabernet, Sauvignon Blanc, and Riesling, among other popular grapes here in North America. But, reach outside of you comfort zone, and taste other varietals, and you may discover even more pleasures from the glass.
That's the idea behind one of our favorite wine tastings here on Stark Insider: Rhone Rangers.
For two days (March 27-28 in San Francisco) Rhone Rangers offers the opportunity to taste American Rhone-style wines made from the same grapes that have been so successfully harvested for centuries in France's Rhone River Valley. The organization identified 22 red and white Rhone style grapes. For a winery to qualify, 75% of the wine's content must come from one of the Rhone grapes.
MORE STARK INSIDER: San Francisco First Look: Cochon 555 culinary competition (Video)
Grape include some well known varietals such as Syrah and Viognier and other "up and coming" ones including Roussanne, Marsanne, Mourvèdre and Grenache, and those hardly known to consumers on these shores including Cinasut, Grenache Blanc, Picpoul and Counoise. See charts below for Rhone grape varieties, both red and white, courtesy of the Rhone Rangers non-profit organization.
Red Rhone Grape Varietals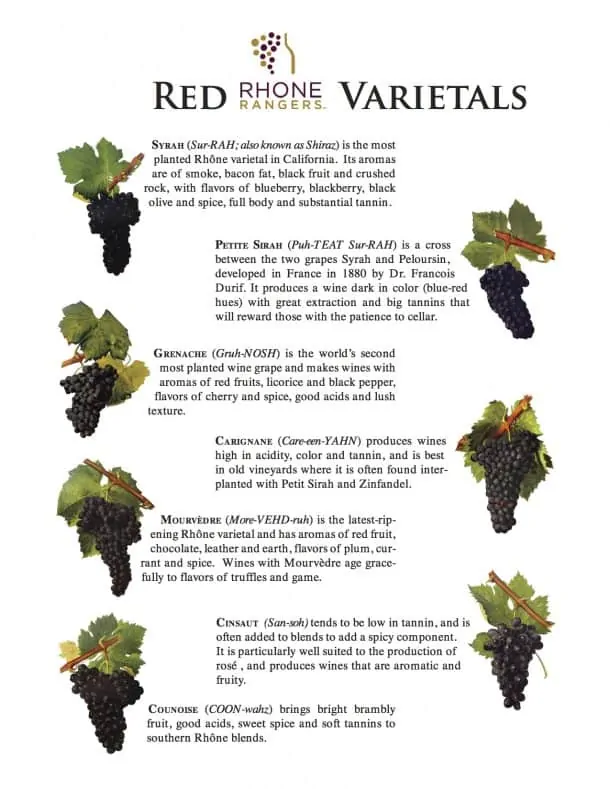 White Rhone Grape Varietals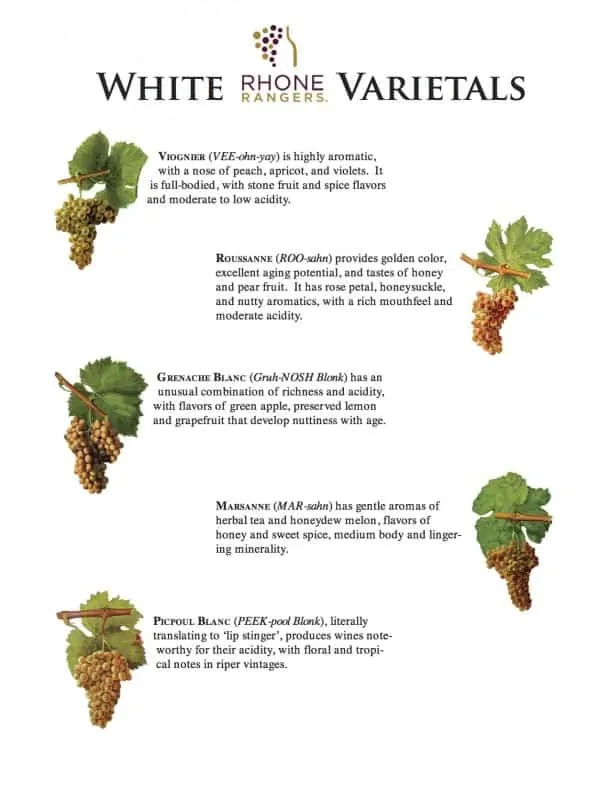 This wine tasting is a great way to expand your palette, open up your senses to new and interesting flavor profiles. Who knows? Maybe instead of reaching for that Chard, next time you'll evoke an instant conversation starter with a bottle of Picpoul!
Rhone Rangers features wine seminars, a winemaker dinner, and a grand tasting.
WATCH: Stark Insider Wine Videos
Members pouring over the two days include: wineries from Napa such as Cornerstone Cellars, Euclid Wines, Hagafen Cellars, Kale Wines, Lagier Meredith Vineyard, Mira Winery, Rocca Family Vineyards, and Truchard Vineyards; wineries from Sonoma including Anaba Wines, Davis Family Vineyards, Landmark Vineyards, Martinelli Winery, Qualia Wines, and Wesley Ashley Wines; wineries from Paso Robles including Alta Colina, Cass Winery, Hug Cellars, Lone Madrone, Summerwood Winery, and Tablas Creek Winery.
ALSO SEE: Art and Wine: Preview of 'Napa Valley Arts in April' (Video)
Though California is home to the majority at Rhone Rangers, wineries outside of the State will also be represented including those from New York, Virginia, Arizona, and Washington.
Stark Insider hopes to see you there at the Rhone Rangers tasting in San Francisco!
Rhone Rangers

March 27-28, 2015 

Weekend Celebration of American Rhones

Fri., March 27 6pm Winemaker Dinner (Golden Gate, Presidio)

Sat., March 28 10 AM – 1 PM Seminar Series (Craneway Conference Center, Ford Point, Richmond)

Sat., March 28 1pm Grand Tasting (Craneway Pavilion, Ford Point, Richmond)