Stark Insider continues its wanderlust video series – exploring the people, places and stories behind interesting California destinations. Join Loni Stark as she heads south of Silicon Valley to explore Mer Soleil Winery in the Santa Lucia Highlands. Other episodes include: Glamping at Treebones (and no Wi-Fi!), The Art of Hall Wines (Hall Winery, Napa), Premiere Napa Valley (Guitar Hero Edition), Bottega Gran Fondo with Chef Michael Chiarello, and–tangent!–a San Francisco Nightwalk in Union Square.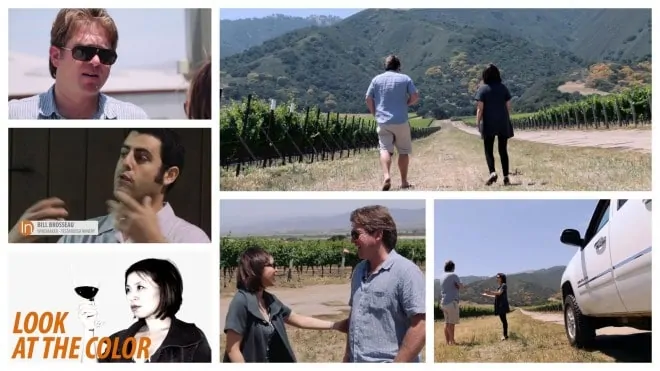 "I wasn't old enough to drink wine, but I could make it!"
Charlie Wagner, following in his father's and his grand-father's footsteps, started in wine young. Soon he found his way from Napa where his family had built the iconic Caymus winery, down to the foggy and windy Salinas Valley – to a place I had yet to ever visit, despite living a short drive away.
Sometimes small discoveries can be magic. Case in point: Santa Lucia Highlands. The little known wine AVA is just a short drive (down Highway 101) south of Silicon Valley, and, yet, as I learned, is home to 45 wineries, with 6,000 acres of planted vines. It's easy to forget with some much tech are our fingertips, and so many start-ups popping up every day, that California has an entrenched agriculture scene. As much as Napa garners headlines, other regions too are producing amazing wines, with stories to match.
THE WAGNER FAMILY
Recently, I met up with Charlie Wagner, son of famous winegrower Chuck Wagner, whose family lineage can be traced back decades. The iconic Caymus label put them on the map, and established Napa (and the U.S.) as a force on the global market scene – we could go toe-to-toe with the best coming out of France, Spain, and Italy. As a young boy, Charlie learned the ropes here in the dry, sunny Salinas Valley (which, he tells me, runs about 70 miles long). Though, at first, he longed to be up North with his cohorts in Napa, he eventually came to fall in love with the place.
"My Dad started planting this [Mer Soleil vineyard] in 1988," he says. Once Charlie received his driver's license, at 16, he "escaped" Napa and made it down to Salinas, and was able to start his career in winemaking. Though, he assures me, "I did spit!"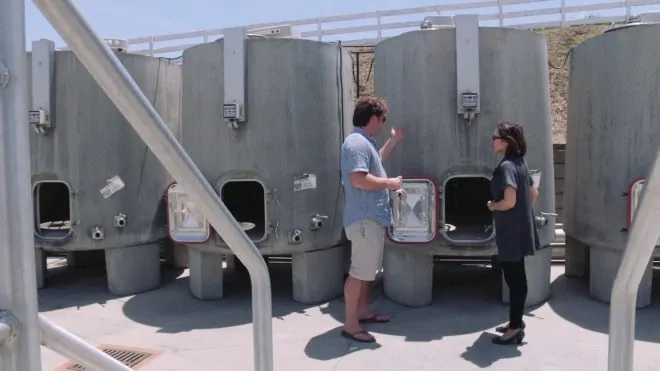 SANTA LUCIA HIGHLANDS GALA
Each year, winemakers get together and throw a party called the Santa Lucia Highlands Gala. Almost every winery in the appellation pours. Earlier, a terroir discussion and tasting is held. On this occasion, as you can see in the video, it was moderated by Master of Wine Fred Dame, with participants Rich Smith (of Paraiso Vineyards and widely acknowledged as establishing the modern SLH era), Steve McIntyre (McIntyre Vineyards), and Bill Brosseau (Testarossa Winery). The Pinots I tasted on this day were exceptional — nicely balanced, "cigar box" earthiness (if you know what I mean?!), and even hints of truffle. Yes, there were fireworks going off. Yes, my imagination can get carried away. But this is wine right? Let's all promise: We will not be wet noodles!
PROFILE: Santa Lucia Highlands Appellation 

Location: About 90 minutes south of Silicon Valley (Palo Alto, California)

AVA Established: 1991

Planted vineyards: ~ 6,100 acres

Wineries and vineyards: 45

Best known for: Chardonnay and Pinot Noir

History: plantings as early as the 1790s with the arrival of the first Spanish missionaries and conquistadors.

Modern History: Plantings in the 1970s at Paraiso (Rich Smith, as seen in the Stark Insider video), Sleepy Hollow (the McFarland family), La Estancia (Phil Johnson)  and Smith & Hook (Nicky Hahn)
THAT UNOAKED TREND
Charlie tells me that "oaked" Chardonnays really never went anywhere. In recent years consumers have beat a path to lighter Chardonnays, ones perhaps aged in steel barrels, or eggs. In the end though its consumer preference. That's why Mer Soleil makes two Chardonnays. The two styles ensure their customers can drink their favorite style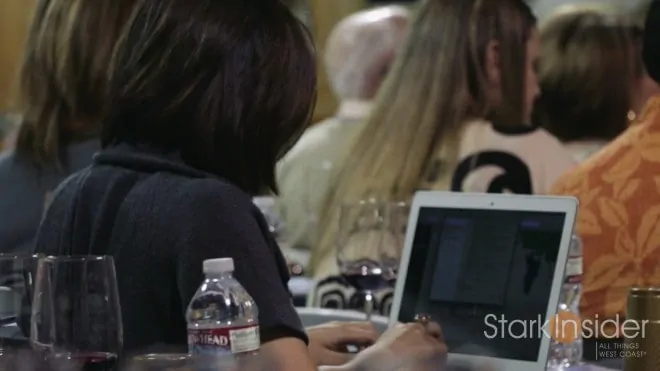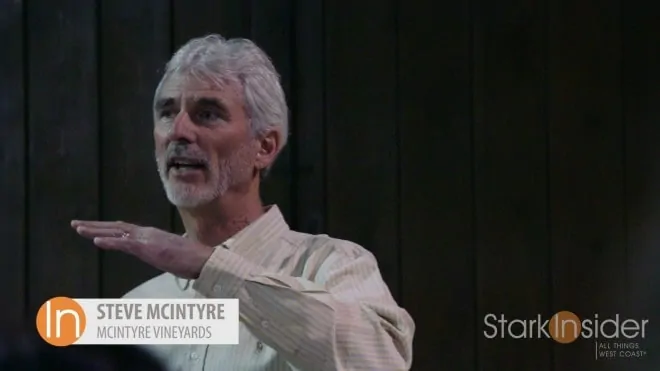 Indeed a cool climate here–largely thanks to strong winds that blow down off the Santa Lucia mountains turn what otherwise be a 90F afternoon into something tens of degrees cooler. Early morning fog too helps keep the heat at bay. The result? Longer hang times for the fruit, thereby enhancing concentration of flavors. In a sense it's similar to weather patterns we say–dare I say?–in Carneros in Napa, or even parts further West along the Sonoma coast.
As for the drought, Charlies notes, "We're lucky to have groundwater here." He describes as the "old-timers" do, as an "upside down lake." Digging quickly yields an abnormal quantity of water.
A WINE DREAM?
Could be. After all it's hard not to get carried away in wine country…
WATCH: "A Wine Dream" Santa Lucia Highlands with Charlie Wagner & Loni Stark