We're on the move–again. This time, to Baja California Sur in Mexico. A lovely place. We love it. Not only are the vistas stunning (see above photo), but there is so much history here to be discovered, explored. Then there's the people – we've been traveling here for almost 10 years now, and we've quickly realized the locals are among the most friendly and hospitable we've ever encountered.
One regret this trip: I don't yet own a Super 35 cinema camera. As I've written in the past (From Canon DSLR to Sony FS7 Super 35 – A New Era for Stark Insider Video?), 2015 is a camera upgrade cycle for Stark Insider. I've gone from Canon Vixia to a Rebel T2i, and more recently to the EOS 60D and superb 70D (my current workhorse, and an amazing bargain).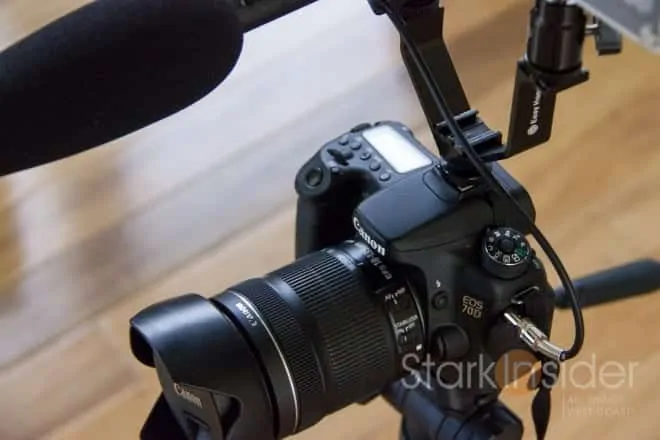 One of my to-dos is to film a Stark Insider episode in Loreto using the best camera I can get my hands on. Eventually that camera will likely be the new and very much adored Sony FS7, or perhaps the Canon C100 Mark II. Both feature luxurious Super 35 sensors that result in cinematic footage (plus, a little FilmConvert doesn't hurt either!).  I was just about set to jump to a FS7/A7s combo–Philip Bloom used them heavily for "The Wonder List" series on CNN and raved incessantly–but there's a small little show known as NAB just around the corner… I want to wait to see if Canon updates the C300 to 4K and/or introduces a new model that could compete with the likes of the Sony FS7 for around $8,000 or so. For a guy coming from the DSLR world where bodies mostly cost around $1,000 or so, this is going to be a big leap for our business, hence the research, and waiting, and more research… and more waiting.
Still, the 70D is going strong. I've used for sit downs with the likes of Colbie Caillat, red carpet work (the worst) with Elle Fanning, James Franco, Ben Stiller, etc. and to go backstage at Broadway shows, and learning about the personalities behind various wineries here in Northern California. Okay enough name dropping. Suffice to say, there was a time if you showed up, say around 2010, with a DSLR, you got strange looks, especially from the broadcast news folks with those massive rigs on their shoulders. Not so today! Now it's the norm (thankfully). Don't think a piece of gear will inhibit your ability work — stand back from the techy, 4K-obsessed camera forums! (well, at least for an hour or two). If you're just getting serious about DSLRs and video, I highly, highly recommend the 70D. Don't worry about 4K. Charge your batteries, pop on a shotgun mic, and go shoot. Have fun!
Back to the Baja. The town we've been traveling to is a sleepy little fishing village called Loreto. It's been called the anti-Cabo. Here the vibe is understated, thankfully. You don't find nightclubs, supercars, or any franchises (so far as I know the only one is, oddly, a Sherwin-Williams paint store). Instead Loreto is about community, history, and… this is essential… mañana.
Landmarks abound in Loreto. Each have rich history, and most are in very good condition (though the cave paintings I'm hearing are slowly disappearing). One of my favorites is the Mision, located in the heart of town. "Our Lady of Loreto" was established in 1697, and was the first mission of the Baja. If you go, you will know you've just found the ideal place for snapping some photos, or taking a video. It was here, in 2013, that I borrowed a purple scarf from our Loreto Bay neighbor, and shot "Morado" (Canon EOS 70D):
"Morado" – Loreto, Baja California Sur from Stark Insider on Vimeo.
And we also shot something perhaps a little more conventional, when we visited one of our favorite taco joints, and met up with the "King of Tacos":
"The King of Tacos" El Rey del Taco – Loreto, Baja California Sur, Mexico from Stark Insider on Vimeo.
Watching these videos you might realize that I treat Loreto as a "film school" of sorts — since I learn as I go, and have no formal film school education, I like to challenge myself sometimes to try different creative exercises. Some are pragmatic, like telling a story about winemaker, others are more whimsical, like what on earth can we do with a purple scarf, and a beautiful locale to create something interesting, quirky, hopeful memorable. In any case, failure is an option.
When we first visited Loreto Bay, the resort was nothing more than some water-color based marketing collateral, and some lines in the dirt next to the stunning Sea of Cortes. Nine years later, and what a difference. There was the massive recession in 2008 that resulted in the original Loreto Bay developers declaring bankruptcy. Home owners united. And that proved to be an important reason why today Loreto Bay has emerged as a beautiful, walkable little village, on par (or close to it) to the original vision. Little did we know when we started writing about Loreto, Loreto Bay and our adventures there, that it would ultimately result in Stark Insider as it exists today–a San Francisco-based site focused on arts culture, and travel, or, as I've been more recently interested in, the new-to-me concept of wanderlust.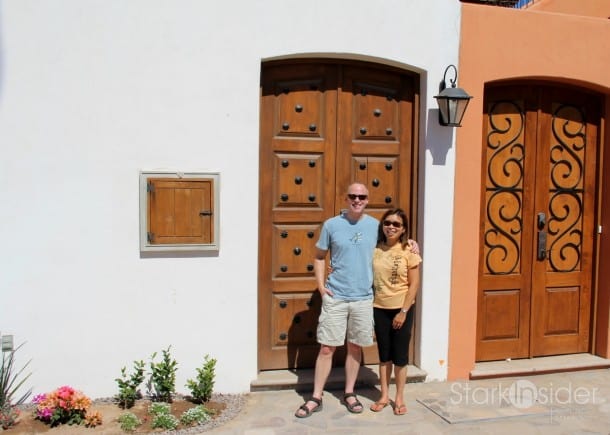 I like the idea of "wanderlust". On Stark Insider we've been shooting videos since 2009, and many have been to amazing destinations–Napa, Sonoma coast, Carmel, San Francisco, Vancouver–places where I just mic-up Loni Stark and start rolling, and see what happens. Here's some of our updated Stark Insider promos… maybe tacky? …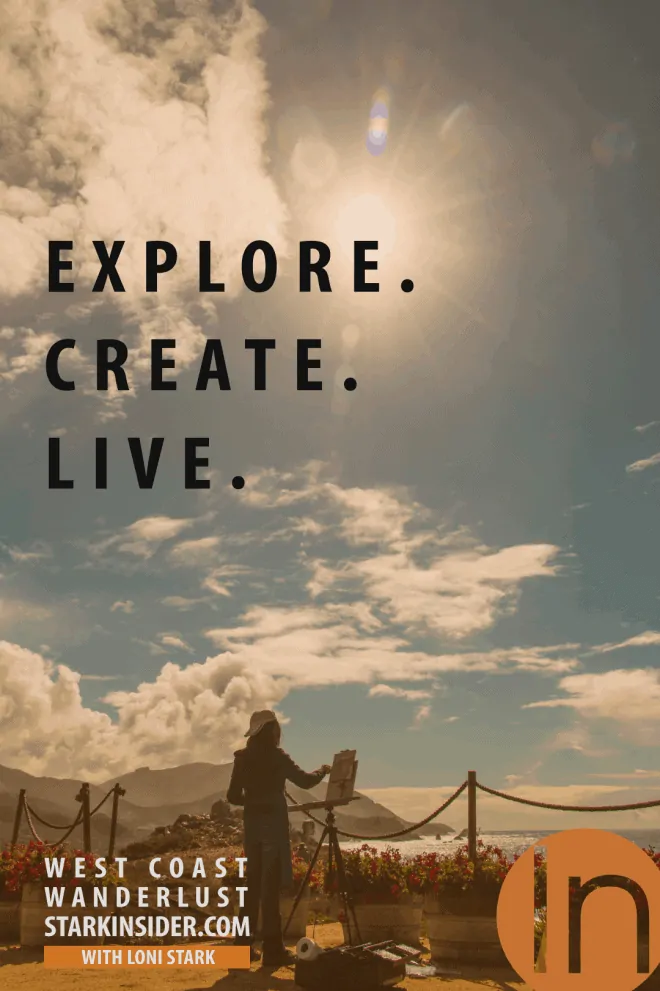 When we recently shot our experience "glamping" at Treebones in Big Sur, California, that's kind of what I had in mind: film Loni, see what happens. Now I can call it something, or label it, at least temporarily. Wanderlust:
Off the Grid: Glamping at Treebones, Big Sur from Stark Insider on Vimeo.
Now that we've added voiceover and (limited) green screen to our arsenal, I really wanted to step up our video production this year. Hence, a cinema camera. But also, a stronger emphasis on story-telling. I won't dispense with the quirkiness completely. No way. And bloopers? They will stay so long as Loni let's me incorporate them. We often have "creative difference" over the tone/style/approach of Stark Insider videos — a natural friction that I think results in better quality ultimately, at least after much beer has been spilt.
My inspiration comes from three places:
— 60s/70s cinema especially Polanski (The Tenant, Chinatown, Rosemary's Baby, Repulsion), Coppola (Godfather of course, Apocalypse Now), Dario Argento (Suspiria), Stanley Kubrick (A Clockwork Orange), Scorsese (Taxi Driver) and contemporary, artsy stuff including exception films such as Under the Skin, Drive, There Will Be Blood, Nightcrawler, and Black Swan.
— 80s rock music videos (Beat's So Lonely).
— And, two talented guys: Zach Zamboni, a DP who shoots Emmy-award winning travel shows and has given tremendously interesting presentations on the intersection of arts/tech when approaching cinematography; and his famous partner, a somewhat cheeky guy called Anthony Bourdain.
So off to the Baja we go!
Read more of my Stark Insider articles on the Canon 70D and DSLR cameras