The Chinese are coming.
That's nothing new when it comes to tech of course. But one key difference at least in the world of mobile and Android is that mobile manufacturers based in China are coming direct.
Huawei and ZTE notably are reaching beyond their own large domestic markets and making a global push. For instance, Huawei earlier this year started shipping a 6.1-inch Android phablet called the Ascend Mate 2. Then just last week they unveiled the Honor line, which looked, not surprisingly, like dead ringers for the new iPhone 6s – save the Honor 6 and 6 Plus will run Android.a
As you might expect, price is a key differentiator. Most of these Chinese made and sold devices go for about half the price of their brand name competitors. Take the Samsung Note. The latest model of this very popular plus-size phone goes for about $800 or so (unlocked, contract free). The aforementioned Ascend Mate 2 is only $299. Granted, the latter carries mid-range specs. Still it's enticing buyers. If I were Samsung or LG — two massively successful South Korean companies who sell a range of Android-powered handsets — going into 2015 I'd be watching companies such as Xiaomi, ZTE, and Huawei very closely.
So, I had to give it a go. Go hands on. For a few weeks at least, possibly more. To find out if these new Chinese phones are the real deal. Will they fall apart in a matter of days? Can they seriously compete with the big boys — Samsung, LG and Motorola — when it comes to quality build, and features? And could one of them be a serious, day-to-day, unabashed replacement for my departed Nexus 5?
Speaking of Nexus. The timing was right. After two replacements I finally decided to offload my utterly unreliable Nexus 5. The first developed mysterious hairline cracks (not from being dropped) that I suspect were the result of pressure from being in my pocket. Google was good enough to replace it under warranty. Months later, the battery began to bulge slightly after a charge and fluid discharged through the volume and on/off switches. Again, back went the hobbled Nexus 5. Google customer service again was exemplary and they shipped a replacement. This one I sold on eBay.
Though I wanted a Nexus 6, especially given that it was made by Motorola, there were a few problems:
1. It's never in stock apparently (Google Play is apparently in a perpetual state of stock out of the Nexus 6)
2. At $649 (32GB) and $699 (64GB) it's almost twice the price of its predecessor. That's a chunk of change. After all, this is a small plastic device that will likely get lost, stolen and surely be bounded off various concrete surfaces.
Enter the Huwaei Ascend Mate 2.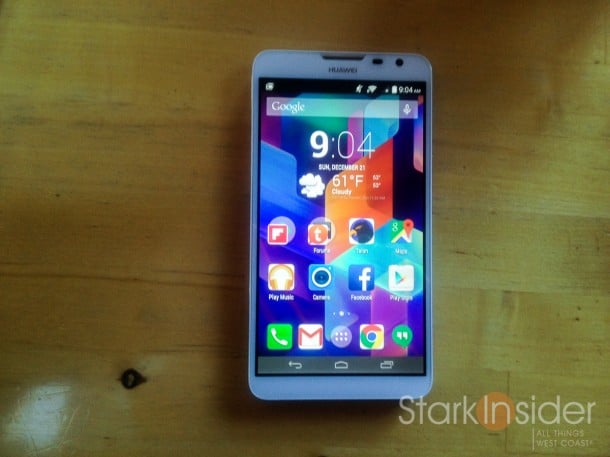 $299 on Amazon (direct from Huwaei). Unlocked. Carrier free.
For that, you get a mid-range device with ho-hum specs. Snapdragon 400 CPU – one that's a few generations behind the latest and greatest. An HD display, yes, but only 720p. And no Gorilla Glass.
From all I've read the HAM2 (as it's called on forums), however, features a killer feature:
Battery life.
According to several tests, the monster Huawei can outrun every single Android and Apple smartphone on the market as of December 2014.
So: could I go from a flagship, Lollipop Nexus 5 to the Huawei middling, Jelly Bean Ascend Mate 2, and still be able to live a normal Silicon Valley existence?
My first impressions after getting unboxing the HAM2 and popping in my T-Mobile SIM (and 32GB microSD):
— it's large… 6.1-inch screen! Can definitely feel this thing in my pocket
— it's large… reading, surfing, social networking is a blast on this thing
— it's large… and it seems that means the equally large battery is a monster, I've yet to finish a day with it below 75% after regular use (but no video streaming, or games)
I thought I'd miss having the latest Android version (Lollipop) or even 2013s release (KitKat). No matter, the phone does what I need it to do: Gmail, calendaring, Twitter, Facebook, Flipboard, Google Music, Yelp. It pairs with my Pebble. And I've never felt wanting for more speed (though, to be sure, faster is almost always better).
Bonus: Amazon price matched Target who is selling a version of the Ascent Mate 2 for only $225.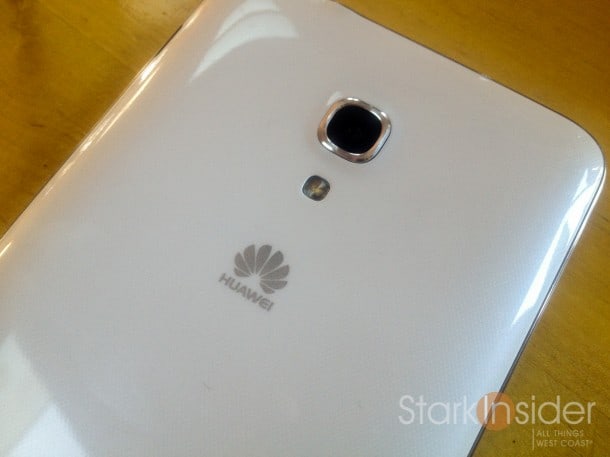 One of the downsides of the mid-range Ascend Mate 2 became almost immediately obvious.
After the first day, I noticed a horizontal scratch on the screen. Already! Yet I hadn't dropped it, and I had treated it with utmost care.
Turns out, the HAM2 doesn't have Gorilla Glass. The screen has a plastic coating, and is very fragile. I immediately ordered up some screen protectors (something I should've done to begin with).
I even considered returning it to Amazon, and trying another brand – maybe the OnePlus One, or ZTE ZMax. Loni told me I couldn't do that. "That's not fair. It has a scratch. Poor little Chinese company," she said, giving me the loving look  of death.
Poor little Chinese company.
Indeed, founded in 1987, Huawei has 150,000 employees, and brought in over $39 billion last year. This is the company that has gone toe-to-toe against Cisco. Forbes has named it one of the most respected companies in the world.
I'm anxious to see how this phone performs over the next few days.
While Samsung, LG, Apple and others are pursuing flagship, up-market strategies ($700+ USD for unlocked, contract-free phones), upstart competitors appear content to help push the market the other direction ($300 and under). From my initial experience at least, it appears to be one that does not compromise quality or many features. 2015 looks to be a very interesting market in mobile. Is a shake-up imminent?
Let the Chinese Android experiment begin.