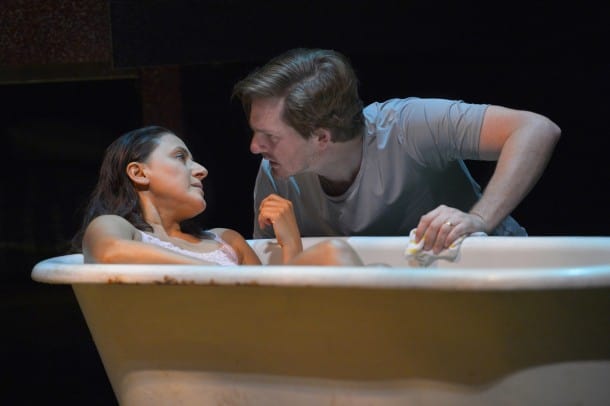 Quiara Alegría Hudes wrote the book for In the Heights, an electric, exuberant show that we've reviewed when performed by Broadway by the Bay and Broadway San Jose. Its Latin warmth, driving rhythms, and unbridled optimism will keep it on our stages or decades to come. However, if you are looking for that warmth, don't expect to find it in Water by the Spoonful, which just opened at TheatreWorks last weekend.
Water by the Spoonful is the second part of The Elliot Trilogy, which traces the legacy of war on the Ruiz family. The Elliot Trilogy is one of those small theatrical miracles that allow you to keeping seeing more of characters that you've come to care deeply about. This TheatreWorks production was the regional premier of this work.
Never for a minute would you suppose these people didn't know anything about addiction – and for that alone the play is worth spending time with.
Elliot's home from the Iraq war, with a leg injury and painkiller addiction. The woman who raised him has died, forcing him to deal with his real mother, a former addict who moderates a chat line for crack addicts.
Other story lines, equally complex, radiate from this one, making "In the Heights" seem like forced good cheer. This is Hudes' replacing one perspective on a Puerto Rican family with a more mature one. In coming to grips with this maturity, the playwright no longer falls back on the easy clichés of defusing tension into song and dance – but without that to fall back on, seems uncertain where to go. Much of the first act is spent developing characters, but without moving them across the arc of some story – which makes for a long production and a slow one. It's almost as if Hudes is intentionally slowing down time to force you to spend more time with her characters – all of whom seem to distance the audience as much as they distance each other.
The second act almost immediately picks up, signaling the ponderous pace is over. However, the characters continue to distance the audience. Part of this might reside in the dialogue, much of which appears as voiced chat bubbles. However, the chat-bubble-thing can be witty, fast-paced, revealing. This distancing – inherent in the characters themselves – makes them hard to connect to.
This distancing aside, this show had much going for it. The set, cast in deep, textured browns, warms up what would otherwise be a cold concrete jungle. The two multi-level structures on stage, each with its own performance spaces, seem  a work of genius. Action on the structures bleeds into beautifully blocked action on the floor, creating perfectly balanced symmetries among actors. The looks of this set might be more than we have a right to – but unfortunately, the visuals engage in ways that the characters don't.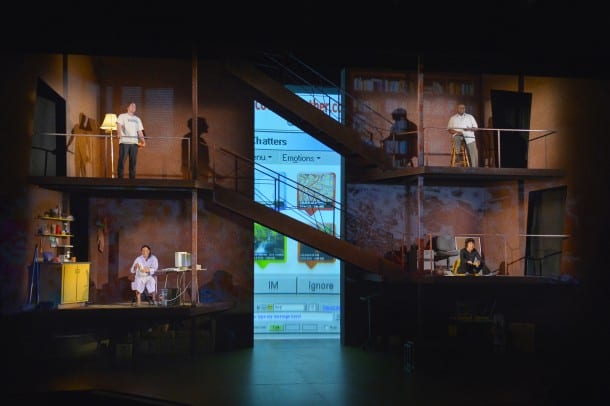 The failure to engage doesn't lie with the actors. Anthony J. Haney, as former crack head Chutes&Ladders, delivers a performance that rips you with its tenderness. You might remember Haney back when he directed The Mountaintop just last season. Anna Ishida offers up a punky Orangutan, who holds everyone at bay, except of course for Chutes&Ladders. Zilah Mendoza's nuanced performance of Odessa stands alone; so many threads of so many people run through this character and Mendoza does justice to them all. Never for a minute would you suppose these people didn't know anything about addiction – and for that alone the play is worth spending time with.
MORE STARK INSIDER: San Francisco: 'Buyer & Cellar' a delicious romp (Review)
The final play in the Elliot Trilogy is titled "The Happiest Song Plays Last." If titles are any indication, Water by the Spoonful may mark a low point for the Ruiz family. Having whetted our curiosity, hopefully TheatreWorks will bring us the final installment.