Unlike other statues dotting the DC Mall, we know MLK – or at least think we do. The increasingly geriatric among us have memories, or at least memories of memories. There's the annual replay about having dreams and being on mountaintops that confounds those memories and paints new ones. And then there's what we tell our children. At a Catholic school where I work, every year the librarian tells the children "he was just like Jesus." Time passes and our knowledge shifts, slips away. King ossifies into a holiday. We know less and less.
Into this void, comes The Mountaintop, which debuted on Broadway, in 2011 with Angela Bassett and Samuel L. Jackson (an improbable combination, if there ever was one). The TheatreWorks' production of this work by Katori Hall will leave you variously stunned, raw, teary.  It functions as an unpredictable Gethsemane, with side-splittingly funny moments and a powerful video montage that's repeats the story of all our heads. You thought you came here for a history lesson you already knew. Instead, you leave amazed at your own misassumptions and part of something bigger.
The effect of this play on the audience was not unlike that of The North Pool, also by TheatreWorks. Although different in many ways, both two-person shows relied on complex layering, slow revelation, twisting turns and stark surprises. Both firmly held the audience in their grasp in a way that theatre almost never does, with a gentle release us only after the applause dies away. While The Mountaintop was funnier, more charming and less immediate than The North Pool, the tension of both built so powerfully and insistently.  You could spend a lifetime of theatre-going looking for experiences such as this. To have two such evenings delivered by TheatreWorks within a year or so of the other is nothing but astounding.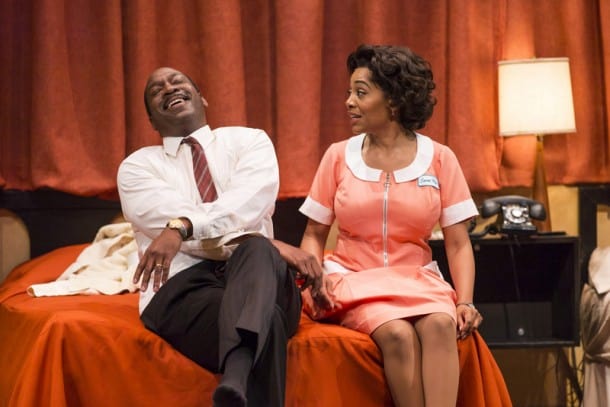 This theatre magic was worked by Adrian Roberts, as Martin Luther King, Jr., and Simone Missick, as hotel maid Camae. Roberts bears a reasonable resemblance to MLK, and more importantly, carries himself like King. Missick, who like Roberts, has a long string of stage, film and TV creditors to her name, has such a luminous quality, that she could be an Afro-American Marilyn. The chemistry between these two, connecting them in life and death, is immediately apparent. Their delight in each other only magnifies our delight in them. MLK mugs for Camae's make-believe camera and we laugh as he does his Elvis impression. The images fly, pure poetry.
Bug check
Room 306
Stinky feet
April 4th
Lorraine Hotel
"Civil rights will kill you before those Pall Malls will…"
"Negro talk strikes faster than lightning."
If you catch one play this year, The Mountaintop should be it.