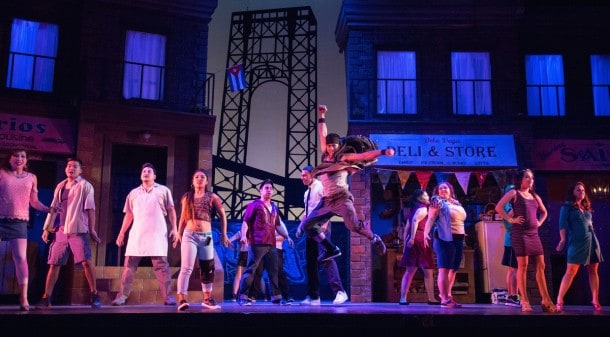 Broadway by the Bay's production of In the Heights embodies all the rocking Latin rhythms, electric choreography, and great heart for which this musical is rightfully known.
There are parallels between Heights and West Side Story. Both tell New York City immigrant stories. Both crackle with energy and a uniquely American optimism.
Both stories also offer up an idealized version of their respective worlds. In the Heights presents a vision of America for which we yearn, where upward mobility requires no more than hard work and a bit of smarts, and neighborhood connections provide a communal embrace.
Director Jasen Jeffrey adds more, saying "What inspires me the most about the story is that it is authentic … this is a real story about real people. The sense of belonging and community and love and relationships is at the heart of the show."
It is easy to suspend disbelief from the very first moments, where Usnavi (Alexander Gomez) and Company introduce the cast of characters in a pulsating salsa number. Usnavi (named for the ship which brought his parents to New York) doubles as a narrator of sorts and dispenser of sweet café con leche. His bodega lies center stage, connecting the players.
The choreography of this first number takes a little getting used to because (unlike West Side Story) dancers don't move in unison. However, this approach serves the material well, as individual dances reflect individual characters. Don't be afraid of letting your gaze linger on individual dancers. Choreographer Nicole Helfer has a good sense of what you'll be looking at — and just as important — what you can't miss.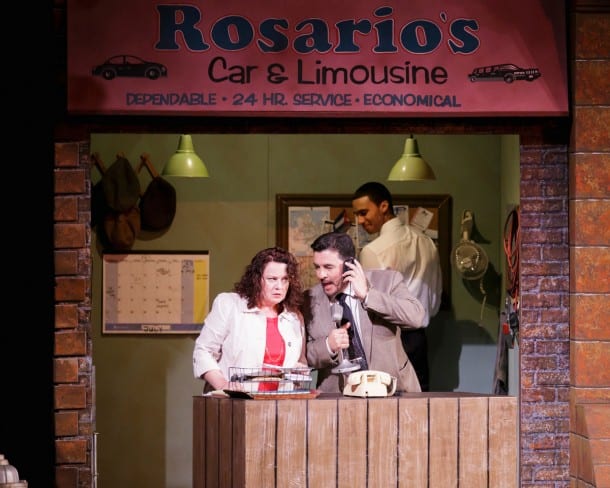 This focus on individual dancers makes the impossibly tall Benny (Austin Scott) immediately stand out in this first number. That's a good thing, because your eyes will be on him for much of the show. Startlingly graceful for someone so tall, he carries the romantic drama with neighborhood girl Nina (Samantha Cardenas) forward.
Kevin and Camilla Rosaria (Derrick Silva and Maureen Duffey Frentz) are Nina's parents. Despite multiple issues with each other, with Nina's dropping out of Stanford, and with her relationship with Benny, they seek resolution as a family.
Abuela Claudia (Jessica Coker) is the center that makes the story possible. Not only has she raised Usnavi after the death of his parents, but her lottery winnings create the drama about whether others should stay or leave this Washington Heights neighborhood. Paciencia y fe  (patience and faith) are the watchwords she's passed down to those who love her.
Uneven sound balancing dogged much of this production, with the orchestra making it hard to hear vocalists at times. This was particularly troublesome because interactions between hair salon owner Daniela (Amie Shapiro), salon employee and Usnavi heart throb Vanessa (Orianna Hillard), and Carla (Danielle Philapil) were difficult to follow. Broadway by the Bay is far too smart to let this opening night problem mar subsequent performances.
Flaws with sound balancing didn't take away from the excellent score by Lin-Manuel Miranda. This mix of salsa, merengue, bachata, funk/pop, reggaetón, hip hop and a touch of blues will stay with you long after you've exited the Fox Theatre in Redwood City.
The power of this particular score generated enthusiasm across the musical community.  Music director Sean Kana reports "Everyone gets so excited to play this material. I've gotten so many calls from people who want to play. 'I hear you're doing "In the Heights." Do you need a guitar player? Do you need a flute player?'  More so than any show that I've personally done."
This summer-in-the-city story is well worth taking in.