As an existing Prime customer I welcome any and all new services Jeff Bezos and team want to throw into the Prime bucket. The latest addition, announced yesterday, is Prime Music (now a part of the re-tooled Amazon Music app for Android and iOS). The streaming music service is a modest baby step – one that puts Amazon in competition with Apple (Beats), Google (Play Music), Spotify, Rdio and scores of smaller services including Pandora, Slacker, Songza (will Apple buy them?)… and on and on. This is a crowded and highly competitive space.
Prime Music is automatically available to customers who sign up for Prime. Recently, Amazon gave the service–which hits its tenth anniversary next year–a modest price hike. For $99 per year, you get free two-day shipping on many products (I find it wildly and carelessly addictive, especially in combination with Amazon's ridiculously good return policy and process). Over the years other perks have been added, including streaming movies and TV episodes (Prime Instant Video), and a Kindle library featuring 500,000 titles available to borrow.
And, now, in 2014, you can add streaming music to the grab bag that is Amazon Prime.
I gave Prime Music a spin on an iPad Mini. Sadly, for now, the service is only available on the Apple App store, so us Android fans will need to wait it out, or, sin of sins, secretly borrow our spouse's iOS device to give it a test drive. UPDATE: Amazon Music with Prime Music (that's what it's called!) is now available on the Play Store for Android devices.
My initial impression is meh.
What you get here is a fairly vanilla offering. There are about 1,000,000 tracks available, which, as has been widely reported, lags behind competitors, notably Spotify which has about 20x the selection. Notably absent at launch due to negotiation break-downs is Universal. According to reports the lump sum Amazon offered for access to a selection of the Universal catalog was too low. That means no Lady Gaga and no Kayne West. Well, maybe not such a bad thing after all?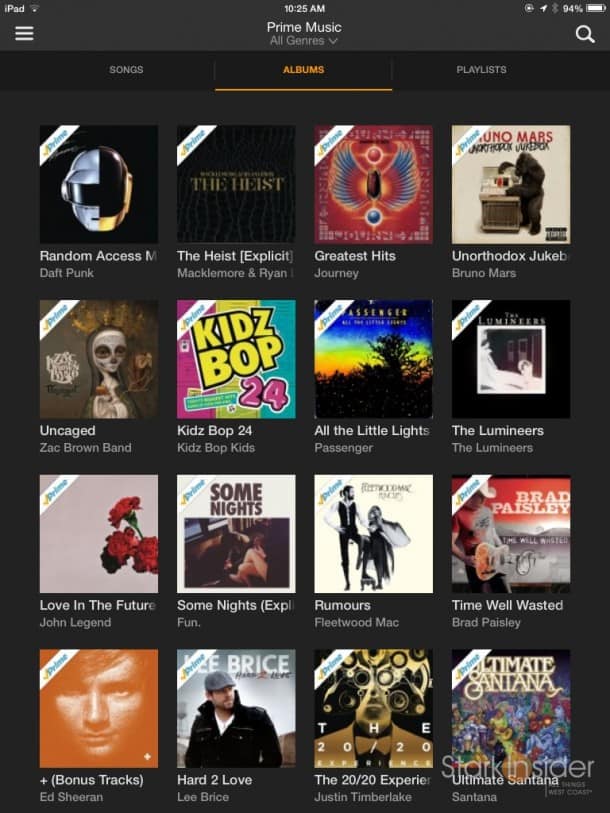 Amazon's old MP3 app has been renamed "Amazon Music". If you used the old cloud-based service previously to upload songs, or purchase MP3s, you'll still find your library intact. What's new are the addition of a new Prime section which includes, at launch, two choices: Prime Music and Prime Playlists. If you just want to play a specific track or album you can do that by randomly browsing or narrowing choice by specifying one or more genres (drop down menu at top). As is customary, you can also search. All of this is decent enough. Amazon went with a dark theme, so there's lots of grey tones – album art and fonts pop nicely thanks to the contrast.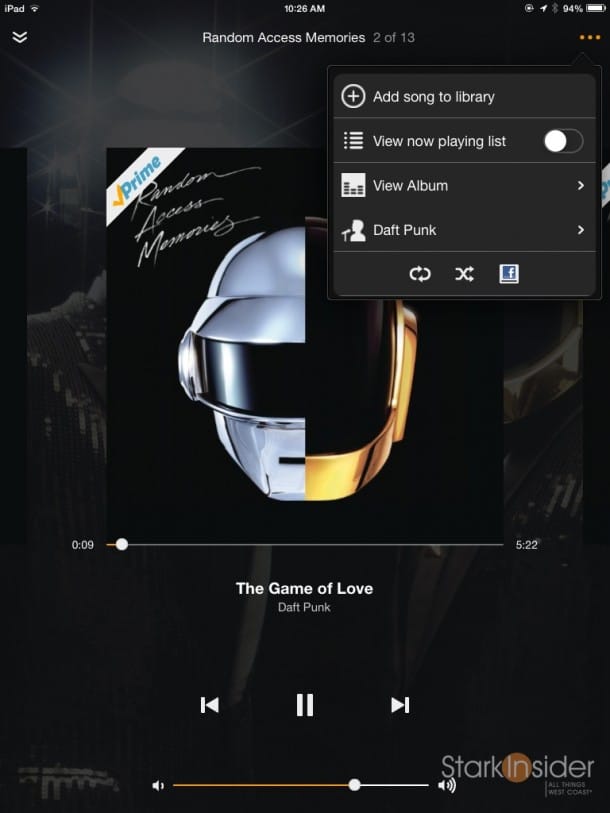 But the real prize here are the playlists. Or I should say the would-be, could-be prize.
Playlists have become a big thing over the last twelve months or so. If I had to pick an innovator that ignited the firestorm it would be Songza. If the team there wasn't the first to introduce the idea of mood-based music selection they were certainly the first to popularize the concept and bring it to the masses in an easy-to-use, fun app (iOS and Android). What makes Songza so great is hand curation. The human touch. It makes a big difference. Listen to a Songza playlist like, say, "A Cold Night in Canada" or "Airplane Zen" or "Mellow Indie" or "Soft Pop Wake-Up Call" and you can feel that human curation at work. It's almost like having a really good (invisible) buddy in the room queuing up track after track of stuff he'll know you'll dig. It works, and it opened my eyes to many new artists and tracks I had yet to previously discover.
So, then, how does Amazon fare when it comes to playlists?
Not too badly.
It's too early to tell how it compares to the likes of Songza and Spotify and Beats. All of those have deeper libraries to pull from, so my suspicion is that Prime Music will get repetitious much faster.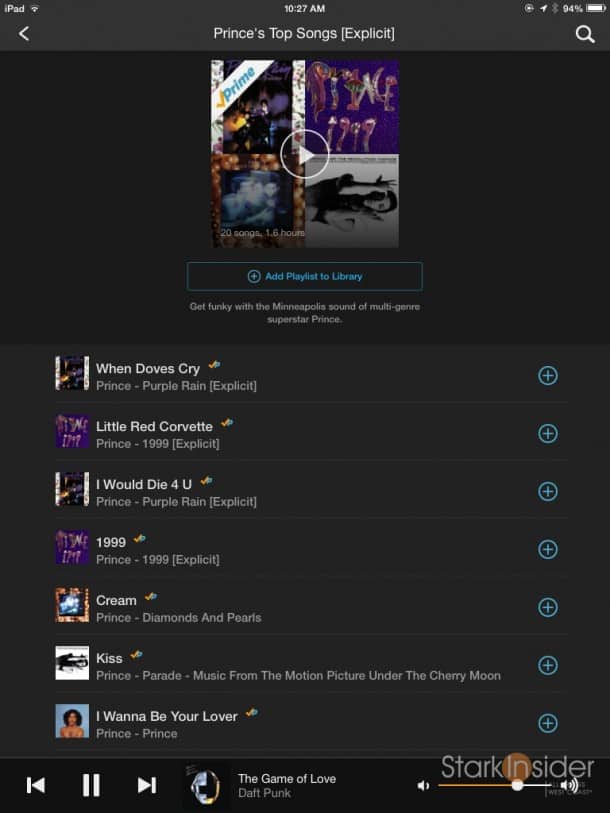 Still, you can easily browse playlists by popularity, genre, mood (and activity), and artist. If you have one Amazon will also sniff out your existing cloud collection and create a list of recommendations. So, yes, I have a fair number of playlists that were big back when Joico and leather pants were in vogue (sort of), ie "Classic '80s Flicks", "New Wave Rave Up", "50 Great Songs of the '80s". And "Michael Buble's Top Songs"?! How on earth did that get in there?
All in all, Prime Music is what you'd expect. It works as advertised. There's little to no sex appeal (Beats, for example, has a far cooler UI). Just like Google and Apple have done in the past, expect Amazon to hone the formula over time, ink more licensing deals, and fine-tune the user experience. That's the real worry for the competition. It's not the present state of Prime Music, it's the future potential.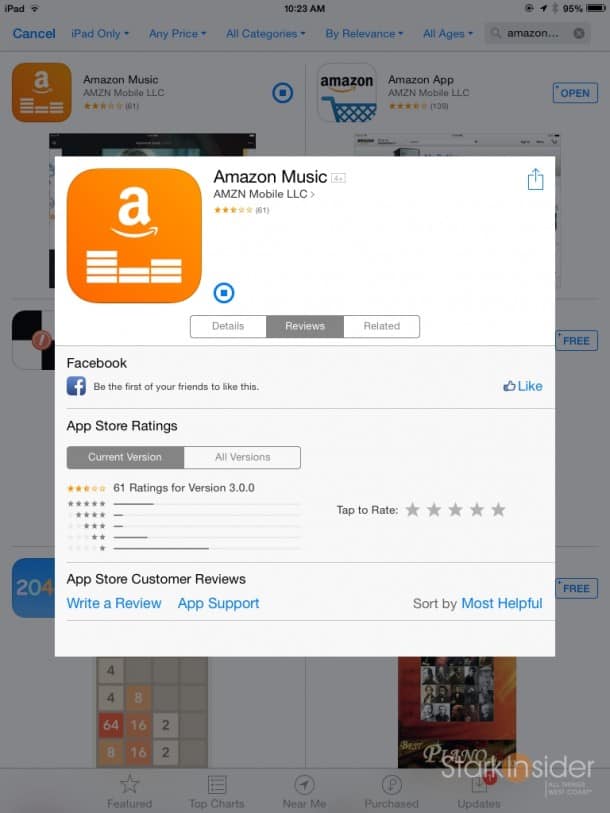 For existing Prime customers this is yet another sweetener. I'm surprised Google and/or Apple have yet to offer a bundled all-you-can-eat subscription model across their respective media portfolios. Surely there's an appetite for something that bundles movies, music, books, magazines, but without the shopping component. Yes?
What's most interesting to me about Prime Music is the strategy that it ultimately represents. And that is…
Scale.
Because of its size Amazon can operate on low margin, or even flood the market with loss leaders (like the Kindle tablet). It has volume. Smaller players can't touch it – for them, the strategy needs to be about value, differentiation. Meantime Amazon wants you addicted to its content. Movies, music, books, television shows. Doesn't matter. The trick here is that alternatives to something like Amazon Prime don't exist. You'd have to piece meal something similar by adding something from Apple, maybe something from Spotify, something from Google, etc. Amazon, though, makes it easy. Here, for $99 have all this stuff. And, oh, by the way, now we've given you a bunch of free music. I'm not about to give up my Pandora One subscription just yet, but who knows, the music streaming market is just heating up.
Amazon Music with Prime Music (subscription)

$99/year, bundled with Amazon Prime

Apple iOS app only for now

For: Another sweetener for Amazon Prime customers. Diverse initial library of playlists. Clean, modern interface. Ad-free.

Against: Only 1M tracks – lags far behind competitors such as Spotify. Subscriptions available only via Prime which costs $99 per year. Doesn't bring anything innovative or magical to the streaming music market. You won't find artists from the Universal label such as Lady Gaga and Kayne West. Don't expect the latest and greatest tracks (Beats and Spotify are better bets).

Verdict: Not much to see here, unless you're a Prime subscriber in which case this is yet another nice bonus.