Android owners of the Pebble smartwatch: good news. Pebble 2.0 is here. After about a month after its release for the iOS platform, us Android users now have access to the full Pebble App store experience (verdict: excellent).
With 2.0 it's now much easier to download watchfaces and apps for Pebble. A simple heart-based like rating system enables popular downloads to bubble to the top. As has always been the case, there are 8 available slots on the Pebble smartwatch. Any combination of watchfaces/apps can be used to fill them. Overflow downloads are stored in a "locker" – meaning they are stored on whatever Android phone you've paired. From the locker they can be exchanged in and out of the Pebble with a couple of straightforward taps.
I've been testing the 2.0 Beta for a few weeks and have fortunately seen great improvements. So far, the final release is running without a hitch (though at times I wish it was faster).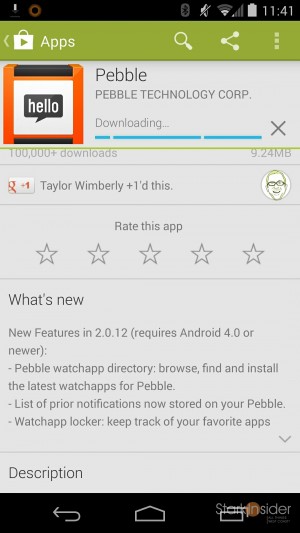 As I wrote in my review of Pebble, I find it to be the best all-encompassing smartwatch currently available today. And that's saying a lot given some of its competition are heavy hitters–Samsung, Sony, Qualcomm–and have much deeper resource pools. The space could get even more competitive if/when Google and Apple release their own smartwatch products (highly probable in my view).
Earlier this week I was expressed concern that Android fragmentation was causing the delays. That's likely true. Given the number of permutations of Android devices and OS versions out there it can be a bit of a QA nightmare for any organization let alone a small one like Pebble, essentially a Kickstarter-backed start-up. Apple and its closed, vertically integrated business model fares better in this regard. Approximately 75% of all its mobile devices in use run iOS 7, the latest version of Apple's operating system. Hence, why it would be easier to release the iOS version of the Pebble 2.0 App Store first.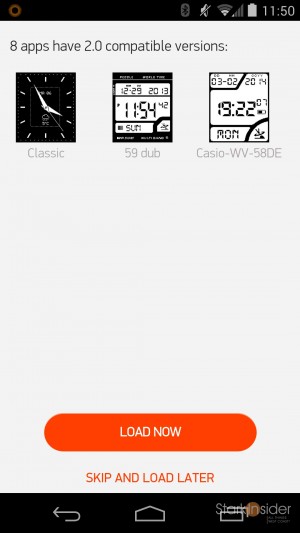 If you're just getting started with Pebble, take a quick look over here at some of my favorite watchfaces (retro Casio is a nostalgic hoot). For those who listen to music on their Androids, be sure to check out another of my must-haves: Music Boss. I use that app at the gym to control Pandora and Google Play Music. I can leave my Nexus 5 in my pocket and control volume and tracks from Pebble; very convenient. It's just one of many examples of how wearables have the potential to positively impact everyday sorts of stuff.