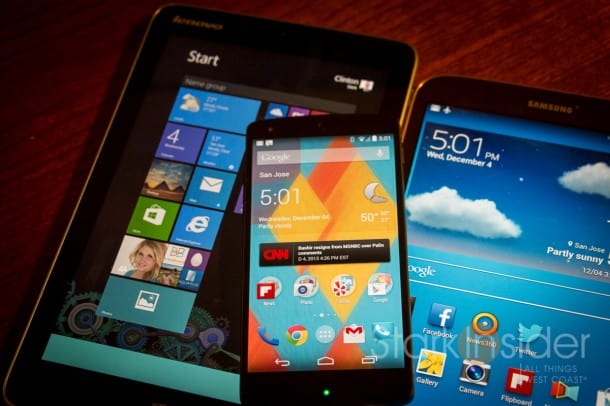 Google I/O 2014 is just around the corner, and that means, once again, we get to start a bit of armchair quarterbacking, along with a dash of, admittedly, iffy prognostication. What fun is tech if we can't every now and again throw darts at a dartboard while blindfolded, doing Snake Bites, and singing along to We Are Young during cougar night in Menlo Park?
To recap, last year was an okay event. In terms of innovation we didn't get a whole lot, though some of it was appealing such as Google Play Music (subscription music service that competes with Spotify), unlocked stock version of the Samsung S4 "Google Play Edition" (at $649 expensive!), a few nifty Google+ features especially related to photos (but don't often use Google's social network), updates to Google Maps and Google Now (best-in-class),
Word is Google will focus heavily on services at I/O 2014. Could we see bundled premium services a la Amazon Prime?
That we didn't see any jaw-droppers in 2013 is consistent with my belief that companies–notably Apple, Google, Samsung, Amazon–have made major steps forward in mobile over the last six years, and now are entering an incremental era, at least as it relates to smartphones and tablets. Not that there won't be new stuff. Of course there will be, and always will be; bezels will get slimmer, devices will get faster, screens will go 4K, batteries will get beefier/more efficient. I suspect, though, the majority of new leaps are going to happen in wearables, and other new markets no related to the traditional smartphone form we know today. Companies chase growth, and growth in the smartphone market is slowing. So onward and upward.
Come summer we will once again get a raft of updates from Google. Will it release a Nexus 8 tablet as widely expected? Likely yes. The 8-inch market is too hot for Google to ignore. It took a baby step last year by offering an unlocked version of the LG G Pad. For Google to really make inroads against the iPad Mini expect a full-blown Nexus version, and an Apple-like marketing campaign to match.
That leaves us with Android, the operating system.
We haven't seen a major cycle since KitKat in Q4. If Google's recent rhythm is any indication I'm guessing we'll see major Android updates in the summer (at I/O) to fuel the development community and to spur tablet sales, and then again in October/November to coincide with the release of new Nexus smartphones and to spur holiday sales.
Will Android 4.5 be called Lollipop, Ladoo, or something else? Maybe Google will surprise us all with another (odd) consumer confectionery tie-in? My money's on Life Savers.
Naming games aside, here's 5 things I'd like to see Google do with Android 4.5:
1. Improve Android Battery Life
Android is notorious for runaway processes. It's not as smart as it should be when it comes to sipping power. A lot of that has improved over the past twelve months. Still, there's a lot of work to be done. The Nexus 5, for example, suffers from a bug (that Google has publicly acknowledged) that quickly drains the phone. When it comes to battery life, and efficient sleep modes, no one can yet touch Apple. That needs to change.
2. Introduce Multi-Window Feature
One thing I love about Windows 8 tablets is the ability to open multiple windows. Microsoft's first incarnation of the feature was clunky, but with 8.1 it works a treat. I use it all the time on my Surface Pro, and Dell Venue 8 Pro (both great devices). It comes in handy on many occasions. For example, when an email comes in with a link to an article, you can tap the link, and a separate, new window pops up on the right, effectively splitting the screen in two, enabling you to quickly read the article in a browser window before dismissing the window and returning back to email. Samsung has similiar functionality baked in to recent TouchWiz (grrrrr) releases. Stock Android needs it too.
3. Fix the Camera Once and for All
iPhone has stellar cameras. Nokia has stellar cameras. Samsung has stellar cameras.
Nexus?
Not so much. Yes, this might be tied more to hardware than software, but no doubt both are critical when capturing and processing high quality photos. Every time my wife takes a shot with her iPhone (a 4S for heaven's sake!) it looks miles better than anything I could hope to shoot with my Nexus 5. User error? Very possible. I concede. If that's the case I've been making errors with Android cameras for five years, dating back to the OG Motorola Droid in 2009.
Today's world is hyper-visual. Multimedia rules the day. We're sharing photos and videos on social networks every day at an increasing rate. This time around, with Android 4.5, Google needs to really, really fix its camera woes.
4. Wearables Integration, esp. Smartwatch
UPDATE: What timing… mark this one as done. Google today announced Android Wear, its new wearables platform. In addition, Motorola announced the Moto 360 Wear-powered smartwatch, as did LG. Expect more to follow. Wow. When is Apple jumping into the fray?
If Google Glass was the concept car, then a Google Smartwatch is the mass-market production version that most of us can reasonably expect to buy and use. I was a huge wearables skeptic. Then, I reviewed something called Pebble. When I returned it, I discovered something: notifications on the wrist are tremendously helpful. When driving, and at the gym I became hopelessly reliant on the convenience that Pebble brings. In short, I now believe. I bought a Pebble, and there's no looking back. Google, of course, is already two steps ahead of me (at least). Google Glass saw the possibilities of integrating wearable computing with smartphones. I expect Android 4.5 to include a whole bunch more API-related and app-related integration directly targeted not only at smartwatches and Glass, but also the wearable computing opportunity as a whole.
5. An Answer to Amazon Prime
Okay, so this is not really an Android feature, but it does apply to the overall Android experience. And it is this: Google needs an answer to Amazon Prime. Not necessarily free two-day shipping. Obviously Google is not a retailer (though Google Shopping is clearly an attempt to move in that direction, or at least to do so with partners). But look at what Amazon is doing with Prime and you begin to see a bundling of services. By bundling–Kindle rentals, free shipping, free movies–it's casting a wider net for not only brand loyalty but also more predictable, recurring revenue streams. Word is Google will focus heavily on services at I/O 2014. Could we see bundled services? Maybe some form of packaging that includes movies, music, apps (or app discounts)? It could be related to the next version of Android as you'd sign in as a Google "Prime" customer and you'd immediately have access to a goody-laden premium tier of content and apps.
There you have it. Android Life Savers. I can't wait.