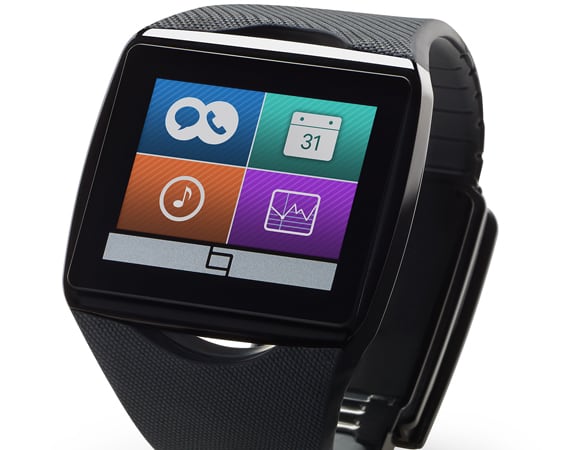 Wearables continue to garner headlines. If 2013 was the year of Google Glass (and all of its privacy concerns juxtaposed against seemingly infinite possibilities) then it looks like 2014 is the year of the smartwatch.
We enjoyed a small taste of the first batch of mainstream smartwatches when Samsung (Galaxy Gear), Sony (SmartWatch 2), and Pebble all jumped into the fray last year.
Having tested all of them for Stark Insider I ultimately went all in and bought a Pebble. It's the watch that gets most everything right: it's relatively inexpensive, has a vibrant developer community developing lots of apps and watchfaces, features a waterproof design, long battery life, and a clear, easy-to-read e-paper display. To boot, unlike Gear, Pebble works with both iOS and Android.
As I wrote earlier this week in my Pebble Review (Life with Pebble – There's no going back), "The last time I was this excited about a watch it was 1985, I was sporting a skinny white leather tie, dancing to Duran Duran's The Reflex, and wearing a Swatch."
Now, another entrant is getting ready to do battle.
HTC, the struggling Taiwanese phone maker with a penchant for gorgeous industrial design (HTC One), is set to unveil its own smartwatch at Mobile World Congress in Barcelona. Mind  you, this is reportedly only a "sneak preview for carriers." But it should give us a good look at HTC's philosophy towards the concept of a smartwatch. Sony apparently sees it as a mini-smartphone that we wear on our wrist, giving it lots of similar functionality – the ability to launch mini-apps, read Gmail, compose Tweets, etc. Pebble, on the other hand, sees it as a single-purpose accessory – best for notifications, telling time and tracking exercise.
The most interesting news though is this:
"HTC also is developing a watch using Google's Now service and an electronic bracelet that plays music"
Interest piqued!
Google Now is one of my favorite features of Android 4.4 (KitKat). Running on a Nexus 5 it's smooth as silk, and seems to always predict the kind of information I'll need next. Whether it's directions, sports scores, interesting article recommendations, nearby events and restaurants, weather or flight information, I've really become enamored with its practicality. To someone incorporate Google Now into a smartwatch could be a killer app. Or, maybe a savvy developer will figure out a way to send those updates (albeit, in truncated, text-based form) to my Pebble. That could be great.
MWC should be awash in wearables.
The market, though, has yet to respond in a big way. Samsung's Galaxy Gear (and over-priced watch that's only compatible with recent Samsung devices) is widely considered a flop. Even after cutting the price in half, I don't expect it make too much noise. Then again, this is a company that knows how to iterate. I'm sure it in-house sales expectations were low. Test the market, see what consumers think, tweak the formula and move on. Samsung is good at that.
We'll get a sneak at HTC's design approach next week at MWC. But it looks like we won't be able to get our hands on the actual product until Q4. In an interview Chairman Cher Wang said engineers are still resolving to fix issues with the battery and display. Seems to me a small Kickstarter-backed company called Pebble already has this thing figured out.
Apple, what say you?