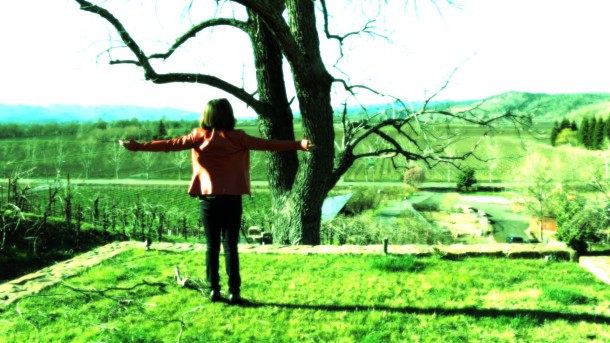 The more things change the more they stay the same.
Last week at this time we were in the vineyards covering several wine events leading up to Saturday's mega wine auction Premiere Napa Valley (which blew the roof off the CIA at Greystone, raising $5.9 million, double the previous record). The weather was stunning, and the California sun was as golden as ever. We shot some hardball stuff worthy of the CBC, such as 'A Perfect Day in Napa' (at Far Niente in Oakville), and 'A Sensory Odyssey' (Raymond Vineyard's wild Napa Gras trade party). We're still working our way through the footage that we shot at at least one other PNV event – all I can about that one is: Alien.
Today it's pouring rain. And more is expected through the weekend. Not that I report on the weather typically. But–did I mention it already?!–there's a thing called the Pebble smartwatch that is pretty fantastic at telling me all about the weather.
It will be interesting to see how this rain impacts some of the videos we plan to again shoot while in wine country. Ironically, in California when we we're in the midst of the worst drought in centuries it was, obviously, trouble. Now that there's rain? Still, trouble. Of a different kind. When it rains in this state, we forget how to drive. Unfortunately it wreaks havoc on the highways. We'd never stand a chance east of the Mississippi. No wonder New Yorkers think we're soft.
At least one thing will remain the same this weekend, weather notwithstanding:
There Will Be Cab…
… and …
(bonus)
… a Dude.
Last weekend the walls of the CIA gushed red. This time again we'll get to enjoy some Napa Cabernets, but at the Napa Valley Performing Arts Center at Lincoln Theater (say that fast a few times). That's where the inaugural CabFestNV (this strikes me as a very hipster, very Silicon Valley kind of name) will take place. This isn't just your garden variety tasting either. It's two whole days, and features a kick-off concert tonight featuring Jeff Bridges and the Abiders.
Lisa Adams Walter, Terry Hall, and the team have been burning the midnight oil. I know how hard it is to organize a regular half-day tasting. I can only imagine pulling off an all weekend affair such as Cab Fest.
Once again, if you enjoy being in the company of oenophiles, and tasting a bunch of wines conveniently all in one location, then you should look up CabFestNV. With this weather, I'm guessing most of us will want to stay indoors anyways. So you might as well take one for the team, and go Cabernet crazy. Just remember to brush your lips when you've finished making the rounds.
More soon from Napa. As always, thanks for stopping by Stark Insider.