Video of the "Premiere Napa Valley Begins in Oakville," shot on location at Far Niente in Oakville, Napa.
Gourmet food. Fine wine. Shimmering sun.
It was, indeed, 'A Perfect Day' in the Napa Valley. During Premiere Week, Far Niente along with the Oakville Winegrowers association hosted a barrel tasting inside their spectacular (and maze-like) wine caves. Thirty or so wineries were pouring, and, what's especially great, is that most of these are boutique and/or family run operations.
Just when you think you've seen every view imaginable in Napa and Sonoma, a spectacular and heartwarming new vista reveals itself.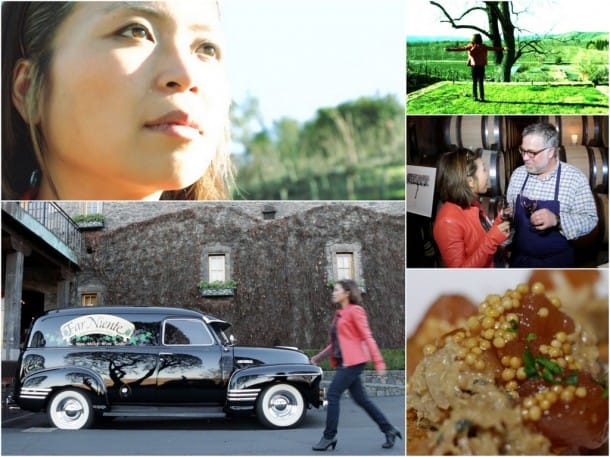 It was one of those days where everything went just right. I ran into old friends. I enjoyed some special barrel lots, of which many had me swooning. I was spoiled rotten by the wonderful dishes being served up at the food stations.
Later, when we we're headed to the electrifying Napa Gras at Raymond (where I was, of course, attacked by a Lion in the fermentation chamber) I reminded Clint that to have wine country virtually in our backyard (it's about 60-90 minutes from the San Francisco Bay Area) is luxury we should never take for granted.
Fortunately (and, as Clint likes to say, regrettably) I have this guy who follows me around filming me at the theater, on stage fantasizing about being an opera star in Madame Butterfly, and sometimes, even, just walking around. So, here it is, what a (dreamy) perfect day, at least in my eyes, looks like in Napa:
WATCH: A Perfect Day in Napa Valley, California with Loni Stark
Winemakers and wineries seen in this Stark Insider segment include Tor Kenward (Tor Family Wines) who assures me the 2012 Napa vintage goes "beyond exciting", Valerie Kelleher (Kelleher Family Vineyards), and Robert Pintacsi (Far Niente Winery).
Chefs making cameos include Chef Dave Cruz (Brix), Executive Chef Michael Foster (Cindy Pawlcyn/Mustards Grill).
And, our good friend, the ever gregarious Patrick Kellaher, a partner at Mustards in Napa. I hadn't seen him since Toast of the Town in San Francisco, so many years ago. He's still as quick as ever on his feet. Thankfully he corrected my slightly embarrassing gaff ("Here's to great wine and good food!") – what was I thinking? Fortunately we arrived at a perfect win-win solution.
We have more segments from Premiere coming up including an incredible look at massive machines in action carving out wine caves, right in the heart of the Napa Valley.
I hope your day, too, is perfect my friends.